This month marks the 25th anniversary of the closure of Chanute Air Force Base in Rantoul, Illinois. At the time the base closed its doors on September 30th, 1993, it was the third oldest active base and oldest Technical Training Center. Administration and other departments, clubs, groups, and individual personnel had managed to gather an abundance of historical records, photographs, and ephemera.
The Champaign County Historical Archives acquired the Chanute Collection from the Chanute Air Museum upon its closing in 2016. Since then, the Archives has been working to make the collection available to the public. Recently, I've been working with the photograph collection and have come across quite a few striking images that illustrate moments in the base's history. While the collection is not yet open to the public, a percentage of photographs are available via the Urbana Free Library's Flickr. Here are a few that caught my eye…
During the base's first winter, in 1917, the soldier's found creative ways to get around…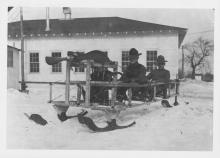 Bing, the parachute dog, was apparently a very big fan of jumping out of planes…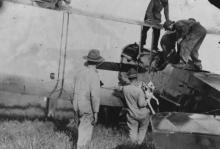 An airman welcomed back home…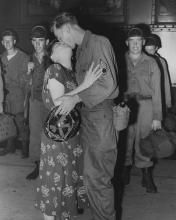 There were air shows and open houses…
And of course there were many classes, including Jet Engine Technical Training…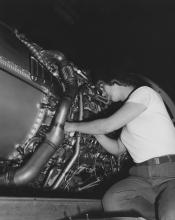 And Fire School…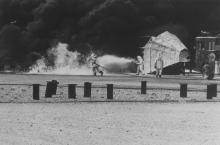 In Parachute Training, Private Harold Osborn attempted a jump but apparently pulled the cord too early…
The Archives has much more material documenting the history of Chanute Air Force Base, its technical training programs, and its relationship with Champaign County. If you are interesting in sharing your own Chanute story please contact the Archives, archives@urbanafree.org or 217-367-4025.  
Leslie S.
Archives Intern