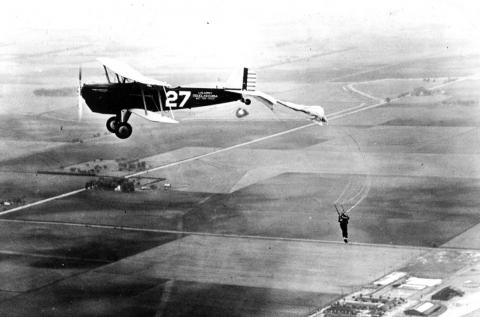 Shown above is Private Harold Osborne attempting his graduation jump for completing parachute training in 1931 at Chanute Field. Unfortunately, Osborne's parachute caught in the tail assembly of the plane during the jump. The pilot, Lieutenant Charles H. Deerwester, was forced to circle above Rantoul for over an hour as Osborne hung by the cords of his trapped parachute.
The Rantoul Press reported that thousands of people in Champaign County "deserted their homes and places of businesses" to see the "never-to-be-forgotten sight of a man hanging helpless by his useless parachute to the tail of an army plane, skillfully maneuvered for almost an hour while other planes attempted several means of rescue." 
Chanute officers finally saved Private Osbourne by tying a sandbag to a knife and lowering it to him from another plane. Osborne used the knife to cut himself loose and then used his emergency chute to make it to safety where he was found uninjured. The incident made national headlines and created a buzz in Champaign County as it was the first parachute accident in Chanute's history.  
A full report of the jump and rescue can be found in The Rantoul Press & Chanute Field News, June 11, 1931, pg. 1.
-Liz, Archives Intern