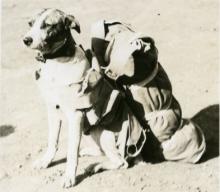 While processing the Chanute Collection, I unearthed more information about Bing, Chanute's parachuting fox terrier. Bing visited Chanute Field in the 1920s and was named the Official Mascot of the Air Service Mechanics School. He made special appearances at Chanute's open houses and on May 21, 1921, completed a jump from 3,000 feet (using a special chute and harness).
According to the label attached to Bing's photograph, "Bing enjoyed parachute jumping so much that he often sneaked into empty rear cockpits of the DH-4s parked near the runway (without his parachute!). To avoid possible calamity, Bing was sent to Washington D.C."
When Bing left on June 17, 1921, the Chanute Field Band and a detachment of soldiers accompanied him to the railroad station.
-Liz, Archives Intern