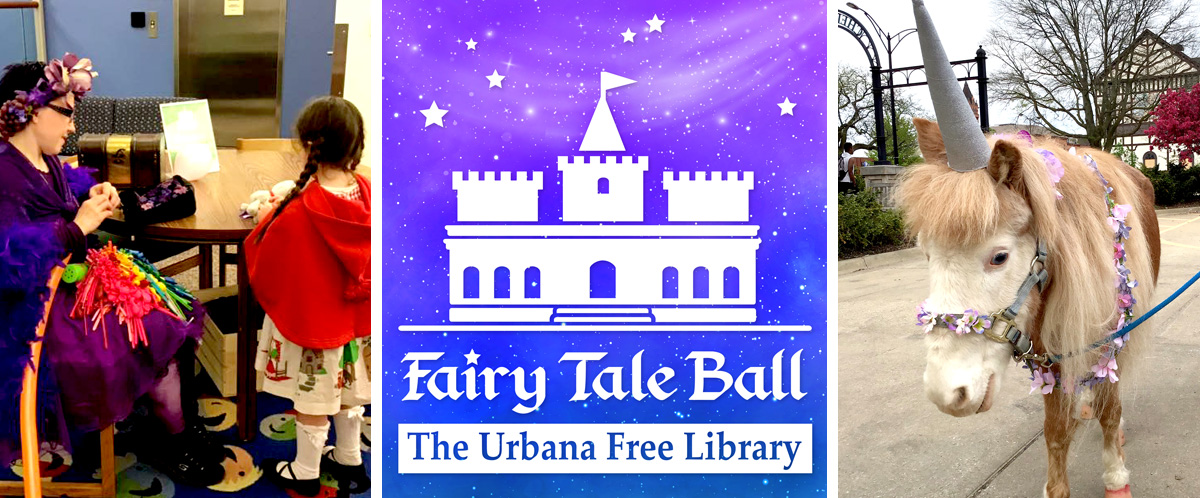 Every spring, The Urbana Free Library transforms into a fairy tale castle for the Fairy Tale Ball! Fairy tale lovers of all ages are invited to an evening of stories, crafts, games, and entertainment. Don your shiny suit of armor or sparkly ball gown, or dress like your favorite fairy-tale character, and join us for an evening of fantasy and frivolity.
This program is generously sponsored by Fred Schlipf and Diane Hillard.
Event Details
   When: 6:00 p.m. - 9:00 p.m., April 14, 2023
   Where: The Urbana Free Library
   Age Group: Preschoolers, elementary schoolers, their families and caregivers.
   Dress: Dress your fairy-tale best!
   Registration: Registration is not required, please drop in!
---
Schedule of Activities
Royal Entertainment

Puppet Show with Anne Newman
Second Floor
6:15 p.m. and 8:00 p.m.
Catch one of two showings!

Dulcimer and Friends
MacFarlane-Hood Reading Room, First Floor
6:30 - 8:30 p.m.
Listen to some magical music.

English Country Dancers
Lewis Auditorium, Ground Floor
6:30 - 8:30 p.m.
Learn a country jig.

Chiron and Shifa, the Miniature Unicorns
Cherry Alley
6:30 - 7:30 p.m.
Have you ever seen a unicorn?

Mad Hatter Tea Party
First Floor
All Evening
You're cordially invited to a sensory
tea party.

Joe Reichlin
Roving Juggler, Storyteller, and Singer  
All Evening
Spot Joe! He'll be singing and juggling all
over the ball!

 

 

 

 

 

 

 

 

Activities

Royal Herald  
Green Street Entrance, Lobby
If you wish, the Royal Herald will announce your
arrival as you enter the ball.

Build your Fantasy Castle
Children's Area, Ground Floor
Use blocks to construct the castle of your dreams.

Fairy Mushroom House
Children's Area, Ground Floor
Cut, fold, and paste your very own fairy house.

Shadow Puppet Theater
Megan's Room, Ground Floor
Watch tales dance across the screen.

Sleepy Hollow Room
Satterthwaite Conference Room, Ground Floor
Take a pause from the medieval mayhem.

Red Riding Hood Maze
Fiction Area, First Floor
Over the shelves and through the stacks, to the Library you go!

Magical Moments Photos
First Floor
Capture the magic of the evening with a photo.

Jack and the Beanstalk Beanbag Throw
Busey-Mills Reading Room, First Floor
Win a prize in this tossing game!