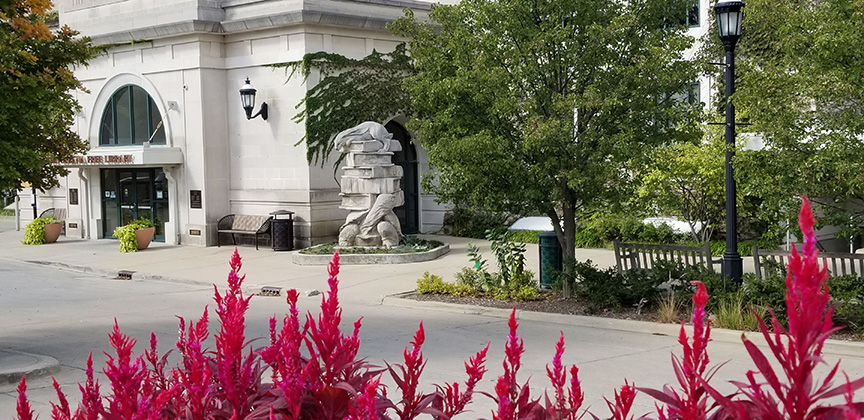 The Urbana Free Library posts information about current vendor opportunities and additional requests on this web page. Requests for proposal and other opportunities appear in the order they were posted, with the most recent appearing first.
Prevailing Wage Act
The Prevailing Wage Act (820 ILCS 130/1 et seq.) requires contractors or subcontractors to pay prevailing wages to all laborers, workers, and mechanics who perform work on a public works project. Further information, including the current prevailing wage rates, is available on the Illinois Department of Labor's website.
To learn more about prevailing wage, the Vendor Representation and Additional Duties (VRAD) form, and the Equal Opportunity program, visit the City of Urbana's website for more information.
The Library
The Urbana Free Library occupies an approximately 50,000 square-foot building at the intersection of Race and Green Streets in the city of Urbana, Illinois. The Library serves a population of over 38,000 residents and generally employs 70 staff members. The Library's historic building was originally constructed in 1918 and was expanded in 1975 and 2005.
Current Opportunities
Project title: HVAC Engineering RFP
Project description: The Urbana Free Library is seeking proposal for HVAC Engineering Services for design and oversight of a rooftop Air Handler
Bid Number: 2223-001
Posting Date: January 11, 2023
Application deadline: February 8, 2023
Mandatory meeting: January 18, 2023 in the Satterwaithe Conference room beginning at 9:15 a.m. Tour of penthouse to follow.
For questions or to  Request a Proposal package, please send an email request to: Mike Hannan, Facilities Manager mhannan@urbanafree.org
---
Project title: Staff Parking lot Improvement
Project description: all work necessary to repave the staff parking lot
Bid number: 2223-002
Posting date: January 19, 2023
For bid packet, please sent an email request to: Mike Hannan, Facilities Manager mhannan@urbanafree.org