The Chanute Collection includes photographs of Chanuters finding creative ways to survive the snowy winters while stationed in Rantoul.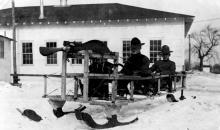 Pictured above is Chanute's first snowmobile, dated 1917. The vehicle was built from airplane shipping crates and a surplus airplane engine.
We've also discovered photographs of Chanute personnel taking a break from training to play in the snow. Below is a picture of a snowman holding a Chanute Technical Training Center flag.
-Liz, Archives Intern