Welcome back to part 3 of the investigation into Eliza A. Fulton's burial place. To catch up, read blogs #1 and #2. We left off having confirmed Eliza, her husband Henry, and their son Thomas were moved from Lynn Grove Cemetery to Woodlawn Cemetery. Next up, I wanted to confirm that all of the children's names listed are correct.

To confirm Henry and Eliza's children, I took to Local History Online again. In my effort to continue researching the Fulton family I hit another common research wall. I was trying to research a woman. The brutal reality is there typically aren't many records for the ladies. Don't worry though, we have a reference guide for that! To find more information about Eliza Ann and her children, I searched using Henry Fulton's name and found that we had a chancery case concerning him. He died intestate, meaning without a will. 

Our chancery, probate, and guardianship cases are housed in our closed stacks but are discoverable on Local History Online. To view them in person, just ask at the desk and we'd be happy to retrieve the files!

Back to the case of Eliza Ann and Henry Fulton's children. In Henry Fulton's bill for partition chancery case, number 4421, it lists Jennie and William George, and a Mary Fulton Want. According to this document, Mary Fulton had married a Mr. Want and had children of her own. Sadly, Mary Fulton Want had passed in the years following her father's death, thus she was deceased when this document was filed. This is strong evidence that Mary was the daughter of Henry and Eliza Fulton. To be more confident that Mary Fulton was indeed the daughter of Eliza Ann and Henry, I looked up Mary by her married name, Want, in the Woodlawn records and low and behold she was there. 

But there seemed to be no reference to Thomas Fulton in this bill for partition. Going back to Find a Grave and clicking on the Fulton Family stone you can see a different picture of Thomas Fulton's stone where his birth and death years are legible, 1874 to 1878. Thomas Fulton died in childhood and had been born in between censuses so locating him in another record would prove to be difficult. A coworker suggested that I recheck Henry Fulton's bill for partition case, specifically at the question and answer section. Here, when asked if there are any other descendants, the reply is "not living." This vague answer alludes to another deceased child which very well could be Thomas Fulton.
Also, in the transcripts of the case, it referenced land that Henry Fulton owned to be inherited by his descendants. Naturally, I wanted to know where this Fulton land was. To find where someone lived, one of the archive's most used resources is our collection of directories and gazetteers. There you can look up residents and businesses by name or by address, which makes it a valuable resource when researching house histories, a very popular research endeavor. At the very bottom of page 340 of the 1885 Champaign Gazetteer, I found Henry Fulton listed along with his profession and his land.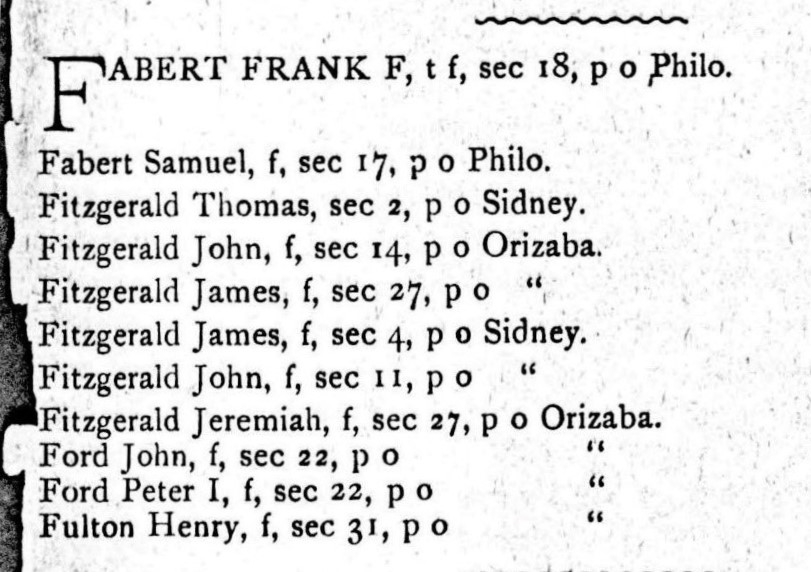 Then, of course, I wanted to see if I could locate more information about Henry Fulton's land and his career as a farmer, but here is where we reach another research hiccup: scope. I think that one of the best parts about archival research is that there is so much to find, which makes it very easy to slide down the research rabbit hole. To prevent endless time researching, revisit your original question. This can help you frame your research and determine if you are still on track.
My original question was about Eliza's burial place and I had found it. Eliza A. Fulton died on August 9th, 1905, and currently rests at Woodlawn Cemetery alongside her husband and children. Upon reaching this conclusion I asked a coworker where Woodlawn Cemetery is located, as I haven't done much exploring since moving to Urbana, and discovered that the little running route I had been taking passed right by Woodlawn Cemetery! Jokingly, we agreed that now since we had 'found' Eliza's gravesite (and I had figured out where the cemetery is) I needed some picture proof. 
Thank you for joining me on my scavenger hunt to find Eliza A. Fulton!
Sam L.
-Archives Assistant