This is the 2nd installment of the investigation into Eliza A. Fulton's burial place. To catch up on the previous research, read the first blog here. We left off after having found both Eliza and Henry's death records, which list their burial place as Linn (Lynn) Grove Cemetery. But the Lynn Grove burial records don't include either of them!
These two death records listed husband and wife in the same cemetery, Linn (Lynn) Grove. But modern records do not corroborate that cemetery as their burial site. If Henry and Eliza A. Fulton are not currently buried at Lynn Grove, where are they?
Like any good modern-day detective faced with a mystery, I took to the internet. The Archives' website has a great selection of genealogical databases I searched Family Search to attempt to glean some insight into the mystery of the missing Fultons. After finding more of the same information that I already knew about Eliza and her family I looked back at my original question. Finding the same information on a different platform or resource material is a good thing! It helps confirm that what you have found is more likely to be accurate.
Upon returning to the original purpose of finding the Fultons, I switched databases and searched Find a Grave, since we are looking for a gravesite. Find A Grave listed Eliza Ann Fulton's grave in Woodlawn Cemetery, engraved with "Mother." This record also listed the gravesites of her children, William George, Jennie, and Thomas, all surrounding the Fulton family stone.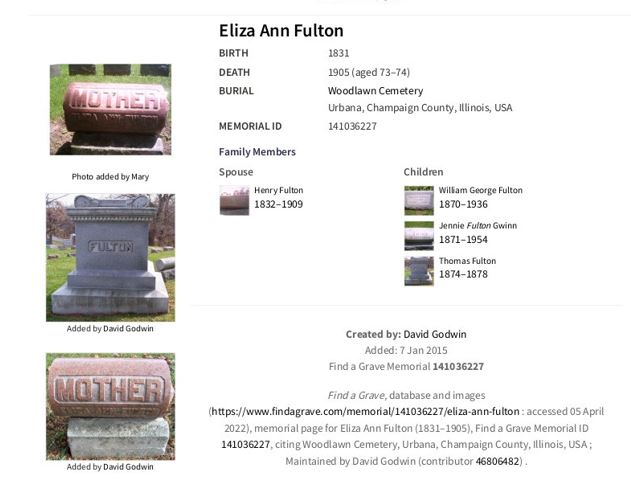 Take notice that the death year for Henry is a little off. Henry Fulton passed in 1908, a year previous to that listed on Find A Grave. This is a frequent research hiccup: mismatched records and transcription errors. A closer look at Henry's stone shows his death year as 1908. Luckily, find a grave lets users send corrections. Contradictory information is why it's so important to cite your sources, as well as verify your information with multiple sources when possible.
To verify that this gravesite is the correct resting place of Eliza Ann Fulton and her family, I turned to the burial inscriptions in the book Woodlawn Cemetery Inscriptions and sure enough, our Fulton family is listed on page 90 under the "Fulton" heading.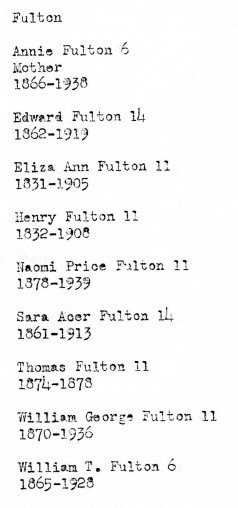 The Fultons were listed, Eliza Ann, Henry, William George, Jennie, and Thomas, followed by the section in which their grave is located within the cemetery. Another source that leads us to the Fultons' burial locations is the microfilmed Woodlawns Internment Record Book #1. On page 5 we see an entry for Henry, Eliza, and Thomas (abbreviated Thos.) "These three removed from…and placed in." This confirmed their move from Lynn Grove to Woodlawn.


Now we have three sources pointing to Woodlawn Cemetery. But we are faced with yet another mystery, how can we be more certain that all of these are Henry and Eliza Fulton's children? Find out in Part 3, coming soon!
-Sam Lechowicz
Archives Assistant