Hello, fellow fans of genealogy and local history! I recently entered the world of Champaign County Historical Archives as an Archives Assistant this past March. Although I've had previous experience with other archives, the Champaign County Historical Archives is a new adventure. Every archive is unique to its own collection, which is part of what makes archival and genealogical research so exciting.
As part of my training, I was given the task of a scavenger hunt composed of research inquiries designed to get acquainted with the vast number of collections and resources CCHA has available. This was a fantastic way to engage in the research process and wonderful practice locating resources. I'd like to share my research journey to answer one question with you all. My search took me on a wild ride through some of the archives' more frequently used resources, and I encountered some very common research hiccups along the way.
My journey began with the question, "Where is Eliza A. Fulton buried? Her husband's name may have been Henry."
With that as my jumping-off point, the first order of business is to find out just how many Eliza A. Fultons of Champaign County I was dealing with, and narrow those down to the Eliza A. Fulton the question pertains to. The best place to start is with the Local History Online catalog. Having a middle initial was extremely helpful in determining which Eliza to look into. Her husband's name was indeed Henry Fulton. Eliza A. Fulton returned 15 search results, of course not all 15 results were about our Eliza, but the few that did concern Eliza Ann Fulton set me on my research quest.
The first collection that I looked at was the archive's death record series. This is comprised of bound xeroxed copies of the Death Registers and the Record of Certificates of Death books covering the years 1878-1916. Theses copies were reduced from the original size for easier use and have assigned CCHA volume numbers. The second part of the series is microfilm of the original Death Registers 1878-1900 and Death Certificates 1900-1945. Taking a look in volume 4, I found Eliza at the bottom of page 135. Her death record (number 1661) was full of information.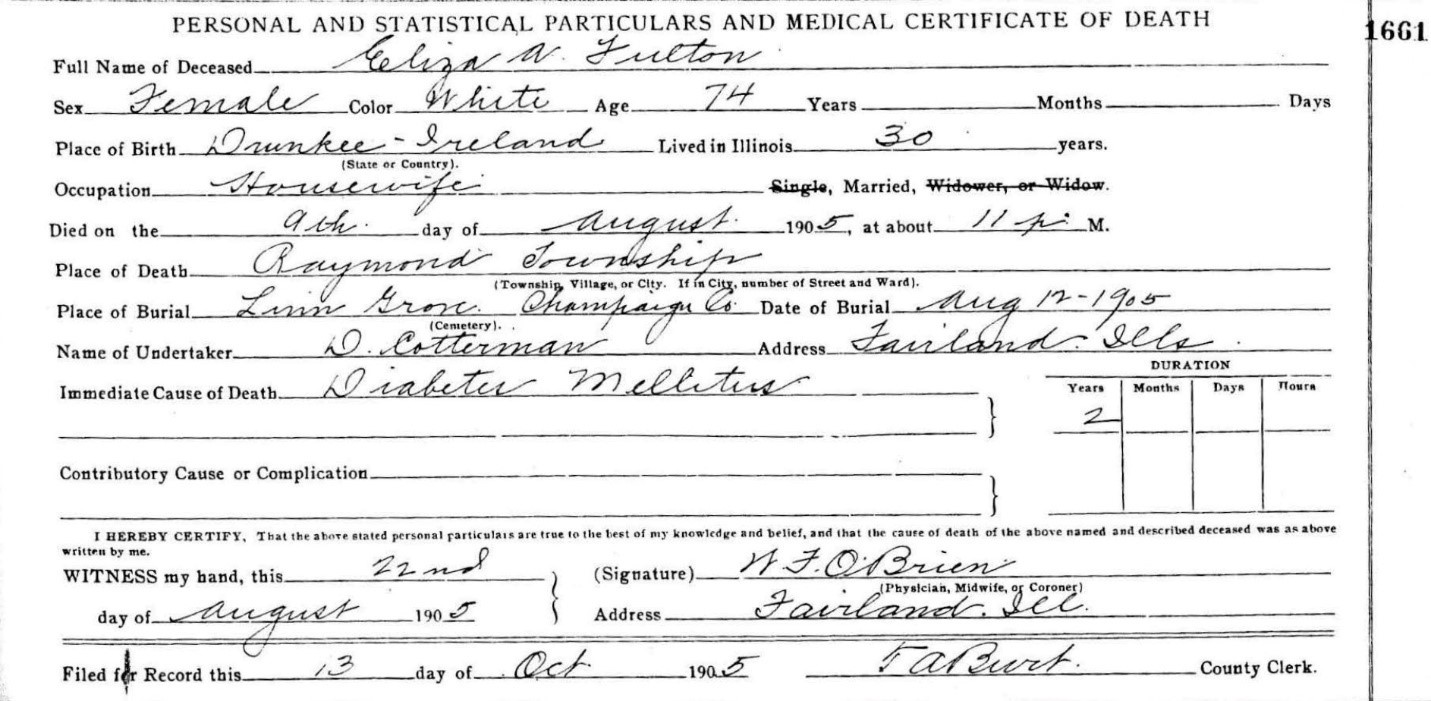 From Eliza Ann Fulton's death record, I ascertained when she passed, how she passed, when she was buried, what cemetery she was buried in, who the coroner (or physician) was, who the witness was, and even the name of the county clerk that filed the certificate.
With all this great information, it's time to sift through it to determine what is helpful to our search. She passed on August 9th, 1905 at approximately 11 pm due to diabetes mellitus which she suffered from for two years. She was 74 years old. The record stated that Eliza was a resident of Raymond Township and lived in Illinois for 30 years, and was originally from Ireland. Now that I had a date of death, when looking at other materials I could more easily determine if they were talking about our Eliza A. Fulton. This death record listed her place of burial at Linn Grove. If you know your Champaign County cemeteries, there is a Lynn Grove cemetery. This is where I encountered the first research hiccup: spelling variations. Linn Grove and Lynn Grove could very well be the same cemetery just spelled differently.
The next logical step was to use the cemetery records to look up Eliza. And here is where the mystery begins. Neither Eliza A. Fulton nor her husband Henry Fulton were listed in the Lynn Grove burial records, even though Henry's death record (number 2705) also states his burial place as Linn Grove. So, if they aren't at Lynn Grove, then where are they?
Find out in the next installment!