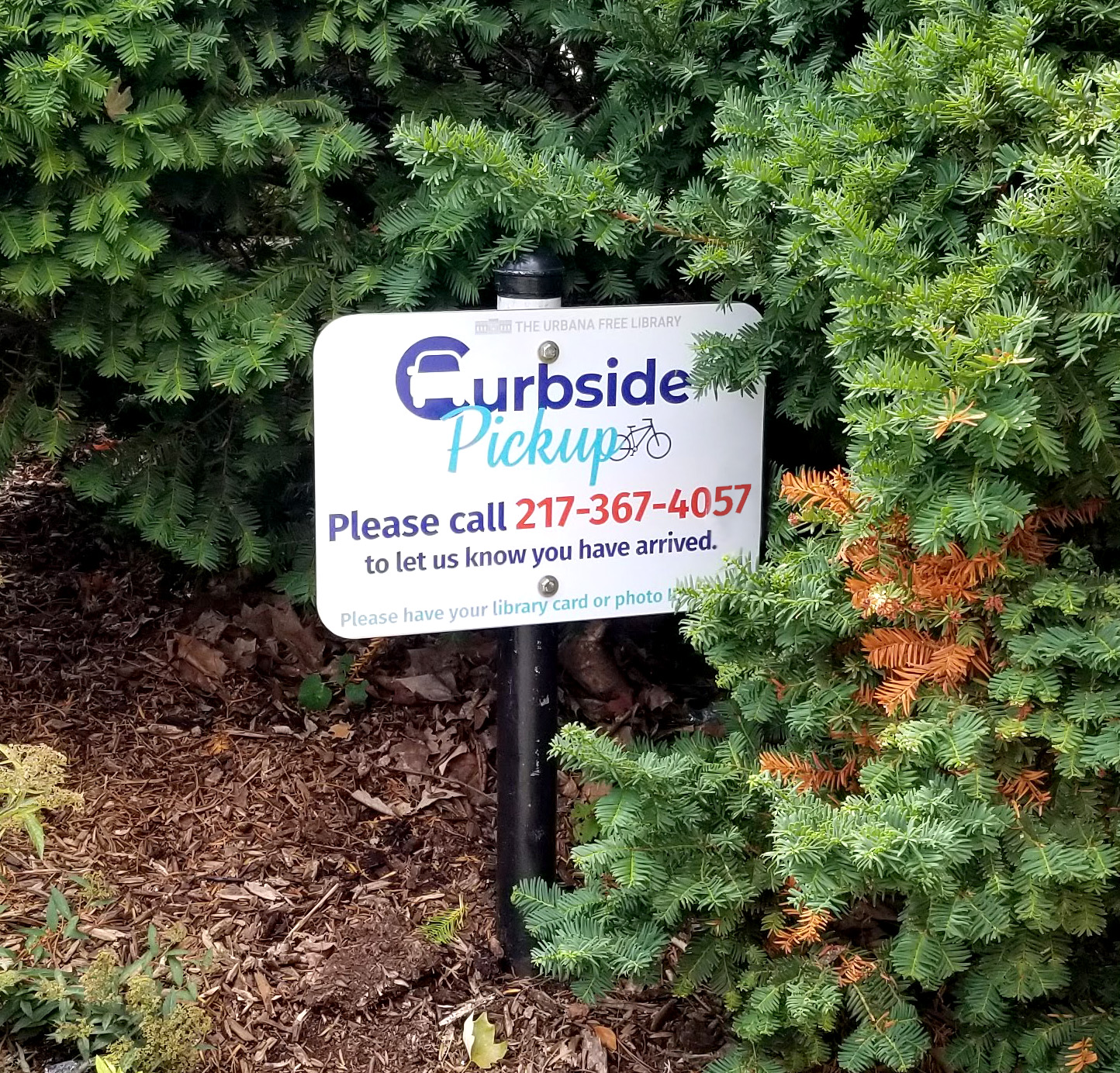 Curbside Pickup Hours:
Monday – Thursday: 9:00 a.m. - 7:00 p.m.
Friday – Saturday: 9:00 a.m. - 5:00 p.m.
Sunday:  1:00 p.m. - 4:00 p.m.
Step 1: Place Your Requests
Browse the Library's collections from our website or mobile app and place your requests through our website, mobile app, or by calling the Library at 217-367-4057. Check to make sure items are "In" —that means they are available for Curbside Pickup. Wait for notification that the items are ready for pickup.
Step 2: Make Your Curbside Pickup Appointment
After you receive your hold notice, schedule a time for Curbside Pickup. Pickup appointments may be scheduled up to 72 hours in advance. There are two ways to make a Curbside Pickup appointment:
Step 3: Let Us Know You Have Arrived
Please note: Be sure to bring your photo ID or library card with you for ID verification!
At your confirmed appointment day/time, park in a "Curbside Pickup" designated parking space located in the Green Street parking lot and let us know you've arrived by calling 217-367-4057. Our Curbside Pickup parking spaces are on the east side of the parking lot, by Cherry Alley and the tortoise-and-hare statue.
If you are walking, go to any bench in Cherry Alley and call us so we can meet you outside.
Step 4: Pick Up Your Items
Drive-up: Place your photo ID or library card against the driver's side window. Then pop your trunk/back hatch or lower the passenger-side window and we'll place your materials inside your vehicle.
Walk-up: Place your photo ID or library card on any bench in Cherry Alley and back away 6 ft so we can check the card at a safe distance. We'll then place your materials on the bench for you.
Your account must be current and in good standing to utilize Curbside Pickup.
Have questions about Curbside Pickup? Please check our FAQ.
We will not be accepting payments or donations as a part of our Curbside Pickup service. Any necessary payments can be made online or over the phone prior to arriving for Curbside Pickup. Thank you in advance for your understanding!