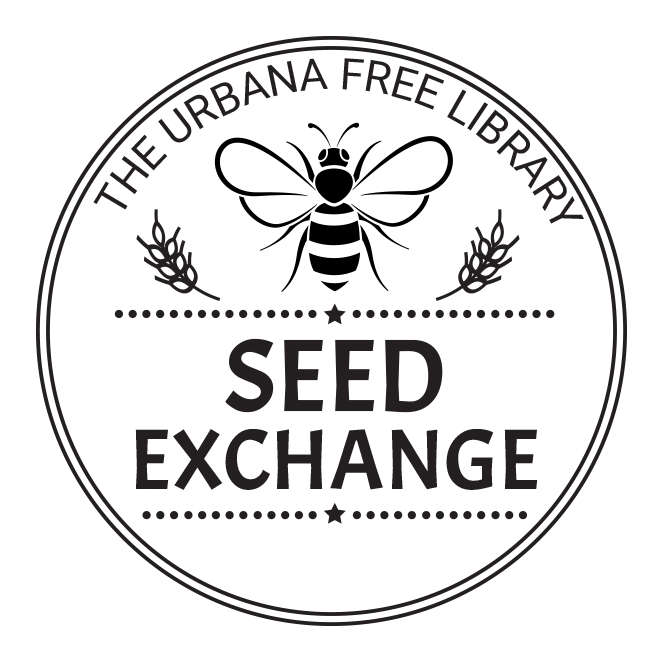 What is a Seed Exchange?
A Seed Exchange is a place where you can "check out" seeds and bring back new seeds from your harvest! The basic idea is that you take seeds from the seed exchange, plant them, and grow them. Then, if you would like to, you can let some of the plants go to seed, harvest those seeds, and then "return" them to the Seed Exchange. We also accept any other harvested seeds as well as store-bought seeds!
FAQ
Does it cost money? No, it does not! The seeds are free.
Do I have to have a library card? Nope!
Can I just take seeds, or do I have to bring some back? You can absolutely just take the seeds for your own use, but we do encourage either letting some of your plants go to seed and then donating back some of those harvested seeds or donating any unused/partially used seed packets.
---
How to "Borrow" / "Check Out" Seeds
In the Library Building
Go to the Seed Exchange, which is located on the 2nd floor of The Urbana Free Library.
Grab whichever seed packets you'd like (the drawers are labeled by seed type).
Fill out the "Seeds I Took" form with which seeds you took and how many (if we are out of forms, just let the staff member on the Reference Desk know which seeds you took).
Hand a filled-out form to the staff member on the Reference Desk.
Take the seeds home and plant them!
From Home
See List of List of Currently Available Seeds (Updated 3/2/23) on our website.
Email us at reference@urbanafree.org with a list of the seeds you would like and the best way to contact you.
Once you have received confirmation that your seed order is ready, you can come into the library and ask for it at the 2nd-floor Reference Desk.
If you'd like to make a curbside pickup appointment to get your seeds, you can call (217) 367-4405 after receiving confirmation that your seeds are ready.
---
How to "Return" / Donate Seeds
In the Library Building
Seeds must be in a sealed container- plastic bag, recycled pill bottle, re-sealed packet, etc. We accept both harvested and store-bought seeds.
Bring seeds up to the 2nd-floor Reference Desk.
Fill out a "Seeds Donated" form (one form per seed type) given to you by the staff member.
Leave seeds and form with staff member. Thank you!
Through Curbside Pickup
Prepare the seeds the same way as above.
On a sheet of paper, write out the seed type's common name, year harvested, and city of harvest. One sheet per seed type donated.
Make a reservation to drop off the seeds through curbside pickup by calling (217) 367-4405.
 
If you have any questions about the Seed Exchange, please contact Jordan (jkahle@urbanafree.org) and/or Joel (jspencer@urbanafree.org).
---
---
Gardening Resources
Are you looking for resources to help you set up or maintain your garden?
Go to our Gardening Resources page.