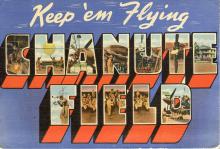 In 2016, the Champaign County Historical Archives acquired the archival records from the Chanute Air Museum including photographs, scrapbooks, blueprints, base publications, and subject and history files. 
Using the collection
If you are interested in viewing these materials, call 217-367-4025 or email archives@urbanafree.org. Allow 48 hours for retrieval.
See our How to Order Copies page for details if you cannot make it to the Library.
What's New in the Chanute Collection
Stay up-to-date while our staff works busily to process this collection!
Chanute Collection Finding Aids
Digitally accessible inventories for Chanute collections that have been processed.