Chanute Air Force Base was the key starting point for many service members' careers throughout its 75 years of existence. Men and women began their education, professions, and families at the base and were supported by the Chanute and Rantoul communities. The Chanute Collection has many examples of community groups coming together to help one another and positively impact the Rantoul area. From the Officer's Wives Club that supported the local nursing homes to the YMCA's children programs, there was a place and activities for all.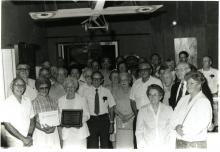 This sense of community did not end once one left the Air Force. The U.S. government created the Retiree Activities Program to support those transitioning back into civilian life and their families. The records from Chanute describe a program that educated individuals on their rights as retirees and created a space for retirees to continue contributing to Chanute Air Force Base. While the members of this program may have been retired, they were not slowing down! In 1987, the program collected 2,500 volunteer hours through its various events and outreach programs, from helping other retirees with transportation around the Champaign County area to hosting annual Christmas parties and acting as foster grandparents for children on the base. These individuals engaged with every area of life at Chanute.
Always looking for ways to improve life in their community, the Retiree Activities Program continued to fundraise and support the base until its closure. They fought very hard to impart Chanute's importance on a local and national level when closure threats began. They organized letter-writing campaigns and circulated petitions. Once the base was closed in 1993, the retirees continued to support one another by helping members receive access to their benefits and creating the Octave Chanute Aerospace Museum to help preserve their legacy.
Notable members of the Retiree Activities Program include our own Donald Weckhorst, seen here receiving a Certificate of Appreciation for his participation with the Retiree Activities Program.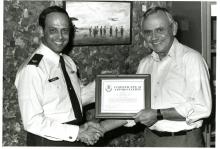 - Rosemary Froeliger
  Archives Intern