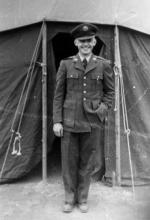 On May 30, 1946, fourteen-year-old Donald O. Weckhorst (1932-2015) attended his first Memorial Day celebration in his hometown of Appleton, Minnesota. The little town of Appleton was a proud and patriotic community. At the start of World War II, the Appleton National Guard mobilized and engaged in combat in North Africa and Italy. In honor of their service, the city renamed twenty-nine streets after soldiers, sailors, and marines killed in combat. During the Memorial Day celebration in 1946 attended by Weckhorst and his family, local citizens killed in the war were remembered. Weckhorst was particularly moved by the event. One of those honored was his close neighbor Richard Rooney. Weckhorst heard the three customary rifle reports buffeted by the sound of taps in the distance and decided that day his future would be in the armed forces. Five years later he joined the Air Force and began a life-long career serving his country.
Weckhorst was born in Appleton on February 4, 1932. He graduated from Bellingham High School in Bellingham, Minnesota and enlisted in the Air Force in January 1951. Weckhorst began basic training at Lackland AFB, Texas and quickly transferred to Sheppard AFB, Texas. The following year, he transferred to Chanute AFB and earned an Aircraft Hydraulic Mechanic certificate. As a mechanic, he worked at Davis Monthan AFB in Arizona, Smokey Hill AFB in Kansas, Yokota AFB in Japan, and finally back to Chanute AFB between 1952-1955. Following a three-month break from service in 1955, he returned to work in a supervisory role at Chanute AFB. From December 1955-1958, he was an NCO specialist at Bitburg AFB in Germany. He returned home in 1959 and became a guided missile maintenance, missile propulsion systems, and aerospace ground equipment instructor back at Sheppard AFB. Next, he moved to Illinois and became a recruitment officer in Carbondale and then Cape Girardeau, Missouri. He returned again to Chanute AFB in the early 1970s as a senior enlisted advisor until 1980, when he retired after 30 years of service.
Along with his military service, Weckhorst also achieved an impressive academic background. In 1963, he completed an Associate's Degree in Liberal Arts from Saint Leo College. Two years later, Weckhorst began studies at Eastern Illinois University in Charleston, IL and received his Bachelor's Degree in vocational trades in 1977. In 1980, Weckhorst earned another Associate's Degree from the Community College of the Air Force in work center management, and a Master of Science in Technology from Eastern Illinois University. After his retirement from the military, Weckhorst achieved his goal of working in education beginning a second career working part-time for Parkland College.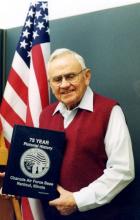 Weckhorst's final bow was given to the base he already gave so much to, Chanute. In the late 1970s, Weckhorst began to form a group dedicated to the history of Chanute and aviation in general. By the mid-1980s, the Chanute Heritage Foundation was formed and sought to collect materials and information related to the base. Their first major endeavor, was the creation of Chanute's 75-Year Pictorial History, which was spearheaded and written by Weckhorst. Following the base closure in 1993, Weckhorst maintained his dedication to Chanute and helped open the Octave Chanute Aerospace Museum. To accompany the museum, Weckhorst created a library at the base as well, which was named the Don Weckhorst Library, in his honor. From its founding through nearly its closure in 2015, Weckhorst was the base historian at the museum, continuing to support the institution he loved so dearly until the end of his life. 
Although the base and museum are now closed, the memory and records of Chanute AFB will continue to exist at the Champaign County Historical Archives. This would not be possible without the extraordinary work of Donald O. Weckhorst. Millions of people learned and worked at the base throughout its history, but for this archivist, the name Weckhorst truly defines the base and its collection. He was a man of extreme dedication, hard work, and love of his country. 
-Thomas Kuipers
  Archives Intern