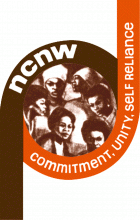 Seven collections of women's groups have recently been processed by Archives staff and are now available for researchers.
Part 2 highlights the National Council of Negro Women and the Medra Club.
Part 1 introduced W.I.R.E. Records, Daughters of Union Veterans Records, and the Near O'Kin Bridge Group.
The next and final part will feature Fortnightly Club Records and Carley Friendship Club Records.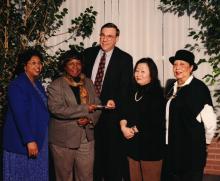 National Council of Negro Women Records, Champaign County Section. The National Council of Negro Women, Inc. (NCCW) is a nationwide organization founded in 1935 by Dr. Mary McLeod Bethune to "lead, advocate for, and empower women of African descent, their families, and communities." The Champaign Section of the NCNW was established in 1981 by Odessa Hudson. The organization advocates for "community-based health, education, and economic empowerment services and programs within Champaign County." 
This collection contains records pertaining to the Champaign section of the National Council of Negro Women, Inc. The records range in date from 1980-2002 and include membership lists, meeting minutes, event planning materials, and correspondence.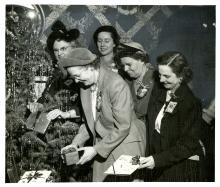 Medra Club Records. The Medra Club was founded in November 1929 with the purpose of bringing "business and professional women in closer relationship and to promote civil and social enterprises that would have a bearing on economic development." Its motto was "Progress, Proficiency, and Improvement." The first club president was Dorothy Potter Swindell. Members of the Medra Club included teachers, welfare workers, nurses, and office workers in Champaign and Urbana and at the University of Illinois. The club routinely supported the Community Chest, the Annabelle Huling Memorial Home for children, the McKinley Y.M.C.A., and other organized fund drives. The group tried to match their projects with the interests of club members.
You can discover more about these and other women's groups by viewing the Women's Groups Flickr album.
- Taylor Henning, Archives Volunteer