The Champaign County Historical Archives invites you to explore our new online exhibit, "From Homemaking to Municipal Housekeeping: 20th Century Women's Clubs in Champaign County," now online on Local History & Genealogy Digital Exhibits.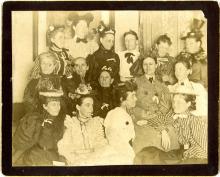 In 1876, Mary Healy returned from a trip to Dubuque, Iowa, where women's social clubs were thriving. According to Healy, who was interviewed in the Courier in 1939, "Every woman, rich or poor, learned or unlearned, was running about with a book or an article tucked under her shawl." This visit prompted her with the inspiration to begin a women's social club in Champaign.
With the birth of Healey's Art Club in October 1876, a new era of women's organizations began in Champaign-Urbana and surrounding towns. Countless clubs for women, by women sprang up in Champaign County throughout the 19th and 20th centuries, including the Carley Friendship Club of Somer Township, the Homer Women's Club of Homer, the National Council of Negro Women, Champaign County Section, and Church Women United of Champaign-Urbana.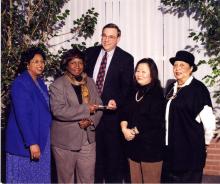 While some of these clubs have now disbanded, their legacies live on in their charitable contributions, artistic efforts, political accomplishments, and the artifacts they left behind. This fully-online exhibit showcases the variety of women's club collections held by the Champaign County Historical Archives. It also includes links to outside sources for more information, such as blog posts, websites, and videos. Check out this brand new exhibit today!   
-Olivia Palid & Matthew Mayton
 Archives Practicum Students