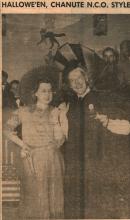 On Halloween in 1941, the Chanute Air Force Base (CAFB) saw a spooky night hosted by the Non-Commissioned Officer's (NCO) club. "Ghosts, goblins, and broom riding witches cavorted beneath a bright harvest moon as the Chanute NCO club staged its annual Halloween Hop Saturday evening." The event featured an award for the best costumes. The award was presented to Mrs. Hill, the wife of master sergeant Joe Hill, for her costume as Annie Oakley. Mrs. Hill's western dress, prop gun and holster, and large ten gallon hat made for a quite compelling costume. Mrs. Hill shared the spotlight with master sergeant R. L. Jackson who humorously presented himself as "a professor of Science." Bespectacled by horn-rimmed glasses, a professorial overcoat, and a long wig, Jackson inspired laughter amongst his fellow party goers.
Not restricted to costume contests, the event saw dancing performances, juggling acts, and even a performance by an easily distracted dog. The dog's performance was a crowd favorite, but his exciting performance was cut short when he was duped by a spooky decorative black cat. Upon sighting this feline mystery, the dog abandoned his performance entirely! This night of devilish shenanigans and happenings was just one of many events hosted by the NCO club. The club would host three dances in the next couple of months before its end of the year party on December 31, 1941. (1) 
Now, you may ask, "What is an NCO?" NCOs were officers that obtained promotions by rising through the ranks and were not commissioned from outside of their units. The CAFB established a school for N.C.O.'s on May 5, 1943. The school provided courses focusing on leadership and communication amongst the officers. The Chanute Collection holds Subject Files, curated by the CAFB Historian, that provide a firsthand account of the history of NCOs at CAFB, the NCO Leadership School, the NCOs' Enlisted Open Mess and its reimagination in the early 1980s, and the many events hosted by NCOs. (2)
- Kevin Adams
  Archives Intern
----
(1) "Hallowe'en, Chanute NCO Style." Chanute Field Wings, October 31, 1941.
(2) Chanute Air Force Base Subject Files: Non-Commissioned Officers. October 12, 2019. Chanute Collection. Champaign County Historical Archives.