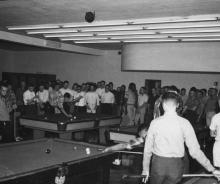 Chanute Air Force Base offered considerable entertainment for base personnel. Previous blog posts referenced the Chandelle Club and the YMCA/USO on base, but those were only two of the many options young men and women at the base and in Champaign County could choose to enjoy. Another option was Trade Winds, a service club that opened in 1956 and was renovated in 1965. Trade Winds was open seven days a week and entertained an average of 360,000 persons annually. The building itself had 33,574 square feet of floor space. It included a 4,472 square foot dance hall, four record rooms with a library of over 1,000 records, loanable music instruments, a game room with eight pool tables and three ping-pong tables, two TV rooms, one card playing room, a writing room, and an airmen's' lounge. There was also a family lounge and a combo room used for weddings and events.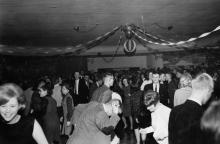 A glimpse of an event calendar from the period shows an extraordinarily active club, with events and programs every day of the week. This included game nights, theater performances, dances, music acts, and art instruction, as well as recreational tournaments in chess, dominos, billiards, and ping pong. Every Friday was square dancing night, and every Sunday morning hosted a coffee call at 10 a.m. with free coffee and donuts. The service club was so popular that students from the University of Illinois regularly attended dances and other events held at Trade Winds. Monthly operation expenditures for Trade Winds in 1965 averaged around $1,200, with about $100 a month going to donuts alone.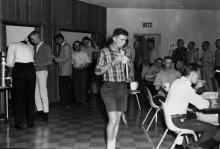 In addition to its regular activities, Trade Winds hosted numerous unique events and activities, including arranging special bus trips to Chicago and hosting diverse community events like women's fashion shows and the local Rantoul Aquarium Club. In July of 1966, the base hosted a well-known west coast entertainer, lecturer, and magician named Harry "Mr. Magic" Bernard. Bernard garnered fame as a headliner at Disneyland, the California State Fair, and on numerous television programs. During Bernard's visit, he presented a lecture titled "Cheating at Cards," where he showed attendees how cards are manipulated, and what to watch for when playing cards. He completed his lecture with a magical comedy act.
- Tom Kuipers
   Archives Assistant