My name is Liz Wittrig and I joined the Champaign County Historical Archives as an intern in February. I am a graduate student at the University of Illinois' School of Library and Information Science and will be working in the Archives to process the Chanute Collection.
To celebrate Women's History Month, I want to highlight a file I found in the collection on how air force base personnel celebrated International Women's Year.
In 1972, the United Nations declared 1975 as International Women's Year (IWY) and called upon congress, government officials, and educational institutions to spend the year evaluating the progress made toward women's equality.
H. J. Dalton, the Deputy Director of Information for the United States Air Force Headquarters, sent a memorandum to all Air Force Base directors with advice on how each base should join the United Nations' efforts. He hoped to "encourage the concept that national defense is a common and equal responsibility of all citizens."
Chanute responded to this call to action by planning a year-long celebration of women at the base. The base created a checklist of ideas to advance women's rights: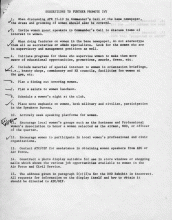 Throughout the year, Chanute checked off several of their ideas. "Bridge Positions" were created to allow eight female training technicians to advance to training instructors, the Pacesetter Chapter of Federally Employed Women (FEW) was chartered at Chanute, the base revised their briefing for incoming students to discuss the equality of women in training and methods for handling sexual discrimination, and the base newspaper, "The Chanute THIS WEEK," created a Special Edition Women's Issue on August 8th.
Most notably, Chanute became one of the first bases to fully integrate females into the training program. Chanute had opened its classes to women in 1944, but the small number of female recruits and a bias toward women serving in "non-traditional" roles led to separate management, facilities, and career paths for them. On April 1, 1975, Chanute deactivated its Women's Air Force squadron. Chanute discontinued separate marching units, dining halls, recreation areas, and training sessions for women.
The Women's Air Force commander, Helen L. Minor, celebrated the termination of her squadron as a step forward for women at Chanute: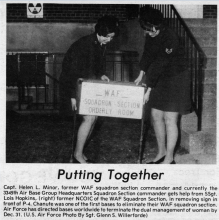 When evaluating how this effected the base, the Office of Information noted that the number of women who withdrew from the program decreased from 21% in 1974 to 10% by the end of 1975. Chanute Air Force Base credited this change to International Women's Year and their year-long effort to make national defense a common and equal responsibility.
- Liz Wittrig, Archives Intern