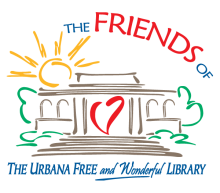 We invite you to join the Friends to participate in Friends' activities or just to support your Library—a well-loved community information center.
Membership in the Friends is a bargain! With your annual membership of only $10.00 you will receive early admission to all book sales on "Members Night." Most important, you'll gain the satisfaction of supporting a successful local 501 (c)(3) organization. The Friends raised over $18,000 at their book sales in 2016 to support the Library! You can shop the Friends Book Shop online 24/7.
The Friends meet at the Library at noon on the first Wednesday of most months and welcome members at its planning meetings. Check the Library e-calendar for specific dates.
Friends' Projects
Support the Library through the purchase of those "extra touches" that fall outside the library's budget. In fiscal year 2016, $10,000 has been spent on books for adults and teens, and $6,000 on books for children.
Organize and annually raise over $25,000 through their spring, summer, and fall used book sales and the sale of gently used books at the Cafe & Friends Book Shop.
Underwrite the annual adult, teen and children's summer and winter reading programs.
Underwrite the Library's 1,000 Books Before Kindergarten reading program.
Develop and maintain the signature flower boxes and landscaping around the Library. 
Purchase tools to support volunteers who maintain the landscaping.
Sponsor the Herbert Goldhor Award for Public Librarianship, given each year to recognize an outstanding graduate of the University of Illinois School of Information Sciences showing excellence and interest in entering the area of public librarianship.
Donated the proceeds from their 2016 Spring Book Sale to support the cost of moving the Chanute collection to the Champaign County Historical Archives.
Purchase the distinctive awnings on the Race Street porch.
Purchase a starter collection of $10,000 for cloudLibrary™ by bibliotheca.  (Formerly called the 3M Cloud Library.)
Underwrite the subscription for the Omeka platform that powers the Local History & Genealogy Digital Exhibits
Funded a collection launch of VOX Books for Children in the amount of $4500.
Book Sales
The Friends holds massive sales of great used books three times per year: spring, summer, and fall. The next sale may be in August 2021! For specific dates of future book sales, check the Library e-calendar.
Book sales run for five days:
Thursday night - regular price sale for Members
Friday and Saturday - regular price sale
Sunday - half-price sale
Monday - free giveaway of leftover books
Are you ready to re-purpose some of your books? If you're considering donating your gently used books, here are some helpful guidelines.