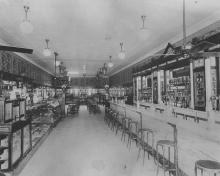 Sugary, sweet treats have been a highly traded and well-loved food for over a millennium, and by the 1800s over 380 factories were built in the United States to manufacture candy. Many of the larger manufacturers have withstood the change in time, allowing their names to become synonymous with the fast approaching holiday season, but we often forget about the smaller confectionary shops they started out as. At the turn of the 20th century, we had a few shops that called Champaign County home. The longest running one was Vriner's Confectionary.
In 1898, Peter Vriner, a young Greek ice cream and candy manufacturer opened Vriner's Confectionary on 55 E. Main St., Champaign, to the delight of the neighboring Varsity Theatre and train depot patrons. Over the next couple decades, business boomed and Vriner's became the most popular of the five confectioneries in Champaign-Urbana.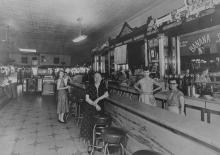 In 1928, a sample of Vriner's 'Trail Toffee' managed to make its way to Heath Brothers Confectionary in Robinson, Illinois. They loved Vriner's version so much they were inspired to develop their own formula for Heath English Toffee which still exists today.  
By the 1930s, the soda fountain and stained-glass designs had been added in a remodel, cementing the quintessential Vriner's look. In fact, the local landmark and vintage touches was so loved by R.E.O Speedwagon that the band took a group photograph at the counter and had it printed on the back of their "T.W.O" album.
The shop captured the spirit and flavor of a bygone era, and served the city for three generations, and while Vriner himself carried out the design and renovations of the shop, his descendants and a few other trusted individuals took care to maintain the quality of service, products and environment. Over those decades, elementary students could count on the confectionary shop as an essential field trip to see the manufacture of candy canes during the holidays, university students continued to sip on homemade ice cream shakes and enjoy the addition of full-size meals to its menu, and parents would take their own children to experience the same sweet treats they had when they were young.
On May 9, 1983, Vriner's Confectionery was added to the National Registrar of Historic Places, but over the next decade, the shop experienced a decline in sales and heightened expenses. Vriner's was forced to shut its doors in 1997, one year before its 100th birthday, but it would live on as an important establishment for multiple generations in central Illinois.
Today, Memphis on Main occupies the building but keeps much of the original design that Peter Vriner had constructed. As of a couple years ago, it was still said that Georga and Peter were making candy canes in Florida during Christmas time.
If you are interested in learning more about local landmarks and properties
, the Champaign County Historical Archives has a variety of ways to get started. 
- Leslie S.
  Archives Intern