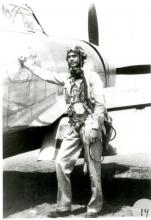 In honor of Black History Month, we want to celebrate and recognize one of the individuals who shaped Chanute Air Force Base and paved the way for future generations of African American service people in the Air Force. During World War II, 1.2 million African American service people enlisted and served throughout the world. All of the U.S. military services were segregated; therefore, many African Americans were relegated to combat support roles like cook, transportation, and grave-digging until desperation for pilots, medics, and officers occurred in 1945. Eventually, to decrease conflict related to racial prejudices, President Harry Truman signed Executive Order 9981 in July 1948 and integrated the U.S. military.
When looking at the history of African American's in the Air Force specifically, many people are familiar with the Tuskegee Airmen, who broke down barriers by being the first African American squadron permitted to fly for the U.S. Military. While the group was officially formed in Tuskegee Field in Alabama, Chanute Field was the first place that allowed these airmen to train. Among the first graduating class was Colonel George Spencer Roberts, who was at the forefront of this inclusive movement in the military.
Born in 1918 in Virginia, Roberts was the first candidate to be accepted in the all-black pilot training program in 1942. He would be in command of the 99th Fighter Squadron, the first all-black squadron, throughout World War II. After completing 103 combat missions during World War II and the Korean conflict, Colonel Roberts returned to Chanute as the first African-American Commander of Chanute Air Force Base. From 1954 to 1960, he was the Commander of the 3345 Maintenance and Supply Group. The Colonel would spend much of his career campaigning for integration in the Air Force before retiring in 1968.  He died in 1984 in California with his family.
Unfortunately, Roberts and the other Tuskegee Airmen did not always receive proper recognition nationally as they combatted rampant prejudice and segregation throughout the United States. It wasn`t until 1998 when President Bill Clinton established the Tuskegee Airmen National Historic Site at Moton Field in Tuskegee, Alabama, that the nation officially recognized their impact on American history. Chanute Air Force Base, however, created its own site of acknowledgment in 1987 by naming Building 200 on the Base after Colonel Roberts.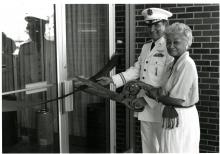 Chanute Air Force Base had a tradition of naming newly constructed buildings after individuals who had a long-lasting effect on the Base and its history. Roberts Hall was a dormitory on the Base, and many individuals attended the ceremony, including his close friends and his wife Edith Roberts, seen in photos here. The building was to be a reminder of the vital influence Colonel George Roberts had not only on Chanute Air Force Base but also on the legacy of African Americans in the United States Air Force.
- Rosemary Froeliger
  Archvies Intern