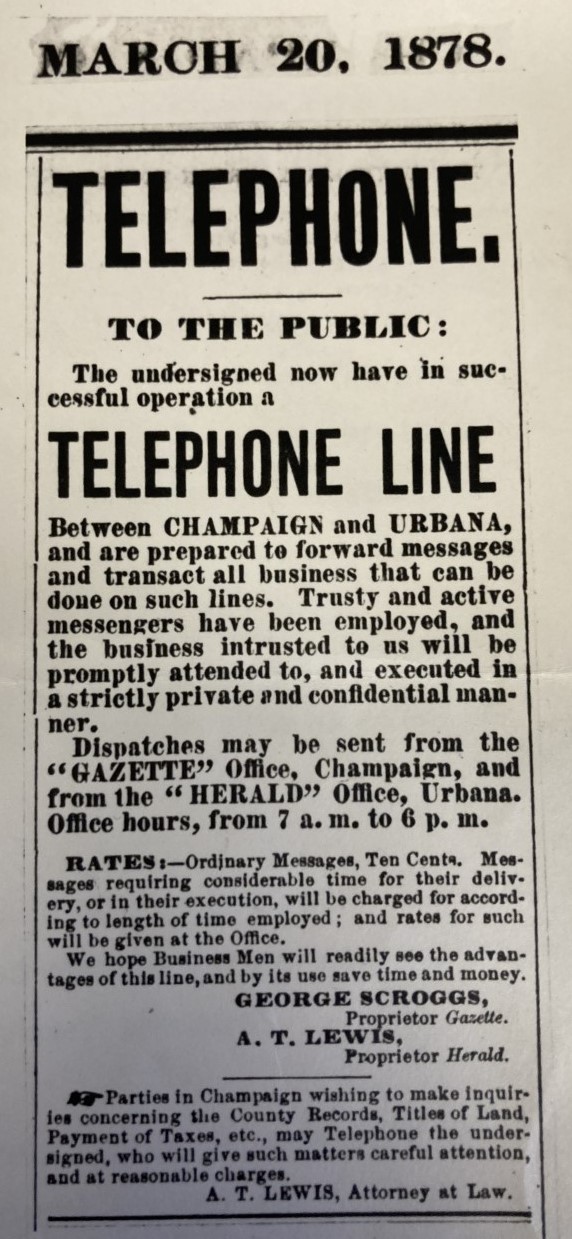 The first telephone in Champaign-Urbana arrived in 1878, just two years after Alexander Graham Bell's first call on March 10, 1876. This private toll line ran 1.5 miles between the offices of A.T. Lewis, the owner of the Urbana Herald, and George Scroggs, the owner of the Champaign Gazette. Influenced by the telegraph business model, the newspaper's proprietors charged ten cents for "ordinary messages." Rates increased with the length of the call.
The popularity of this line spurred the creation of a telephone exchange in 1881. The inaugural subscribers numbered 65 and included both businesses and private residences. By 1883, the number of lines doubled to 130, and around this time, our local system became part of the Central Union Telephone Company. Local telephone traffic from 1884 averaged 700 local calls and 10-20 long-distance calls a week.
In 1903, the Home Telephone Company was founded and became a local competitor to the Central Union Telephone Company. This development caused problems for C-U telephone users because calls could not be transferred from the lines of one company to another. If you wanted to phone all your friends and business connections, you had to rent phones from both companies [1]. 
The early telephone networks required an operator to route incoming calls to their destinations via the switchboard. Messenger boys initially filled these jobs, but women soon replaced them because employers found that women processed the required skills of good interpersonal skills and concentration. It also helped that employers could pay women half or even a quarter of a man's salary.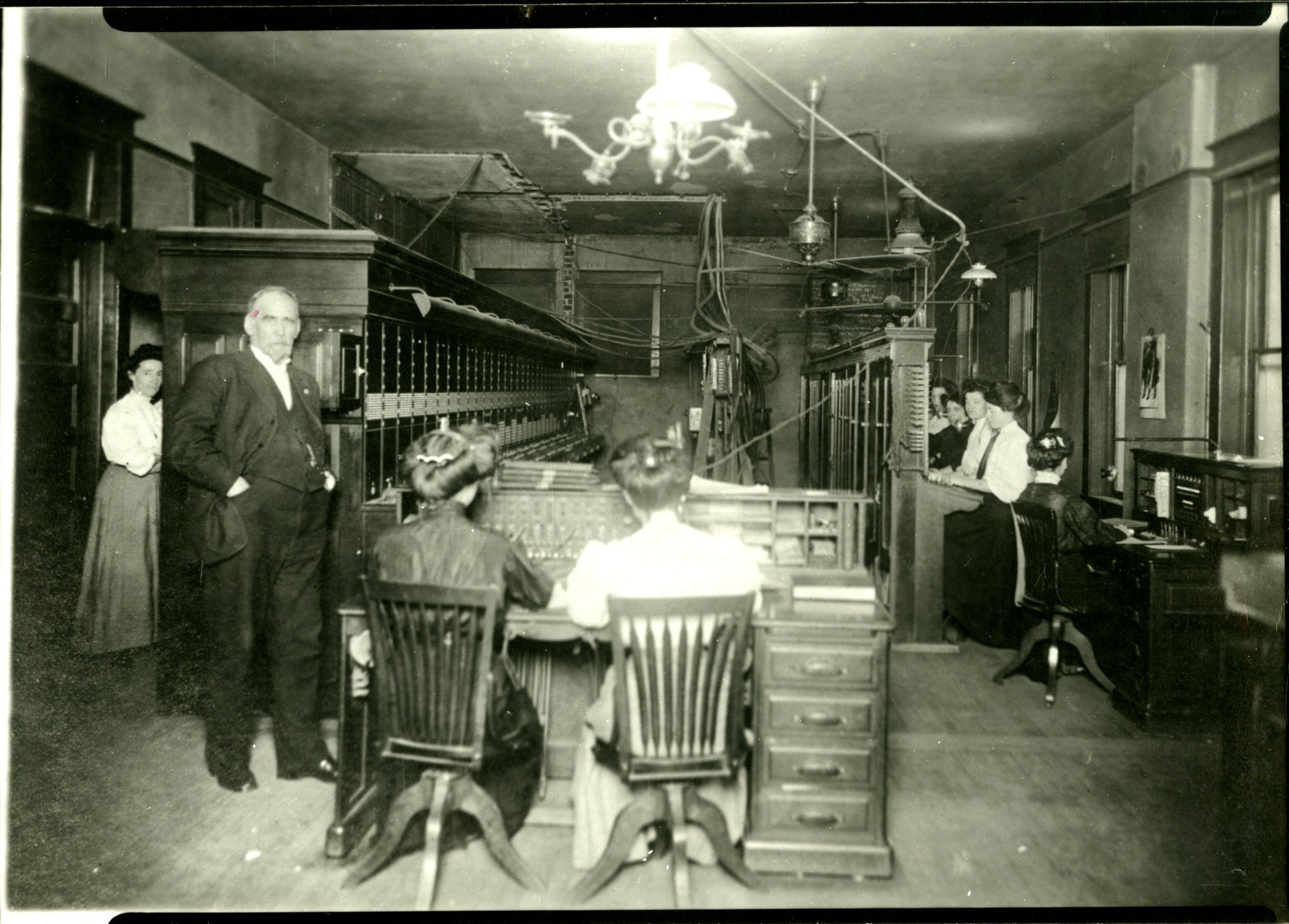 In 1918, Central Union Telephone and Home Telephone Company were consolidated under the control of Central Union Company. Just two years later, Central Union became part of Illinois Bell, which connected C-U residents to other phone lines through the United States. The first Illinois Bell exchange in Urbana opened in August 1922. The Champaign section of the dialing system was incorporated in July 1925, connecting the two cities to the rest of the country.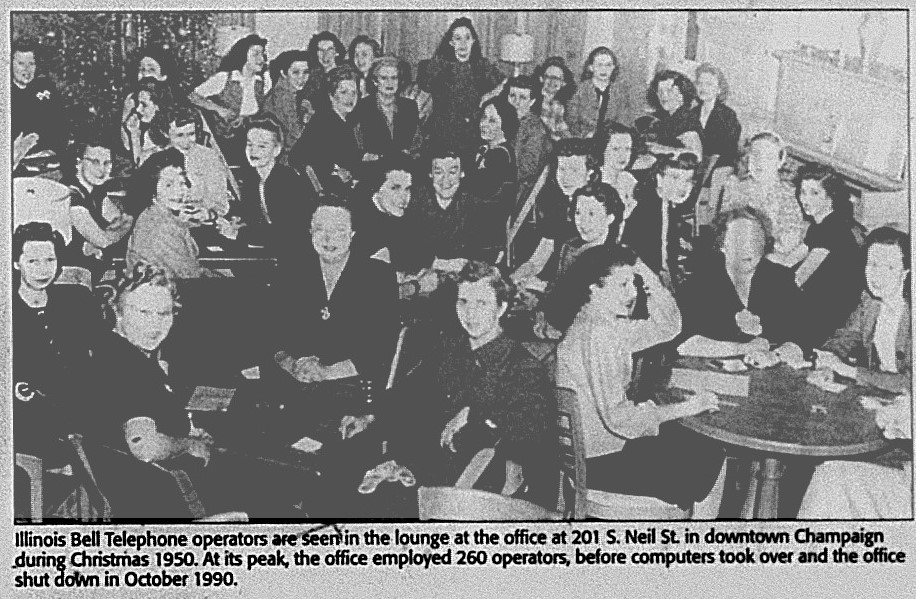 At its peak, circa the 1940s-1950s, Illinois Bell employed 260 operators at its downtown Champaign location, 201 S. Neil Street. However, increases in automatic switching technology and equipment resulted in gradual technological unemployment for women. The need for operators was eliminated for local calls, followed by long-distance and international calls. When the Neil St. office closed in October 1990, now operated by AT&T, just 40 operators were employed.
The News-Gazette, in 2007, wrote a profile of former Illinois Bell operators during their annual reunion held that year at the Red Barn Banquet Center in Champaign [2]. Usually, 40 to 50 operators attend the yearly event to reminisce and catch up. Here are some of their memories:
"Operators worked harder than anyone else at the company. From the time you sat down at the board, you had to be ready. People wanted service, and we had calls every single minute. We couldn't talk among ourselves, and we had a supervisor walking the aisle." Jeanette McPherson, Mansfield

Fran Brown, Urbana, recounted one of the many emergency calls operators fielded, this one from a husband whose wife was in the process of giving birth. "He didn't know what to do, and I had had babies myself, so I could give him directions until the ambulance arrived."

Nedra Brown, Champaign, related a time when Shirley Temple's first husband, John Agar, was stationed at Chanute and called the actress collect.
Another News-Gazette article published when the AT&T office closed in 1990 highlighted the longevity of some of the operators' careers [3]. "People think it isn't much," Jeanne Jones of Ivesdale said about the office's closing, "but it is the ending of an era because those people have been with the phone company all their lives." Jones, a supervisor, had been at the company on and off since 1945 and then continuously since 1967.
Marilyn Wilson, Champaign, compared it to a family. "There were quite a few of us who started out as 18-year-old farm girls. It was good pay, a pleasant place to work; people were friendly. It was like a family. We knew each other's husbands and knew each other's kids, and when they went to college."
- Sherrie Bowser
  Archvies Librarian
-------------
Sources:
[1] "Telephone history" Vertical file. Champaign County Historical Archives. 
[2] Pringle, Kirby. "Smooth operators," The News-Gazette. 13 June 2007, p.C-1.
[3] Kline, Greg. "Local AT&T office closes; operators share memories," The News-Gazette. 20 October 1990, page A-3.