Do you want to learn more about the history of the towns in Champaign County or elsewhere?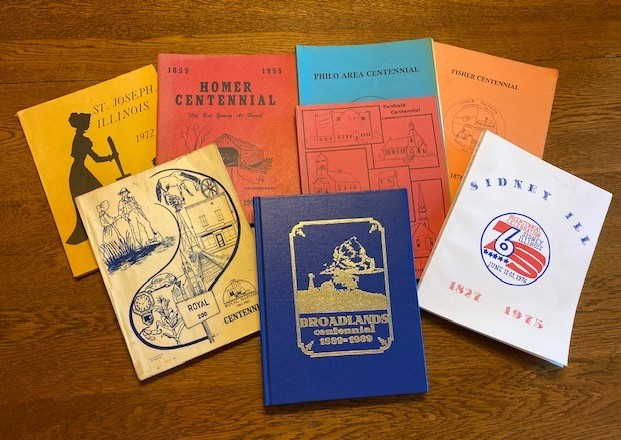 Numerous histories have been written for town centennial celebrations, the 1976 U.S. Bicentennial, or just because someone wanted to share information on the history of their town.
These histories range from a few pages to multiple volumes. They usually provide information on the area's first settlers and why the town is located where it is today. They also offer histories of churches, schools, businesses, cemeteries, and local organizations. Many of the town histories include short histories or names of the families living in the town at the time of publication. Photographs and other town memorabilia are also often included.
Sometimes you learn that the current name of the town was not its original name. For example, Longview was originally called Orizaba. The book Broadlands Centennial 1889-1989 has a more confusing example, "The village at the start was called Neir, then changed to Ayers. What is now Allerton on the Champaign-Vermilion county line was called Broadlands. On November 23, 1887, Broadlands (Allerton) was named Allerton after a Chicago financier and landowner. Ayers then became Broadlands since they did not want the same name for both township and the village." Describing the current town of Broadlands, the book says, "the original village was laid out in 1883, but the original town plat was not filed until June 6, 1887, by Augustus E. and Marshall P. Ayers." No mention is made as to why the centennial year is considered to be 1889-1989.
Virginia Biddle Thode compiled records from several sources for her books, Around and About Broadlands 1884-1984, Volumes 1 and 2. These go beyond the usual history items to include transcriptions of census records from 1910 and 1920, early marriages for Broadlands, headstone inscriptions at St. John's Cemetery, entries from the 1917 Prairie Farmer's Directory of Farmers and Breeders, pages copied from county histories, and a list of registered voters who lived in Broadlands in 1983. There are also several pages of newspaper articles and advertisements as they were printed in the local paper, photographs of people, places, checks, and student report cards.
Advertising played a big part in financing some of the earlier publications, such as the Homer Centennial, 'Old but Young at Heart,' published in 1955. Almost every page has an advertisement accompanying or opposite a picture or an article! These businesses and organizations were from Homer and other towns in the area, in both Champaign and Vermilion counties, but few exist today. Most of the ads are typed line ads, but a few include pictures of the business or employees. One surprise is an ad from the Champaign County Officials, 1955, that includes a picture of the Old Champaign County Courthouse that was in use from 1859-1901.
As new date milestones occur, some of the books are being updated. In 2000, Our Village History Philo, 1875-2000: Center of the Universe 125 years, was published. This book incorporates the Philo Area Centennial 1875-1975 and subsequent happenings from 1975-2000 into one book.
The Homer Historical Society published A History of Homer Volume 1, From the Timber to the Prairie, in 2005, for the 150th Celebration of the town. The following year, A History of Homer Volume 2, From the Calamity to the Calm, was published. Both books were written by Raymond K. Cunningham, Jr. and Molly Spencer Shoaf. These two books present a detailed and broader history of the town with numerous pictures and information gleaned from local newspapers, court cases, family files, and other documents. Endnotes can be found at the end of each chapter of the two books.
To see if we have a history of your town of interest, visit our Local History Online Catalog and visit us at the Archives.
- Karla Gerdes
  Archives Assistant