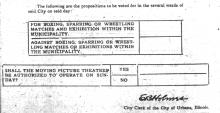 On March 1, 1926, a proposal was put forth to the Urbana City Council and Mayor concerning boxing, sparring, and professional wrestling in the city. Major cities like New York already established licensing systems to regulate combat sports, but other parts of the country still deemed them dangerous and immoral, and they remained unregulated. The Urbana proposal was presented as a local petition signed by hundreds of Urbana citizens. The proposal aligned with similar proposals made in Normal, Rockford, and Chicago to permit combat sports. Local news outlets felt that if Chicago passed the proposal, Urbana would as well. On April 20th, the ballot measure was presented as a simple yes/no measure to the people and barely passed with 1,952 votes for and 1,864 against. Although boxing and wrestling were very popular in the area for some time, they were now regulated sports that provided tax money to support the state. With a slim 86 vote margin, regulated professional wrestling was born in Urbana.
Records related to professional wrestling in Urbana are limited and sporadic. After the passage of the proposal, the city passed a motion that required public notices of wrestling matches and results. Wrestling in the area undoubtedly occurred over the following decades, but records related to the entertainment sport do not appear again until 1956 when the city passed a resolution to a permit a wrestling event at Crystal Lake Park in celebration of Labor Day. The following year, the Illini Shriner's Club announced they were holding a 3-hour wrestling event at the fairgrounds with the proceeds going to a children's hospital fund. The event was held June 4, 1957 and featured two 30-minute singles matches, a 60-minute tag team match, and a one-hour singles main event. One of the 30-minute bouts was a women's match featuring Rose Roman vs. Ada Ash. The tag team tussle saw Bill Melby and Carl Engstrom face off against Zack Melkov and Gypsy Joe, a Harlem Globetrotter. The main event was a title match with Wilbur Snyder against Heavyweight Champion Dick the Bruiser, a Delphi, Indiana native and popular regional talent from the period.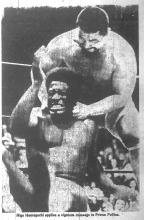 In the 1970s, the popularity of local wrestling continued. Combes Gym in Champaign hosted an event in March 1973 featuring popular regional talents like Cowboy Bob Ellis, Billy Red Cloud, and the despised Baron von Raschke with his weasel of a partner, pretty boy Bobby Heenan. The 60-minute, 2 out of 3 falls match ended with Ellis pinning Von Raschke in the final moments of the match. Another match on the card featured a 12-minute brawl between Prince Pullins and Higo Hamaguchi, with Hamguchi going over following an aggressive chop to Pullins' throat. The final two matches were between Billy Red Cloud and the heelish Handsome Jimmy Valiant and Princess Jasmine (the bride of Prince Pullins') and T.N.T. Turner. Valiant was victorious in his efforts and the explosive women's match ended with Princess Jasmine scoring a pin over Turner. This event was held to benefit a courtyard building project at Champaign Central High School. Four more wrestling events were held in Champaign in 1973 to support the project.
Part 2 will dropkick us into the 1980s and look at how regional wrestling is being kept alive by Champaign Ladies Amateur Wrestling aka CLAW.
- Thomas Kuipers
  Archives Intern 
----
Sources:
Urbana City Minutes, May 1, 1926.
Urbana City Ordinance #20, 1926.
"Election Ballot," The Urbana Daily Courier, April 17, 1926.
The Urbana Daily Courier, April 21, 1926.
Urbana City Minutes, August 6, 1956.
"Shriners Plan Professional Wrestling," The Urbana Daily Courier, April 26, 1957.
"Letting Go," The Urbana Daily Courier, March 11, 1973.
"Wrestling Added to Events Scheduled at County Fair," The Urbana Daily Courier, April 25, 1975.