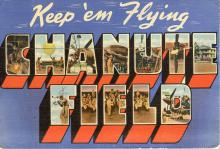 This year the former Chanute Air Force Base in Rantoul, Illinois celebrates its 100th anniversary. The base was established May 1917, following the United States' entry into WWI and trained over 2 million servicemen and women during its 76 years of operation.
In 2016, the Champaign County Historical Archives acquired the archival records from the Chanute Air Museum when it closed in Fall 2015, including photographs, scrapbooks, blueprints, base publications, and subject and history files. The Archives is celebrating Chanute's impressive history with a variety of events during May.
We will be hosting an exhibit throughout the month of May on the history of Chanute Air Force Base and its relationship with the town of Rantoul.
Come hear Mark Hanson, former curator of the Chanute Air Museum, a panel of speakers from the community, and view ephemera supplied by the University of Illinois to learn more about the historical significance of Rantoul's former air base. Wednesday, May 31 • 7:00 - 8:30 p.m. at The Urbana Free Library.
Lastly, we want to hear from you! Do you have a story about Chanute Air Force Base? If you have an interest in sharing your story please fill out this form.
Stay-up-to-date while our staff works busily to make this collection available to the public by following our Local History & Genealogy blog.
The Library would like to thank the Friends of The Urbana Free Library and The Urbana Free Library Foundation for their generous support of the collection's move to the Archives and for funding the Chanute Collection's Graduate Intern.
- Sherrie, Archives Librarian