The Chanute Airforce Base's POW/MIA collection reveals the events and programs that helped bring home and honor the POWs held during World War II and the Vietnam War. These events and programs began at Chanute Air Force Base in the early 1970s and continued until the early 1990s. The records include correspondence, event pamphlets, flyers, posters, images of paintings, photographs, presidential proclamations, newspaper clippings, event agendas, maps, and more. The image below and the materials mentioned above can be found in the Chanute Airforce Base's POW/MIA collection.
A photograph of a painting by Maxine McCaffrey, titled "At the Hanoi Hilton," depicts POWs' realistic experiences during the Vietnam War. The inscription reads: "At the Hanoi Hilton. Over 400 American pilots are held incommunicado in Communist prisons in North Vietnam subjected to physical and mental abuse contrary to Geneva Convention. How many Americans besides their own families voice concern about these courageous airmen?"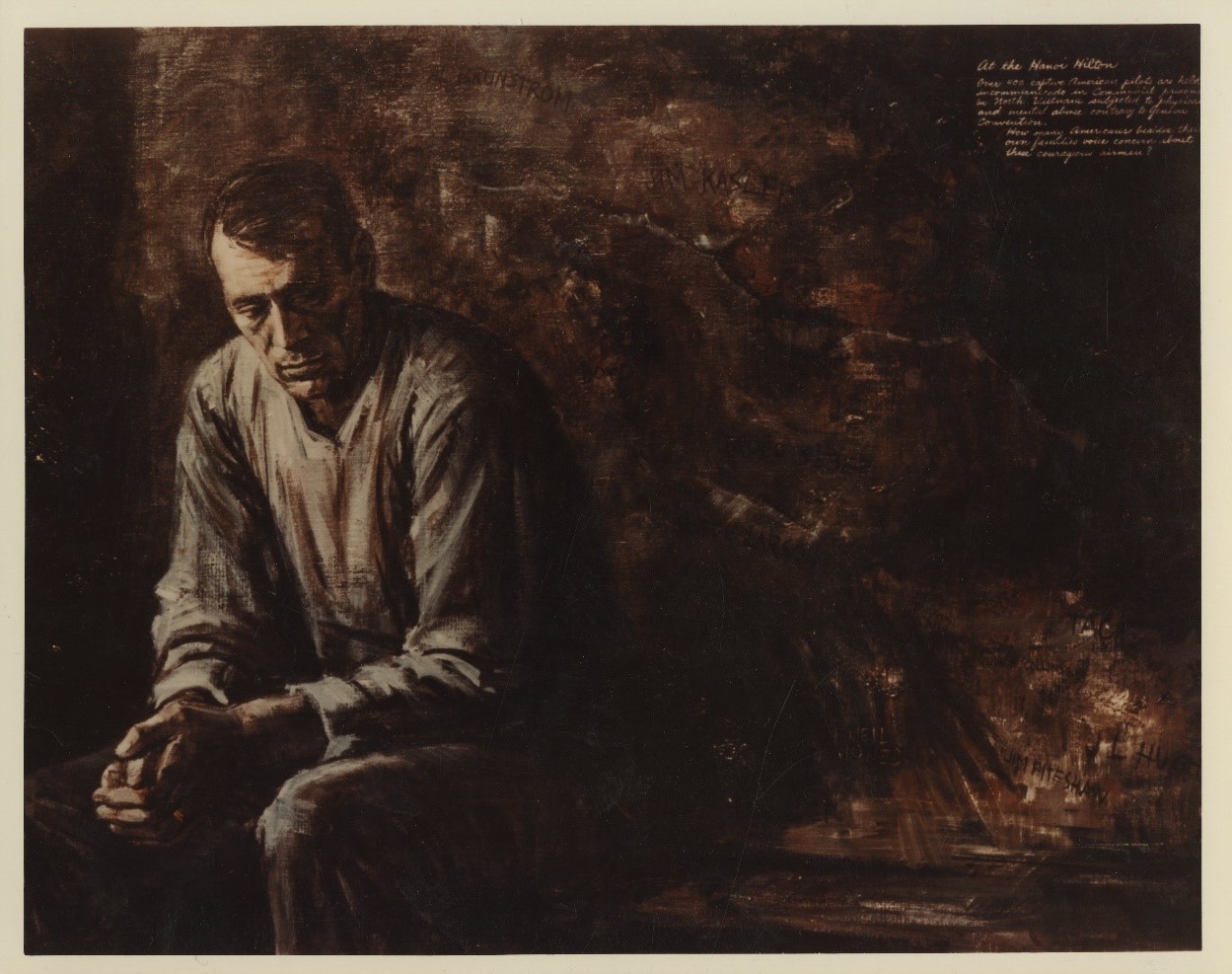 At the Hanoi Hilton by Maxine McCaffrey: Chanute Air Force Base Subject Files: POW/MIA,
Collection 200.005, Series 2: Images and Prints, Box 1, Folder 20: Paintings
McCaffrey donated 60 paintings to the Air Force Art Program before she passed in 1979. This painting and others donated by McCaffrey can be seen on the United States Air Force Art Collection website.
What is the Hanoi Hilton?
French colonists called it Maison Centrale, the Vietnamese referred to it as the Hỏa Lò, and the POWs held there named it the Hanoi Hilton. French colonial rule opened this prison in 1886 to imprison political rebels. In 1954, the French were forced out of Hanoi and the Vietnamese adapted it for their uses. After the Americans invaded, the North Vietnamese dedicated a section of the prison to contain prisoners of war. Most of the few hundred to 2,000 prisoners held there between 1964 and 1973 were American pilots that were shot down during the Vietnam War. Many of the POWs were already injured when they were captured and were not given medical treatment. While imprisoned, their conditions worsened. Even though North Vietnam was part of the Geneva Convention, this did not stop them from carrying out cruel and unusual treatment towards the prisoners. Many prisoners discussed their treatment when they were released, which included severe torture such as rope bindings, irons, beatings, and prolonged solitary confinement. Not until 1990 would Hỏa Lò be closed and mostly demolished, leaving only a small portion to serve as a museum.
-Johna
Archives Intern