The Chanute Air Force Base was home to non-commissioned officers. These officers rose through the ranks of their respective units and were not commissioned outside of that unit. As such, these officers were especially hard-working and dedicated. However, even the best leaders can improve their skills. The NCO Leadership School was a place where they could learn more about leadership and how to adapt their skills for their new roles. The objective of the school was to "enhance the position, prestige and dignity of our junior Noncommissioned Officers," "to build self-confidence, stimulate initiative and strengthen the character of our future Non-commissioned Officer leaders," and "to inspire our junior NCOs to greater acceptance of the challenges and rewards inherent in a career as NCOs, and to increase their ability and capability to discharge their responsibilities in this capacity." These objectives perfectly outline the goals of the school and aim to help along the NCOs as much as possible. Material from the NCO Leadership School can be found in the Non-Commissioned Officers collection.
These first few pages of the Non-commissioned Officers Leadership School Booklet outline exactly how the school operates and what its goals were.
The lesson plans varied, but student at the NCO school could expect coursework on problem solving, effective writing, communicative skills, democracy, and the military justice system, to name a few. This type of instruction differed greatly from the technical training curriculum of the base, and instead focused on "soft" skills. The students were provided with a helpful and nifty checklist for leadership, which includes criteria such as honesty, patriotism, dedication, and physical and mental fitness, to name a few.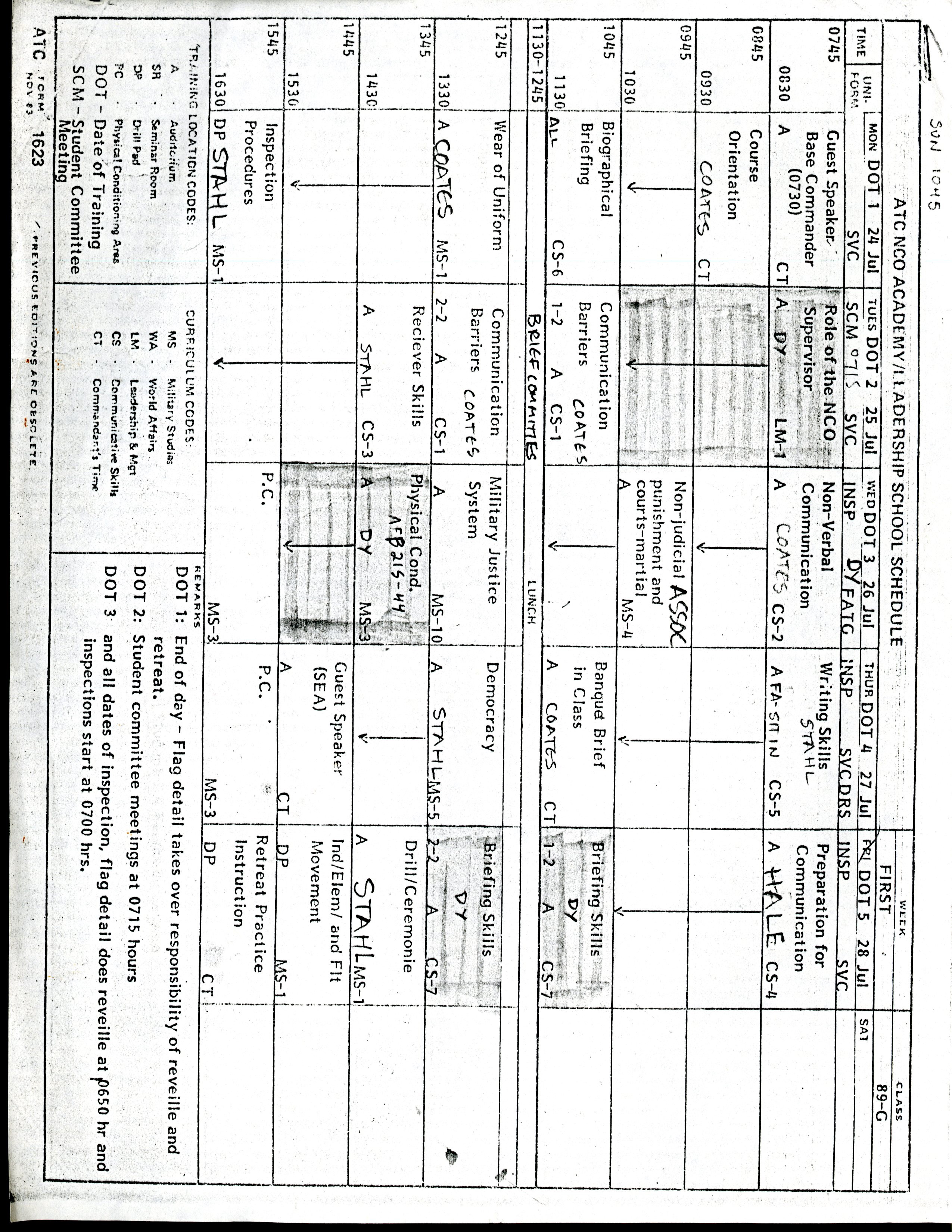 NCO Leadership School Schedule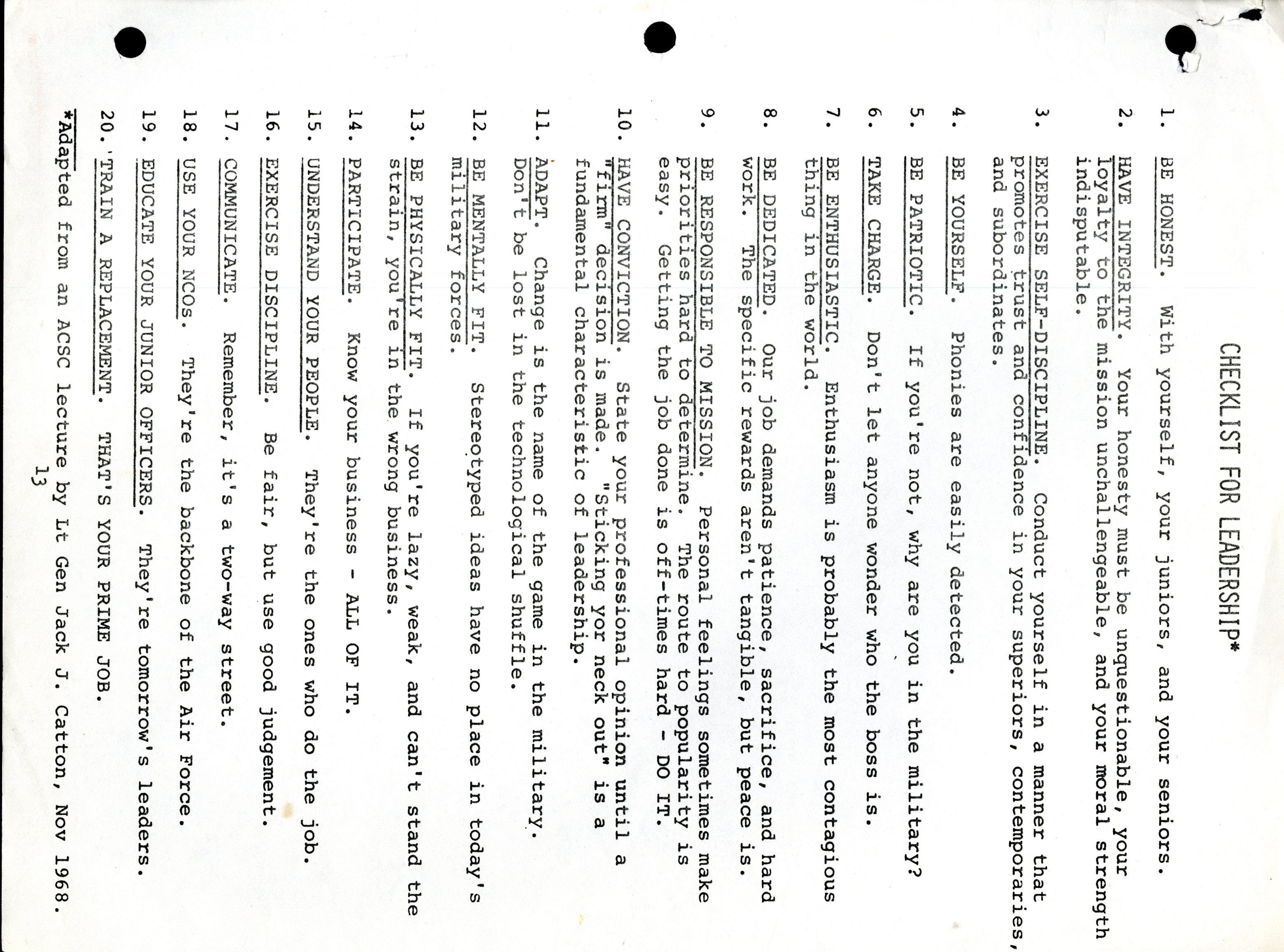 Checklist for Leadership
The materials mentioned above are administrative and instructor materials, but the Non-Commissioned Officers Collection also contains student materials. In the collection, we have a lengthy booklet on their Communicative Skills coursework, which tells the students how to study and what to expect from the course, with fun comics and illustrations sprinkled throughout it. There are a few examples of these comics below.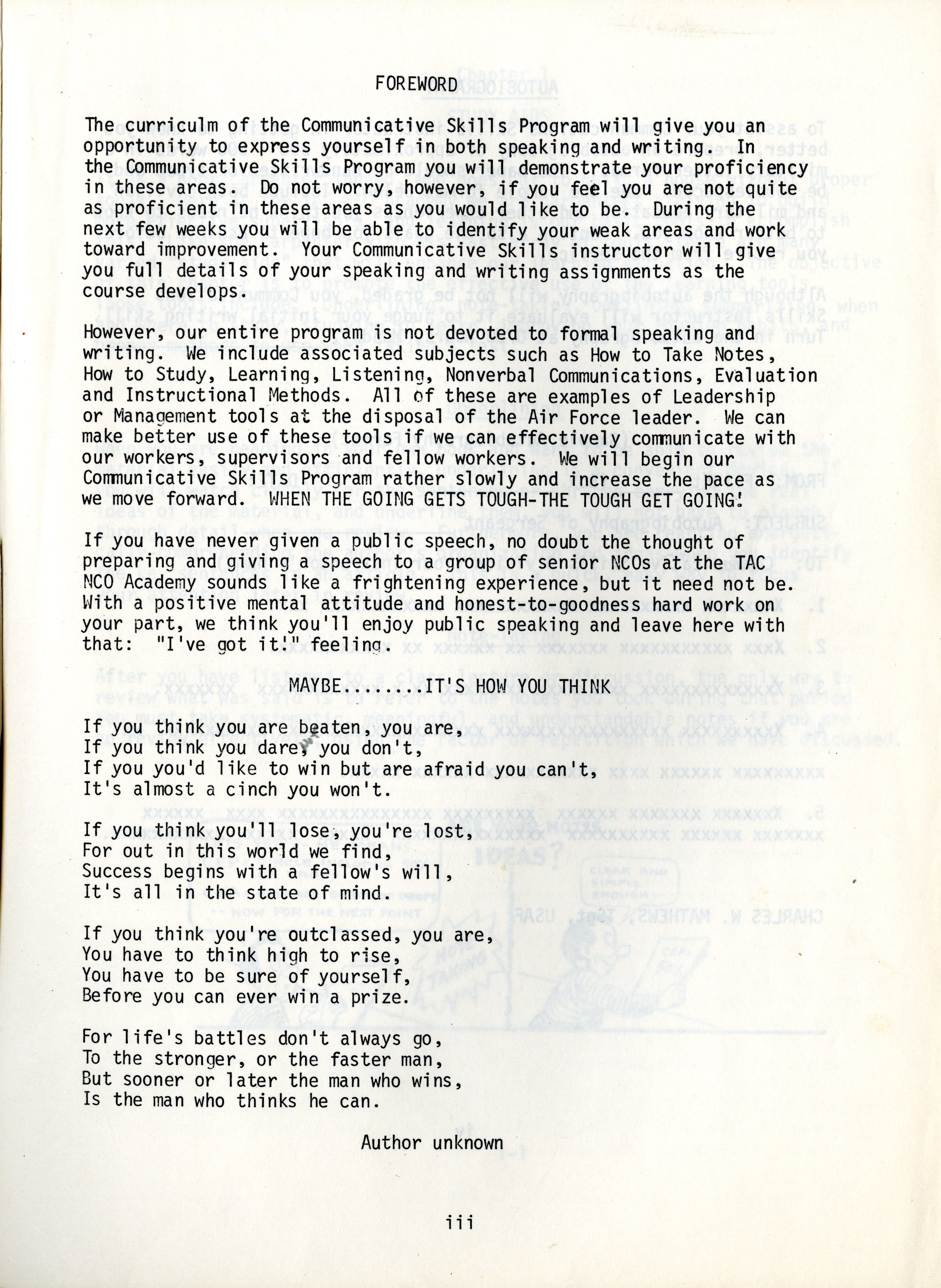 Communicative Skills Booklet, p.iii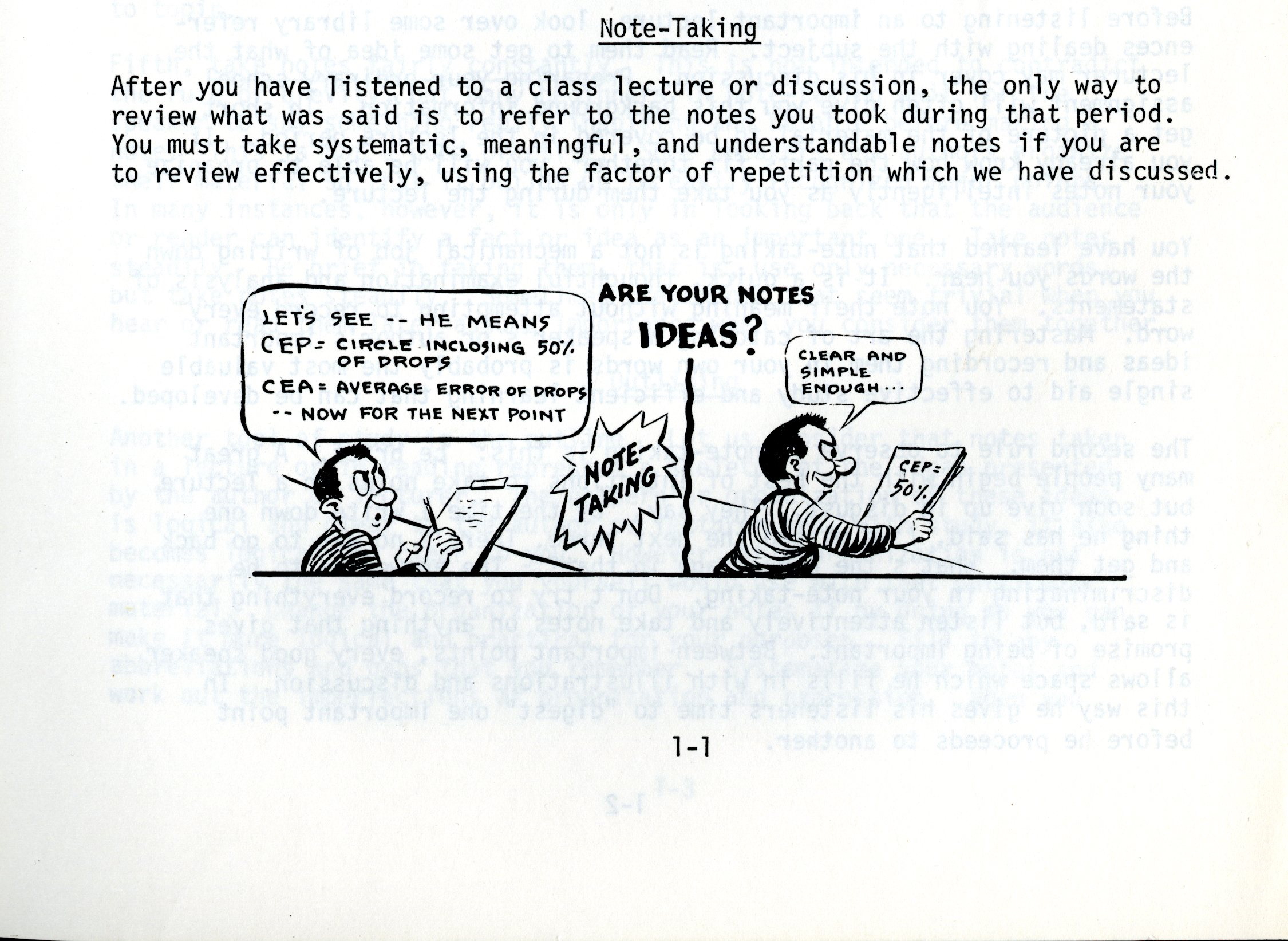 Communicative Skills Booklet, p.1-1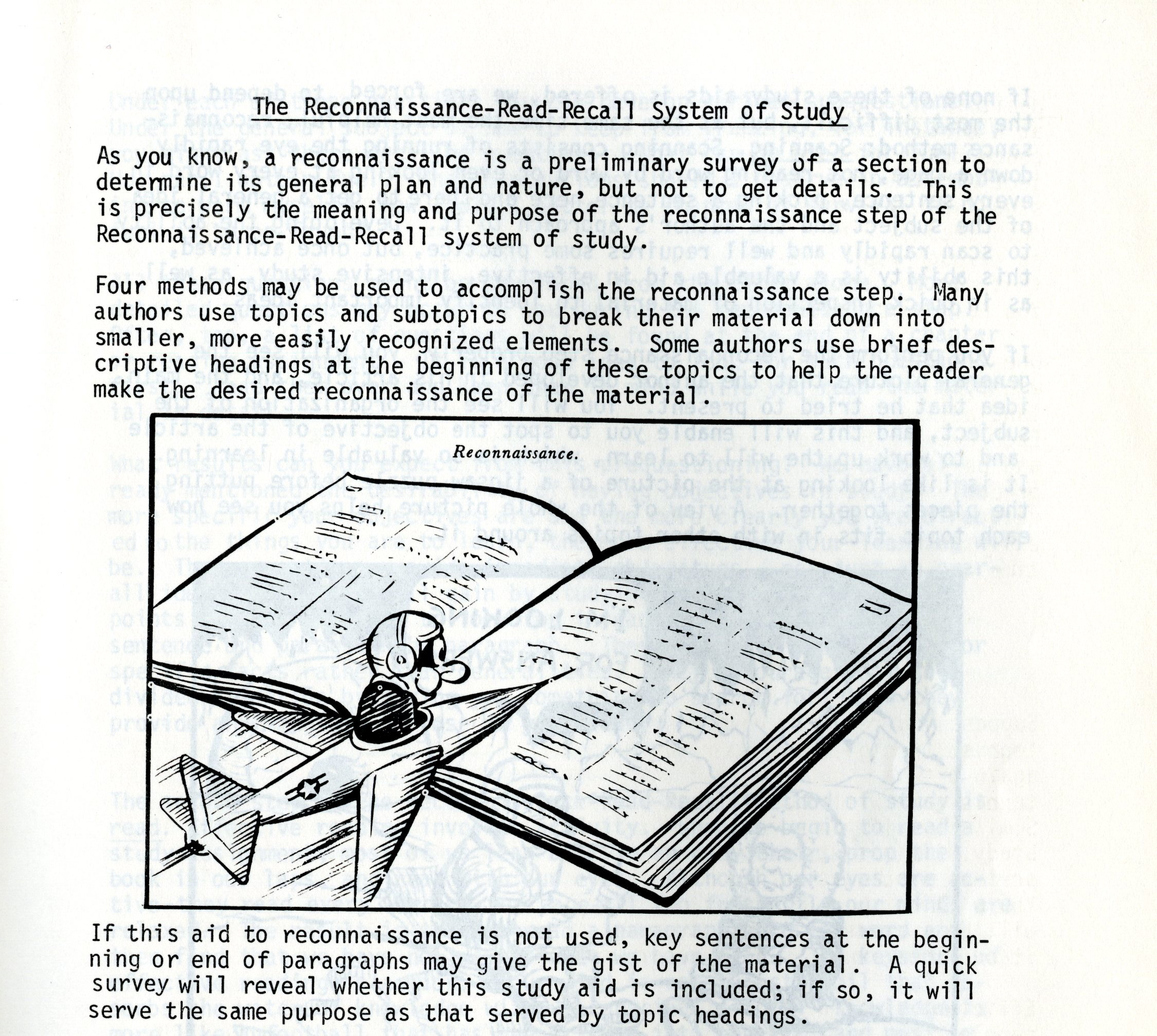 Communicative Skills Booklet, p. 1-7

Communicative Skills Booklet, p. 1-24
-Ani K.
Archives Intern