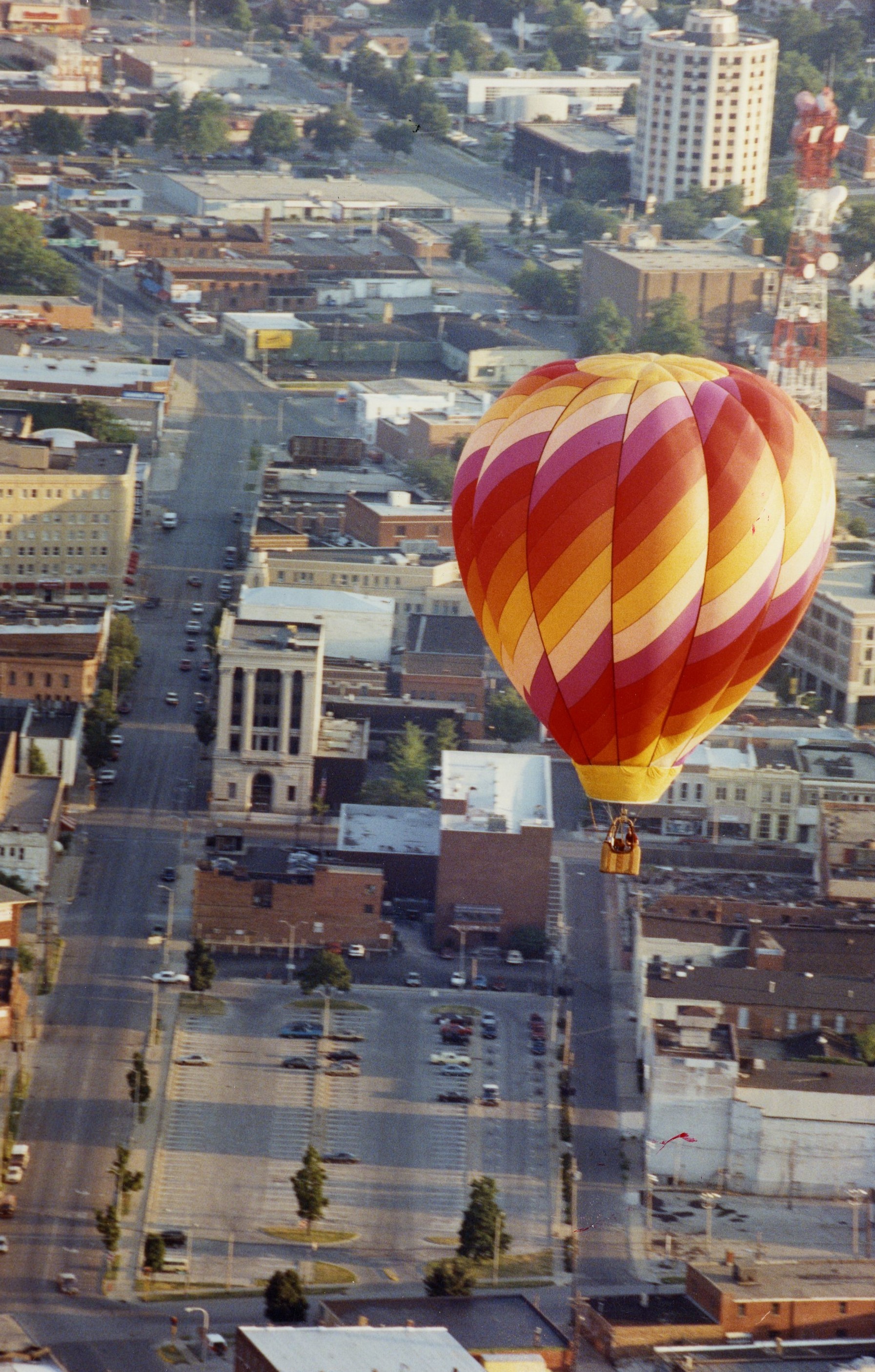 Since 1973, hot air balloons have been a frequent summertime sighting over Champaign County. Why 1973? That's when Tom Gabel moved to Urbana. Earlier that year, he was crowned the 1973 U.S. Hot Air Balloon Pilot Champion in Indianola, Iowa. Gabel held a sales franchise for Piccard Balloons (based in California) for a six-state area in the Midwest. By 1975, Gabel reckoned he had sold 40 balloons to people around the Midwest. Gabel was also a flight instructor, and several Champaign County individuals were introduced to the sport via him, including Ralph Senn and Joe Ream, aka "The Flying Tomato Brothers," and Alice Fletcher and her son Rod. This group would go on to introduce the sport to many others.  
 
Since then, Champaign County has supported many hot air balloon services and events, including repair and inspection businesses, regional balloon clubs like the Balloon Association of Greater Illinois, and hosted the U.S. National Hot Air Balloon Championship in 1998 and 1999.  
 
Many who pilot hot air balloons or have ridden in them talk about the peaceful quality of the experience floating silently over the countryside. But sometimes winds have a mind of their own, and the balloons and their passengers find themselves in some interesting urban situations.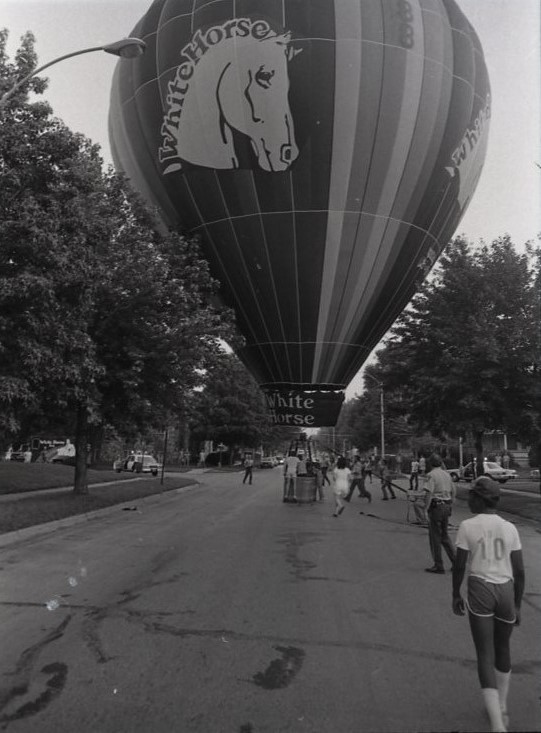 "Emergency Landing. When the wind suddenly stopped Monday night, Garry Haruska, 19, of Champaign was forced to land the balloon he was flying for White Horse Inn at the intersection of White and Fourth streets in Champaign. City police were on hand to block traffic and Haruska safety maneuvered past power lines in the twilight. 'I had to find what I could, and this was it.' he said." News-Gazette, August 4, 1981.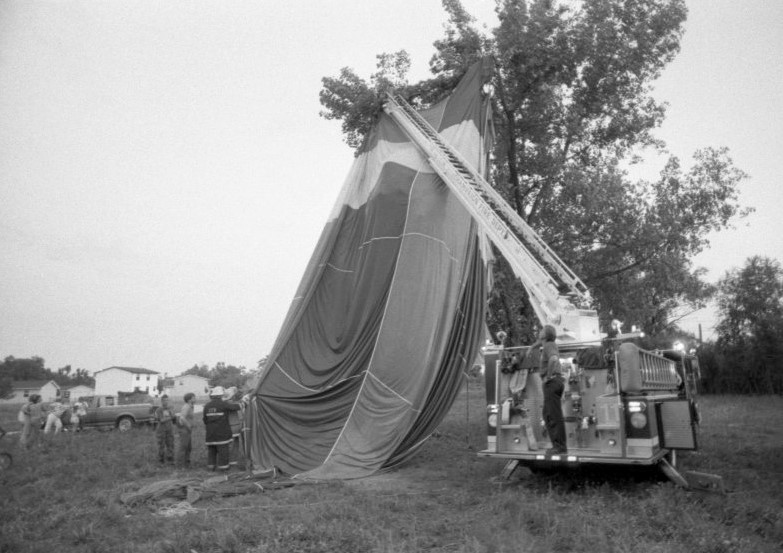 "Not so smooth landing. Firefighters remove a hot air balloon from a tree near Foxwell Court in Champaign. The balloon got entangled in tree branches after it landed Saturday. A fire official said the basket was already on the ground, and its occupants out of it, when firetrucks arrived. No one was hurt." News-Gazette, June 2, 1991 (Photographer: Robert K. O'Daniell)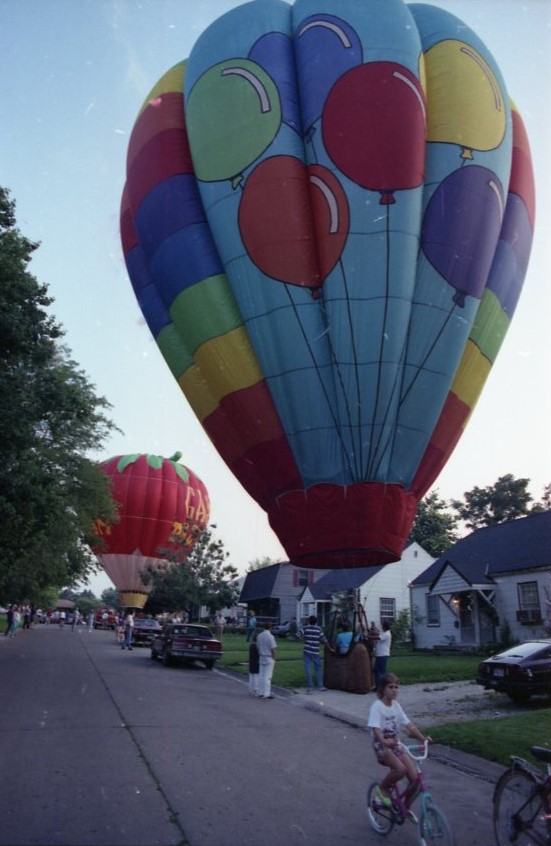 "Look who dropped in." Residents along Van Doren Street in Champaign visit with balloonists who were forced to land in front yards. The unexpected visitors dropped in on the area near Springfield and Prospect avenues in Champaign about 7 p.m. when winds died down. No one was injured." News-Gazette, August 18, 1992 (Photographer: Darrell Hoemann)
- Sherrie Bowser
  Archives Librarian