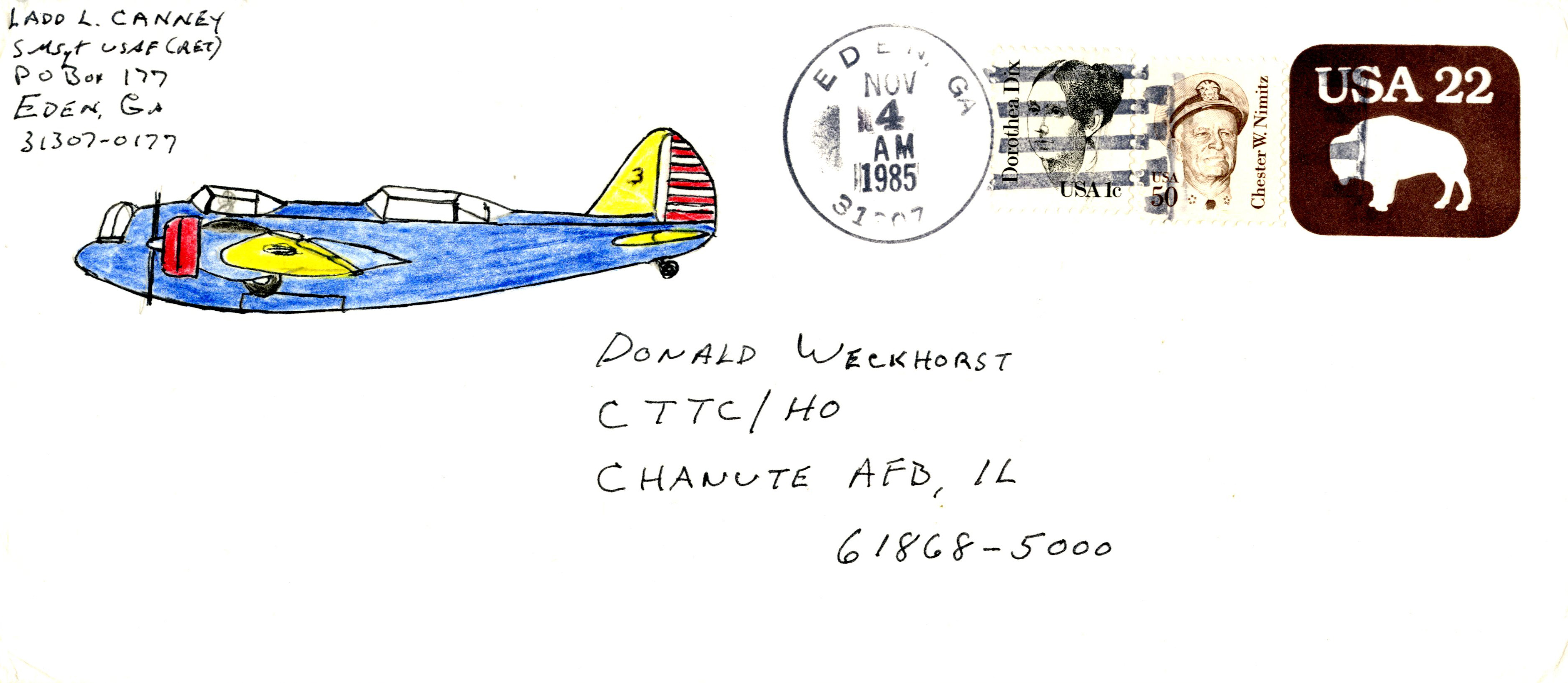 In 1983, Chanute Commanding Officer Major General J.D. Moore hired Chief Master Sergeant and Chanute alum Donald O. Weckhorst to be the Chanute Air Force Base historian. Moore's first order to Weckhorst was to create a pictorial history book of the base and Weckhorst immediately went to work on the project. From 1983-1992, Weckhorst contacted former and active Chanute students, instructors, civilians, and more from throughout the entirety of the base's history seeking sources for the book. In his efforts, he contacted over 1,000 former Chanuters and received donations from approximately 300 people in the form of photographs, documents, maps, and other materials. Our collections at the CCHA not only include these donations, but also the correspondence between Weckhorst and former Chanute personnel concerning these donations. The correspondence often included information about the records being donated, stories from the base, updates on life after Chanute, and personal stories unrelated to Chanute. Weckhorst made personal connections with the people he contacted and developed friendships with them through the records they donated and their shared experience as Chanuters.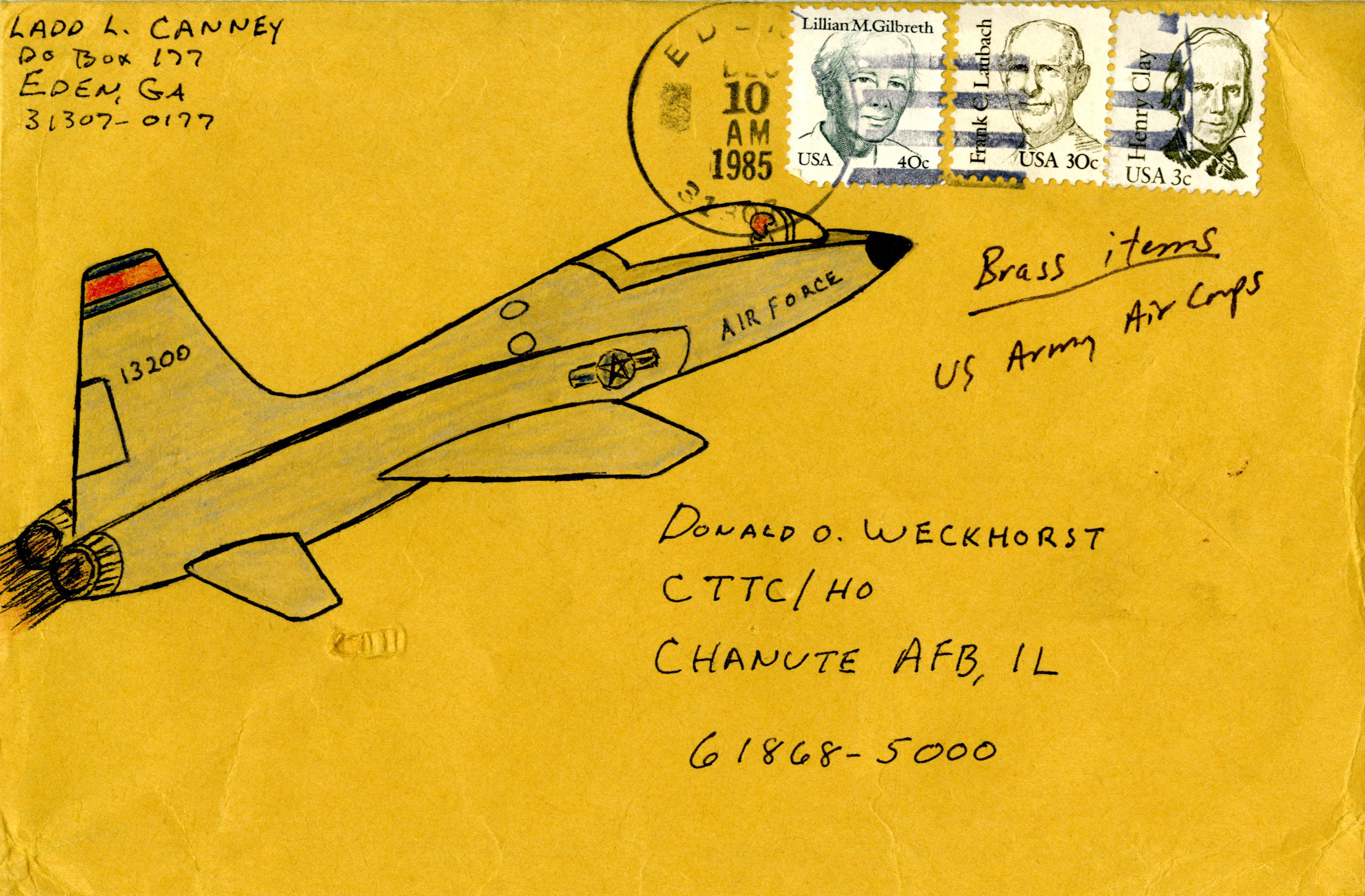 Letters exchanged between Weckhorst and retired U.S.A.F. Senior Master Sergeant Ladd L. Canney in 1985 offer a unique glimpse into some of this correspondence throughout 1983-1992 in preparation for the pictorial history book. Ladd was born in Rochester, New Hampshire in 1921. He enlisted in the Air Force in 1939 and was sent to Chanute where he trained and then ultimately took part in World War II as well as the Korean War. Ladd retired from service in 1963 and moved to Eden, Georgia, where he worked for construction engineering company Froehling and Robertson. After Froehling and Robertson, Canney opened his own custom machine and modelwork shop in Eden, where he restored vintage and antique vehicles as well as created scale models of 19th century trains and military artifacts.  When Weckhorst contacted Ladd in 1985 about donations for the book, he was more than happy to oblige. Ladd sent numerous photographs from Chanute in 1939 as well as some artifacts and ephemera from the base. Ladd and Weckhorst also held a shared interest in auto restoration and the Civil War era scale models Ladd created.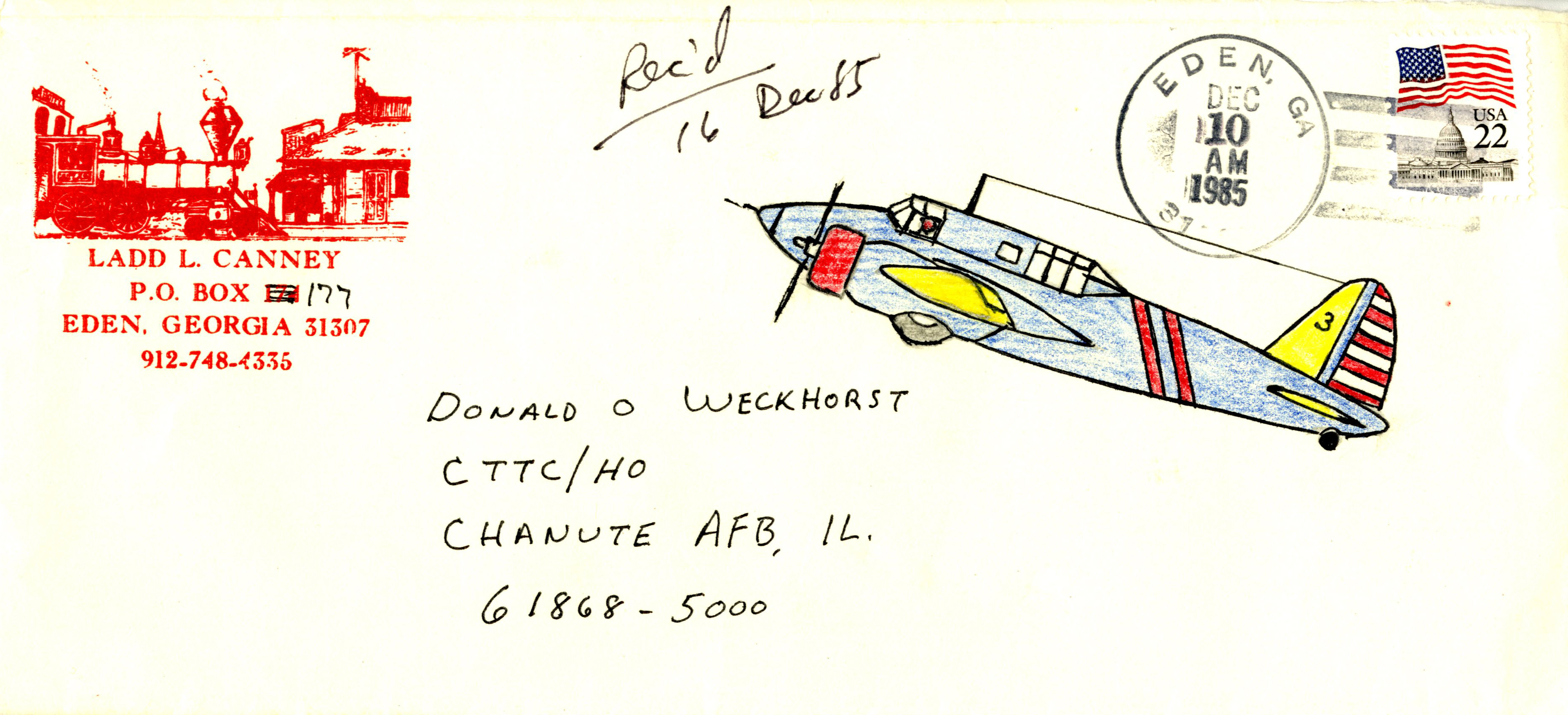 Throughout the correspondence, Ladd included drawings on each envelope. The drawings were all Air Force aircrafts and appear to be from throughout the history of aviation up to that point, with a focus on WWII era planes. The planes are not identified, but there appears to be a Douglas C-133A on the November 20 envelope and one of the December 10 envelopes offers a plane with an ADF antenna. The October 23 envelope seems to be an open cockpit plane, and thus probably a WWI or at least, pre-WWII plane. The only modern drawing is of a Jet on one of the December 10 envelopes. It is also interesting to note that all of the planes are illustrated with the same colors: yellow, red, and/or blue. I am curious if this was done for a reason, or merely the result of limited options for colored pencils. Do you recognize any of the aircraft drawings on these envelopes? Let us know on Facebook or our Flickr page.
-Tom Kuipers
Archives Assistant