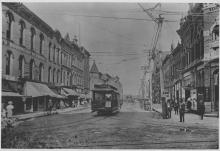 Our Photographs Collection contains over one million photographs of local people and locations, dating from the mid-19th century to the present. So, how does one go about finding a specific photograph in a collection so vast? Here are some tips.
First, it might be helpful to know how our photographs are organized. Our general photographs are separated into envelopes by Subject. For example, the photo below is from an photograph envelope called "Campustown."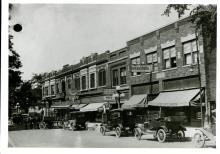 In addition, we have a number of photos organized by Streets and Addresses, which is where you will find a photo of your house, if we have one in our collection.
Lastly, we have Personal and Family Photographs, which are organized by last name.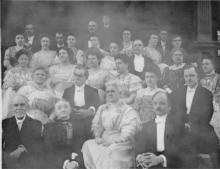 You are always welcome to visit, call, or email us to see if we have photographs of specific people, places, or things, but you can also search our catalog yourself from anywhere. Here are some instructions for doing so:
1. Go to our catalog, Local History Online: http://archivescatalog.urbanafreelibrary.org/polaris/
2. Click the tab "More Searches", then "Advanced"
3. Type the subject, address, or name in the search box.
Addresses should be formatted like this example:
Green St (Urbana), West, 210
Names should be last name, first name. Also change the 'Any Field' box to 'Name.'
4. Change the 'Limit by:' field to "Category: Photographs". This will limit your results to photographs.
If the record is a 'Photographs Envelope,' you can visit the Archives and we can pull that envelope for you to view its contents. Some photos have been digitized and can be viewed by selecting 'View Photograph' on the record description.
If you would simply like to browse some local historical photographs from our collection, you can visit our Flickr page The Urbana Free Library Digital Collections.
These photos are in albums labeled by subject. We are always adding photos to our digital collection!
This photo is from the Flickr album, 'Urbana Downtown'.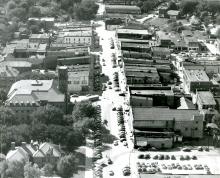 All images are provided for personal and educational use. Users planning to reproduce/publish images in books, articles, exhibits, videos, electronic transmission or other media must request permission.
- Erica
  Archvies Assistant