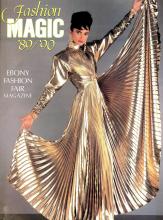 The Urban League of Champaign County (1961-2008) worked to improve the quality of black life in Champaign County for 47 years. Placing an emphasis on education, scholarship assistance was an ongoing activity of the organization since its earliest days. One way the Urban League raised funds was through the annual Ebony Fashion Fair.
The shows helped promote the latest fashions from famous designers like Yves Saint Laurent, Valentino, Sonia Rykel, and Ann Klein, gave people a fun night out, and brought in donations for the Urban League's Scholarship Fund. 
Here are some highlights from the Ebony Fashion Fairs from the 1980s that are in the Champaign County Urban League Collection located at the Archives.
The Urban League collection will be an ongoing project of mine look for more posts in the future!
- Angela Solis,
  Archives Apprentice