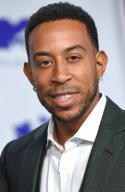 Christopher Brian Bridges, son of Roberta Shields and Wayne Brian Bridges, was born in Champaign, Illinois on September 11th, 1977. Christopher spent his early years in the Champaign-Urbana area. At nine years old, Christopher moved to Chicago with his mother after his parents divorced. In Chicago, he attended Oak Park & River Forest High School. Christopher and his mother then relocated to Atlanta, Georgia where he finished high school and attended Georgia State University studying music management.
By the time he began college, Christopher had been involved in the music business for years as a DJ and rapper. Notably, he worked as a DJ at Atlanta's Hot 97.5 and collaborated with hip hop artist/producer Timbaland on the song "Phat Rabbit" in 1998. In 1999, Christopher released his first album, Incognegro, under the pseudonym Ludacris. In 2003, his 4th album, Chicken-n-Beer, made him mainstream with the Billboard chart-topping hits "Stand up" and "Splash Waterfalls."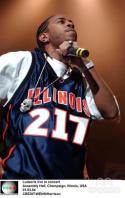 The Chicken-n-Beer tour was incredibly successful. The album went platinum and Ludacris became one of the hottest artists in the music business. During this tour, Ludacris came back to Champaign to perform at University of Illinois Assembly Hall on March 1st, 2004. Stepping on stage that night, the rapper wore an athletic jersey with Illinois and 217 (Champaign's area code) across the front in the university's colors. According to Ryan Jackson of the News-Gazette: "I'm glad I got to see his show Monday night. I might have witnessed one of those rare things – a musical artist performing at the pinnacle of his career."

Ludacris has also made a name for himself by helping those in need. In 2001, he created The Ludacris Foundation. Through programs and partnerships, the Foundation's focus is to give young people the tools, resources, and experiences they need to help them succeed. Ludacris explains in a February 2004 article published in the News-Gazette: "It is a foundation we established to help kids help themselves. We've done projects from feeding the homeless to rehabilitative hospitals and visiting sick children to raising money for various boys and girls clubs. We're all about giving back to the community."
Since entering the entertainment business in 1998, Ludacris has won 16 awards and been nominated 41 times for his songs, albums, videos, and acting. He has nine albums of his own, is working on a 10th studio album, and has been featured in other rapper's stories and music. He has also starred in TV shows and movies. His most notable role is Tej in The Fast and Furious franchise.
Do you know of other celebrities whose roots are in Champaign County? Give us a call, email, or stop by the Archives on the second floor of The Urbana Free Library.
Angela S., Archives Apprentice 
------
Sources:
(2004), 'Ludacris back on native turf for C-U show', The News Gazette, 27 February, p.B-7.
Jackson, Ryan. (2004), 'Ludacris show a rap-culture phenomenon', The News Gazette, 3 March, B-7.