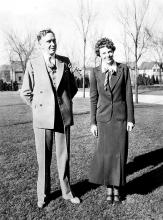 Earhart with Arthur C. Willard, Urbana, IL, 1935 
The perennial mystery of Amelia Earhart has been in the news once again with the International Group for Historical Aircraft Recovery's paper that 'analyzes radio distress calls' heard in the days after Earhart's 1937 disappearance in her attempt to be the first woman to circumnavigate the world.
This theory that Earhart crashed and was marooned on a deserted Pacific island and able to radio (unsuccessfully) for help runs counter to the U.S. Navy's official conclusion that Earhart and her navigator Fred Noonan died upon crashing in the Pacific Ocean. You can read the Navy's 1937 search report on the National Archives' website. The haunting part to this latest theory is the various coast guard stations, ships, other governmental agencies and private citizens stretching from Hawaii, New Zealand, Texas, Wyoming, Canada, and more listening to and unable to respond to Earhart's final communications.
Why does the mystery of Earhart's crash linger? No body and no wreckage certainly leaves the door open for speculation, and then there was the accumulation of all her firsts. The first woman to fly solo above 14,000 feet; to fly solo across the Atlantic; to earn the Distinguished Flying Cross; and the first woman to make the first solo, nonstop flight across the United States. How could such a woman simply disappear? 
Champaign-Urbana had the opportunity to experience Earhart first hand when she visited the University of Illinois campus in 1935 two years before her disappearance. Speaking at a lecture sponsored by the Sigma Delta Phi sorority, Earhart charmed the audience with her "grace and humor." Earhart spoke at length about her reasons for flying, preparations for long flights, life-saving equipment, and her preference for liquid snacks while in flight. She spoke about a future where "individual aptitude will be the criterion for holding a job and not sex." 
She was the overnight guest of President and Mrs. Arthur C. Willard, a fitting pairing since the former University of Illinois president was influential in the establishment of the University of Illinois Airport that was later renamed Willard Airport in his honor. Dr. Willard was credited with taking the administrative lead in establishing not only the airport, but also the Institute of Aviation at the University of Illinois (now at Parkland College). In 1942 Dr. Willard secured a grant for $200,000 from the State of Illinois to purchase land for the airport saying "Air transportation is as important today as the railroad problem was in 1850. I am convinced that the University here can become second to none in this field has it has become in railroad problems."
Back at her presentation, Earhart spoke candidly about the future of aviation and her preparations for flight:
She described air travel as the most modern means of traveling as it is safer and more efficient and the most beautiful. She emphatically stressed the point that for [distances] over 40 to 50 miles 'get into the air.'

Commenting good naturedly, she said 'We're very illogical about safety. Of course the ox-cart is much safer than the automobile. But I didn't see any ox-cart out in front as I came in tonight.'

'I think worrying should be done two months before the flight is underway, and then go to work to overcome the risks,' she said philosophically, with a slight shrug of her slender shoulders. 'Under no circumstances try to worry [during the flight]. You might as well drink a cup of poison.'
- Sherrie B.
  Archives Librarian
-------------
Sources:
(1) 'Woman flyer makes a hit,' Courier, March 22, 1938, pages 1-2.
(2) 'Amelia thrills local audience with air story,' News-Gazette, March 22, 1938, page 2.
(3) 'U.I. Airport is renamed Willard,' Courier, October 18, 1961, page 3.