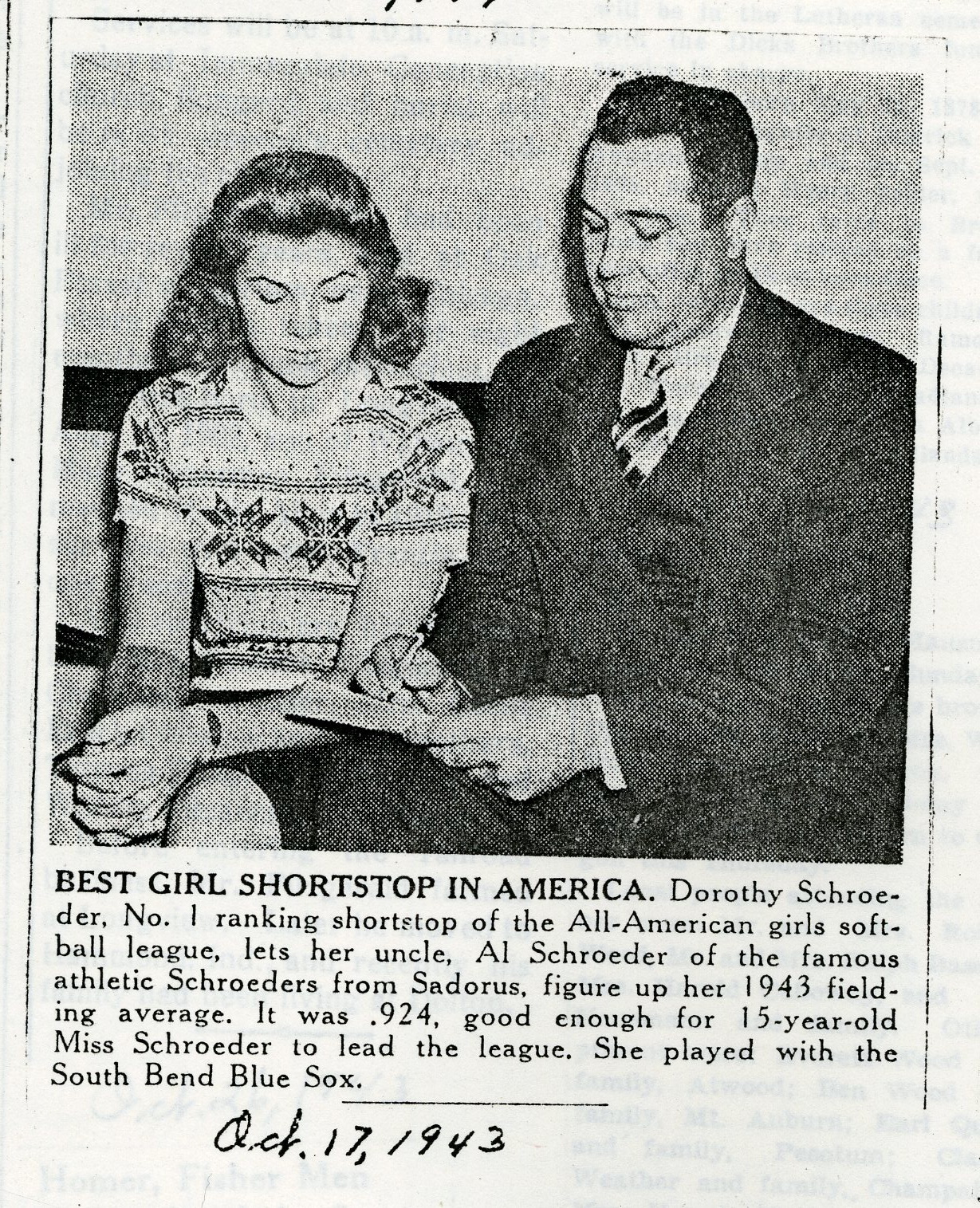 Dorothy "Dottie" Schroeder from Sadorus, IL, was the only woman to play throughout the entire 12-year existence of the All-American Girls Professional Baseball League (AAGPBL) from 1943-1954. At the age of fifteen, she traveled with her father, Walter H. Schroder, to St. Louis to try out for the league. There were 65 players at the tryouts. She was one of two players selected that day.
Schroeder grew up playing baseball in cow pastures with her brothers, Don and Walter, and cousins during Sunday family gatherings. She also played with a 4-H team in Sadrous and a fast-pitch team in Champaign sponsored by Illinois Commercial College. A standout shortstop known for her powerful throwing arm and smooth moves, she played for the South Bend (Ind.) Blue Sox, the Kenosha (Wis.) Comets, the Fort Wayne (Ind.) Daisies and the Kalamazoo (Mich.) Lassies.
Doris Sams, a teammate of Schroder's on the Kalamazoo Lassies, described her as a "vacuum cleaner with those ground balls." She also recalled that "[e]verybody liked Dottie. She was a real pleasure to have as a teammate. She was a lady and a standout ballplayer, through and through." Charley Grimm, former manager of the Chicago Cubs, agreed. After seeing her play in 1945, he told a sportswriter, "If she were a man, she'd be worth $50,000 to any major league club."
While the women ballplayers were not paid anywhere close to what their male colleagues were earning, they did receive good pay for the times. Schroeder made $55.00 per week during her first assignment with the South Bend Blue Sox, and by 1954 she was making $110.00. By comparison, her father earned $80.00 per month as a postmaster in Sadorus.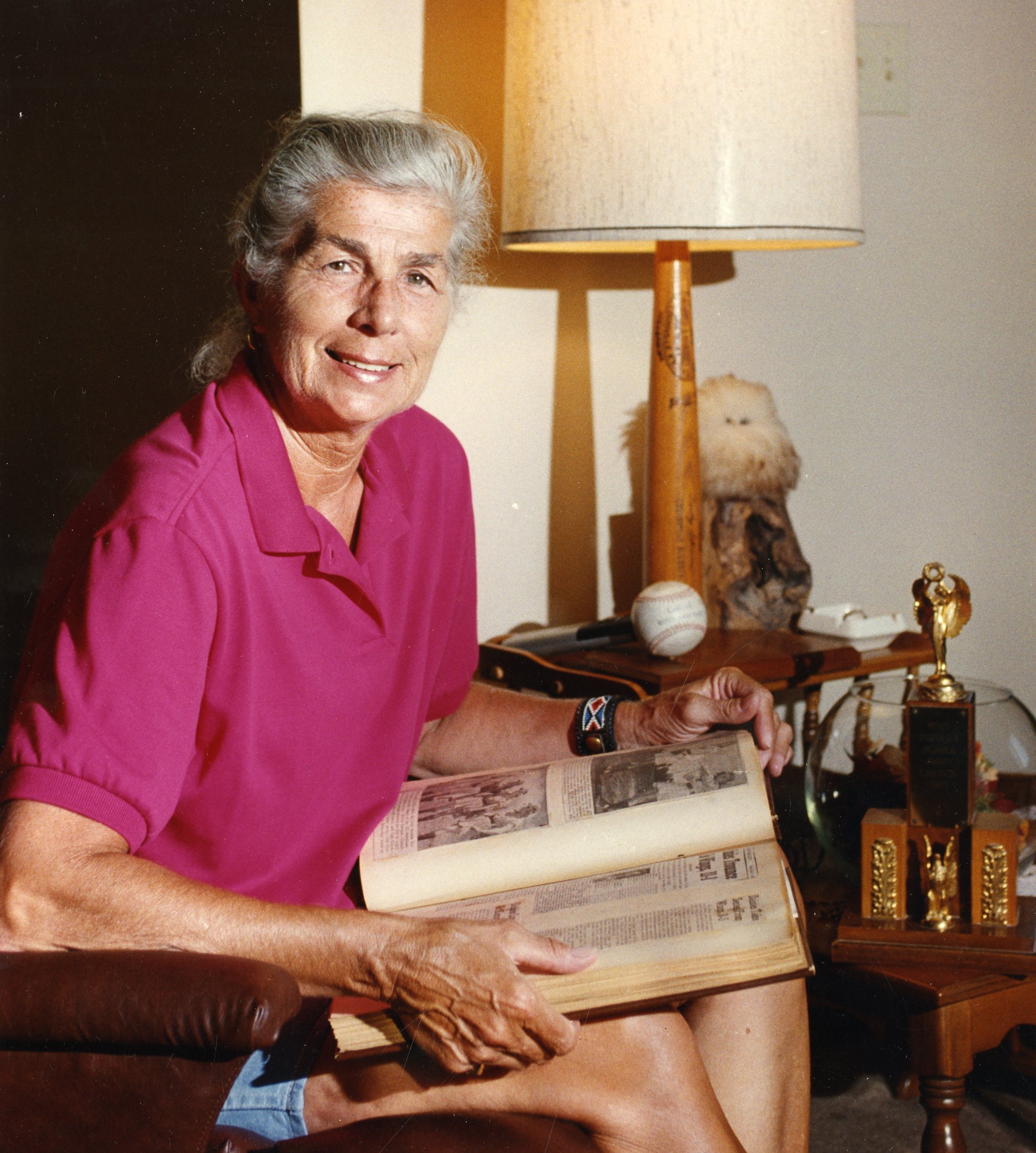 When the AAGPBL disbanded after the 1954 season, Schroeder joined Bill Allingtons's touring team of All-Stars until lack of finances brought the tour to a close after four summers. Afterward, Schroeder returned home to Sadorus. She never married and lived with her twin brother Don for the majority of her life. They lived mainly in Sadorus until moving to Champaign in 1990. When she died in 1996, Don Schroeder said, "She was a great lady. It's going to be a big, big empty void. We did an awful lot of things together."
Schroder was low-key about her baseball career. She worked for over 30 years at Collegiate Cap and Gown, and even her co-workers were unaware of her professional baseball career. This changed in 1992, when "A League of Their Own" came out and revived interest in the AAGPBL. A News-Gazette article reported on Schroder:
Now that people know about the league, and there has been a renewed interest, Schroeder thinks it's…nice. She has received a few phone calls and letters from people across the nation who want an autograph, an interview, or just to talk with her. She has also been asked to throw out the first ball for some local women's softball tournaments. At these events, people will come up and ask for her autograph in a reminder of the times when she gave plenty of autographs to fans after games.
Looking back, Schroeder says the 12 years she spent playing professional baseball were among the happiest in her life. "It was the nice while it lasted," she said, "and I wouldn't have missed it for the world. But that's past … and it will never come around again."
It may not come around again, but her career will be remembered. In 1988, the AAGPBL was inducted into the Baseball Hall of Fame in Cooperstown, NY, and Dorothy Schroeder is one of the few All-Americans pictured individually in the exhibit.
- Sherrie Bowser
  Archives Librarian
---------
Sources:
Engel, Lou. "Schroeder joins Cooperstown legends," The News-Gazette, 11 November 1988.
Mabry, Rebecca. "The Hubba Hubba Shortstop," The News-Gazette, 5 July 1991.
Mabry, Rebecca. "Once the best, she remains humble," The News-Gazette, 18 May 1995
"Area women's baseball star dies," The News-Gazette, 9 December 1996.
Merli, Melissa. "All-American attraction Sadorus girl Dottie Schroeder became the 'Hubba Hubba Shortstop' and the face of girl's baseball," The News-Gazette, 27 March 2011.
Dorothy Schroeder ("Dottie") AAGPBL Profile, All-American Girls Professional Baseball League. Last accessed 14 June 2021.