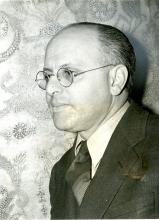 Sol Cohen was born on January 11, 1891, the youngest son of Nathan and Addie Cohen. Much like his father, he was enamored by music at an early age. He studied violin with Charles Foster in Urbana until 1903 when he began traveling on the weekends to study under violinist Emile Sauret at Chicago Musical College. Sauret had performed with Sol's father, Nathan during his musical career in California.
Sol remained at Chicago Music College until 1908 when he was given the opportunity to continue his violin lessons in Europe. He first traveled to Prague, Czechoslovakia to study under Ottokar Sevivk, but was dissatisfied with Sevivk's teaching and disinterest in his students. Sol then moved to Budapest, Hungary where he studied under Jenii Hubay. He remained in Budapest for a few months before returning home to Urbana. In 1909, Sol and Julius, his brother, traveled to Budapest and Sol resumed his lessons under Hubay.
Sol began teaching violin lessons in Bloomington, Illinois for a dollar a lesson in 1911. During this period, he performed at Chicago's Standard Club. In 1912, he joined the Cincinnati Symphony Orchestra in the first-violin section of the orchestra, and was asked to join the string quartet as second-violin. While it was a rewarding experience, Sol was discouraged by the attitudes of his fellow performers and directors. During a long recess in 1913, Sol was contacted by the Peoria Musical College. He had performed at a synagogue dedication in Peoria and the college director remembered him and offered him a teaching position. After some debate, Sol accepted the position and left the orchestra. Over the next four years, Sol provided violin lessons at the college, in the surrounding small towns, and performed at various churches and community events. When the United States entered World War I, Sol left Peoria Music College and followed his oldest brother Sidney to Texas to join the Army.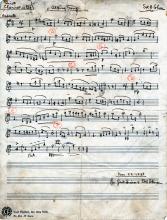 Sol was unable to join the same company as his brother Sidney, so he wandered to the Division Headquarters where the officer was impressed that he traveled to Texas to serve and enlisted him in the cavalry. Sol was soon transferred to Army Intelligence since he could speak fluent French and German.  After basic training, Sol was sent to France where he spent the war near or on the front lines, observing German positions and calling in artillery strikes. Even though he was in the service, Sol continued to play the violin. While in Texas, Sol joined a quartet and played in churches with other recruits and members of the congregation. In France, he would play for various townsfolk when off the lines and play piano for films shown in the British YMCA. Sol was even asked by a French officer to teach his daughter how to play violin, though his engagement only lasted for a short time. He continued to play violin as part of the Army of Occupation to fellow soldiers to help relieve the boredom. Sol was honorably discharged in 1919.
After the war, Sol traveled to France to resume his musical career. He used the opportunity to take lessons again and travel with a group of musicians performing across France. By 1920, Sol returned to the United States and moved to Los Angeles to begin a new chapter in his career. While in California, he became a member of the Los Angeles Philharmonic Orchestra until 1924. Afterwards, Sol composed scores and played for various silent film directors: D.W. Griffith, Ceceil B. DeMille, Thomas Ince, and others. He pressed for the building of the Hollywood Bowl and played many concerts there. He became the musical director for Ruth St. Denis, co-founder of the American Denishawn Dance Company, composing several ballets for her including "Angkor-Vat." Sol also associated himself with American composer Charles Wakefield Cadman and American singer and songwriter Carrie Jacobs Bond whom he would write five songs for. Sol also spent time at the MacDowell Art Colony in New Hampshire.
For the next twenty years Sol took various teaching positions throughout the United States, even serving at one point as the music director at Champaign High School. In 1944, Sol spent a year in New York City, arranging for the Blue Radio Network and serving as assistant conductor for the Paul Whiteman Philco Hour. In 1961, Sol became the musical director at Crystal Lake Camp in Hughsville, Pennsylvania, a summer position he held for twenty years.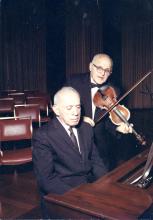 Despite traveling, Sol made Urbana his permanent place of residence. With his brother Julius, Sol offered violin lessons at the family house at 511 West Elm Street. He was the first conductor of the Champaign-Urbana Community Arts Symphony Orchestra and a violinist for the Champaign-Urbana Orchestra until 1974. He served as a piano accompanist for the Urbana Exchange Club for over forty years. Sol and Julius performed for numerous community events and clubs for no charge, and in 1972 were honored as Men of the Year by the Grand Prairie Lodge of B'nai Brith for their devotion to the community. Sol was presented the first President's Award by the Champaign County Arts and Humanities Council. The Illinois Society for the Performing Arts established the Sol B. Cohen Award for distinguished achievement by children in music in 1984. Sol donated his papers to the University of Illinois Archives in 1980 and published his memoirs Years of Pilgrimage: Memoirs of an American Musician in 1982.
Sol died on September 29, 1988.  After his passing, the Cohen family home was moved from 511 West Elm St. to 705 East Green St in 1989.
For more information about the Cohen family see our profiles on Nathan and Addie, Sidney, and Julius.
- Matthew Mayton
  Archives Practicum Student