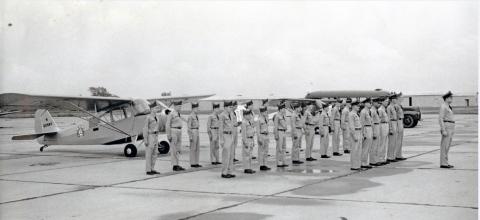 The Civil Air Patrol began in 1941 as a civilian auxiliary of the United States Air Force. In 1944, the Chanute Air Force Base started running summer encampments for Civil Air Patrol Cadets. Over 400 youth, ages 15 to 18, arrived at the base for ten days of training. A report from the camp stated that the cadets "lead the regular G.I life" alongside the Chanute soldiers.
The Illinois Wingover, a publication of the Illinois wing of the Civil Air Patrol, reported that the cadets' voted for the camp as "the greatest event in their lives to date." Cadet S. Sgt. Jim Kirby shared that "Chanute Field is by no means a small post. It is very easy to become lost among the many buildings and streets, all of which bear some resemblance to one another. An old Army trick is to give the rookies the run around by giving them wrong directions, but it wasn't used on us . . . the Army Air Force men even bought us cokes and had us play in their table tennis games."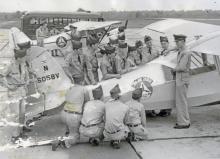 Throughout the week, the cadets viewed training films, completed small arms instruction on the carbine and pistol range, learned about chemical warfare, and carried out a final review before their National Commander Col. Earle L. Johnson. Cadet Sgt. Kirby summarized the experience by saying that after a much too short camp all the cadets would "return home with a fairly accurate theory of air force life and an accelerated desire to become a member of that great organization – the U.S. Army Air Forces."
The Chanute Collection contains subject files on the Civil Air Patrol in Illinois and its relationship with Chanute.
-Liz, Archives Intern