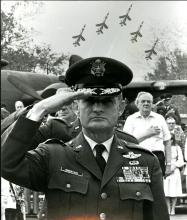 In this week's blog post, we would like to remember and acknowledge the legacy of Major General Edwin W. Robertson who died December 18, 2019.
Robertson had an extensive military career that took him all over the globe in his 34 years of active duty. He served in the 7th Fighter-Bomber Squadron at Misawa Air Base in Japan during the Korean War in June 1950 and flew over 218 combat hours. He also served during Vietnam and completed 500 combat hours were he earned the Distinguished Flying Cross and the Legion of Merit. The General dedicated many years to his education with his training beginning at the Randolph Air Force Base in Texas then to the Royal Air Force Staff College in England and the National War College. This dedication to learning and training with the Air Force is evident in Robertson's legacy with Chanute Air Force Base, which began when he embraced the role of Commander of Chanute Technical Training Center in July of 1976.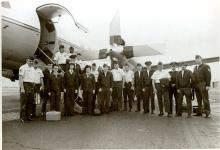 While at Chanute, Major General Robertson dedicated a significant amount of time and energy in engaging with the training programs, honoring the history of the servicemen and women, and implementing policies and funding on the Base to benefit all. Unfortunately, much of his three-year career at Chanute was overshadowed by threats of downsizing of military bases in the 1970s. During this time, he focused on boosting morale and the education of trainees to prove how valuable Chanute was.
In an interview with Don Weckhorst in 1988, General Robertson stated how being involved with Non-commissioned Officer's Club was vital and by establishing the annual NCO Parade in 1976, it built "an NCO's sense of responsibility and prestige" as the "NCOs really should and do run Chanute." This involvement with the NCOs made Edwin Robertson an important figure to many on Base due to his accessibility and concern for the people he supported. He knew "how to get the best out of his people."  Robertson also emphasized in this interview that he "never enjoyed an assignment anywhere in the United States better than the one (at Chanute)" because of the on-base sense of community as well as the "relationships with the political, educational, and religious leaders in the local area." The impact of this relationship with the Rantoul area can be seen throughout the collection's records of the community groups and movements against the Base closure. Our documents in the Chanute Collection highlight how Major General Robertson dedicated his time in Chanute to the community and left a lasting impact of success at Chanute Air Force Base before he left his command post in 1979.
- Rosemary Froeliger
  Archvies Intern
Citations:
(1) Collection: Subject Files-Commanding Officers Box: 1 Folder 41: Major General Edwin C. Robertson II, June 1976 – April 1979 
(2) Item: Oral History Interview of Major General Edwin Robertson by Don Weckhorst
(3) Collection: Photographs Box: 9 Folder 26: Commanding Officers