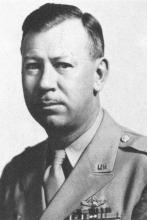 On July 5, 1943, Colonel Fay Roscoe Upthegrove (1905-1992) led an Allied air bombardment group in an attack on an enemy Airdrome in Northern Africa. As Upthegrove and his men approached the field, 12 enemy fighters attacked. Colonel Upthegrove evaded enemy attack and pushed his bombardment group to wreak havoc upon enemy installations. In their escape, Upthegrove and his men faced over 100 enemy fighters in a fierce 20-minute air skirmish. Upthegrove skillfully maneuvered his aircraft and unified his bombardment group into a tight defensive formation. With this effort, Upthegrove's force destroyed 35 enemy aircraft and he escaped alive.
Fay R. Upthegrove was born in Port Allegheny, PA on January 28, 1905. In his youth, Upthegrove attended Bradford Schools and graduated from Bradford High School in 1923. Following high school, he was accepted into the West Point military academy and graduated June 14, 1927. He was commissioned a second lieutenant of infantry. In the fall of 1927, Upthegrove entered Primary Flying School at Brooks Field in Texas and graduated from the Kelly Field Advanced Flying School in Texas in October 1928. After graduation, he became an engineering officer in the 15th Observation Squadron at Selfridge Field, MI and then transferred to the Air Force in January 1929. That same year, he entered the Chemical Warfare School at Edgewood Arsenal, MD. He graduated from this program in April 1929 and returned to Selfridge Field.
In June 1930, Upthegrove transferred to March Field in California and became a primary flying school instructor. The following year, he moved to Randolph Field, TX to become a supply officer. In March of 1931, he was appointed adjutant of the 47th School Squadron at Randolph. Three years later, Upthegrove transferred to Luke Field, Hawaii and was named flight commander of the Fourth Observation Squadron. He assumed command of the base in 1936. Shortly thereafter, he was transferred again, this time to Mitchel Field, NY, where he was assigned duty as operations and intelligence officer of the 99th Bomb Squadron. During his tenure at Mitchel, he left to enter the Air Corps Tactical School at Maxwell Field, AL, and graduated in May of 1939. After this graduation he returned to Mitchel Field as commander of the 99th.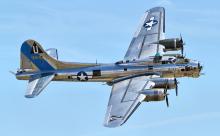 As the tensions of WWII increased, Upthegrove transferred to Langley Field, VA and became the materiel officer of the 22nd Bomb Group and later their executive and operations officer. From February to April 1942, he served in the Pacific theater before returning to the U.S. to assume command of the 305th Bomb Group at Salt Lake City, UT. Two months later he took command of the 99th Bomb Group at Davis-Monthan Field, AZ. It was this group he took on the heroic mission in Northern Africa. In 1944, he took command of the 304th Bomb Wing, 15th Air Force, in Italy before returning home. During his time in Africa and Italy, Upthegrove flew more than 340 hours in a B-17 Flying Fortress and participated in 58 combat missions.
Upthegrove's first command position after the war was with the 76th Flying Training Wing at Smyrna Field, TN and then the 30th Flying Training Wing at Turner Field, GA shortly after. Upthegrove transferred to Chanute Air Force Base in April 1946 after an already impressive career with the U.S. Air Force. He served as the commanding officer of the base from April 1946- December 1948, which was one of the longer tenured Chanute CO's up to that time. Upthegrove left Chanute to take command of a base in Wiesbaden, Germany. 
From his time in Germany, until his retirement in 1957, Upthegrove was assigned commander positions five more times. For his dedication, service, and heroism, Upthegrove received numerous awards and decorations including the Distinguished Service Medal, Distinguished Flying Cross with oak leaf cluster and an Air Medal with 10 oak leaf clusters. He was also awarded the Silver Star for his heroism during the Airdrome raid in Northern Africa. During his 30-year military career, he was rated a command pilot, combat observer, and senior aircraft observer.
- Tom Kuipers
  Archvies Assistant