Archives staff and the staff and volunteers at the former Chanute Air Museum spent months evaluating and packing items that would become the Chanute Collection at The Urbana Free Library. Finally, on May 19th the collection officially made its way from Rantoul to Urbana.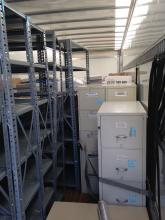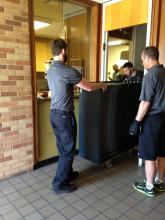 Above, left, the collection packed and ready for travel. Right, our efficient moving crew.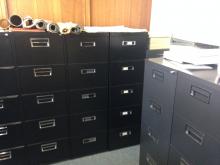 This room houses 13 file cabinets filled with photographs, reports, newspaper clippings, and subject files compiled by the base historian during Chanute Air Force Base's 76 years of operation.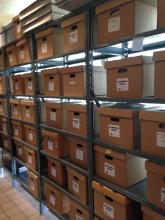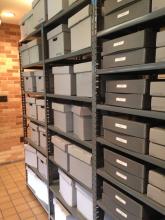 Boxes and more boxes. In total we brought down 450 boxes from Chanute!
After months of planning and preparation, we had a fabulous move in day! The weather was perfect. We had a tremendous amount of help from our shelving staff, and most importantly everything fit into its new space! 
- Sherrie, Archives Librarian 
Public access to the collection will not be possible at this time. While our staff works busily to make the collection available, we will be featuring highlights of our progress on this page. Check in with us often.