Chanute Air Force Base (1917-1993) located in Rantoul, Illinois was nationally known for its training of pilots, mechanics, aerial photographers, firefighters, and missile technicians, but locally the personnel were active members of the Rantoul and wider Champaign County community. One incident I uncovered recently highlights this relationship beautifully.
The winter of 1939 produced one of the most severe snow storms experienced by the area in several years. High winds and seven plus inches of snow brought Rantoul and northern Champaign County to a standstill. Automoibles were stalled on roads, schools were canceled, and rural mail carriers were unable to complete their routes. Snow drifts of more than two feet were reported in downtown Rantoul.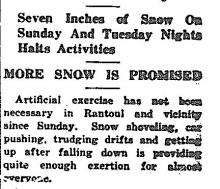 Rantoul Press and Chanute Field News, 2 February 1939, page 1 
And yet even with all of these concerns thougths were also with the wild birds of the region. Members of the officers' club and civilian employees of the Air Corps Technical School at Chanute Field surveyed the heavy snowfall and announced a plan to scatter food for wild birds at strategic rural spots. A call went out from the base and the Champaign County Farmers' and Sportmen's Club acted quickly and supplied one ton of feed, another two tons were gathered from donations of individuals connected with the base and from local businesses.
The procedure was described as thus in the 9 February 1939, Rantoul Press and Chanute Field News:
Several trips were made, and the sacked grain was sent from the skies – like manna – for the feathered friends. Here was the procedure – The feed was packed in medium sized paper bags, Two officiers were in each plane. As the pilot spied hedge rows or other covered spots where quail, pheasants, and other birds feed in the winter, he reduced the ship's altitude, throttled its speed and the airmen in the rear cockpit dropped the sacks like small bombs to earth. The sack split open hitting the ground, spreading the contents. A territory mapped out – covering a radius of 20 miles all directions from Champaign-Urbana was carefully bombed with bird food. 
In a few short years the airmen at Chanute would be far too consumed with other matters to entertain feeding wild birds during a harsh winter, but what a nice story of community and compassion in the meantime. 
-Sherrie, Archives Librarian