While we know about the role of Chanute as an Air Force Base and Technical Training Center, there were also a wide variety of non-military or training-related departments on the base. One such department was the Chanute Air Force Base Hospital, which saw births, deaths, and injuries through its 76-year history.
The Department Histories Collection in the Chanute Collection includes yearly reports of the hospital's history. I found the data in these reports interesting and a telling glimpse of life on the base. I started with the monthly sanitation reports for 1931-1933, including data and information surrounding personnel, physicals, vaccinations, births, marriages, and deaths. Additional statistical information such as race and monthly breakdowns of the number of civilians on base are also included. These reports were signed off by Major L.W. Ballantyne, the base's U.S. Army Surgeon.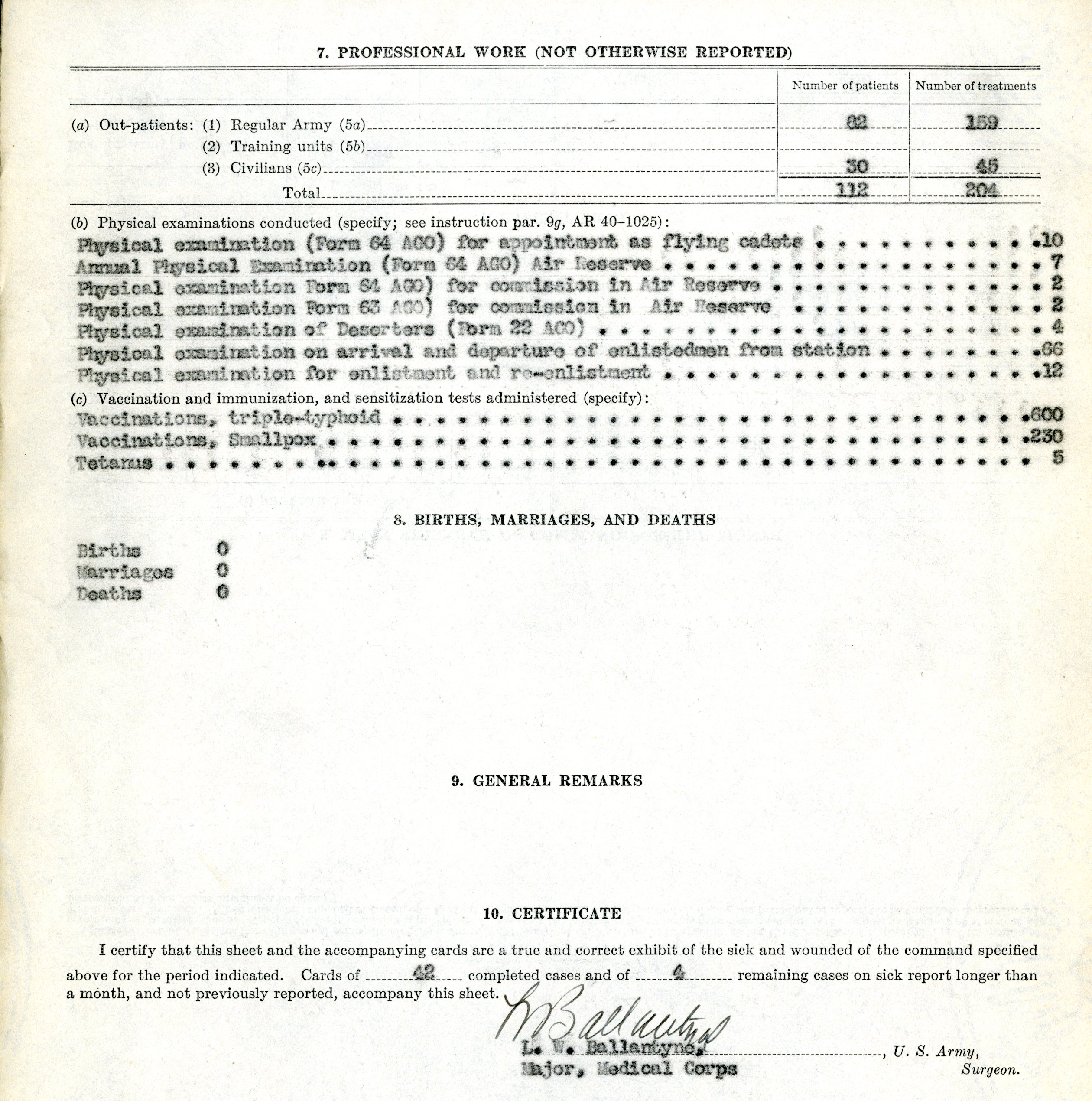 Page 2 of May 1931 Sanitary Report. It was a busy month for triple-typhoid vaccinations!
May 1931 had 112 patients and 204 total treatments. Hospital personnel conducted 103 physical examinations  and a staggering 835 vaccinations! There were no recorded births, marriages, or deaths for that month.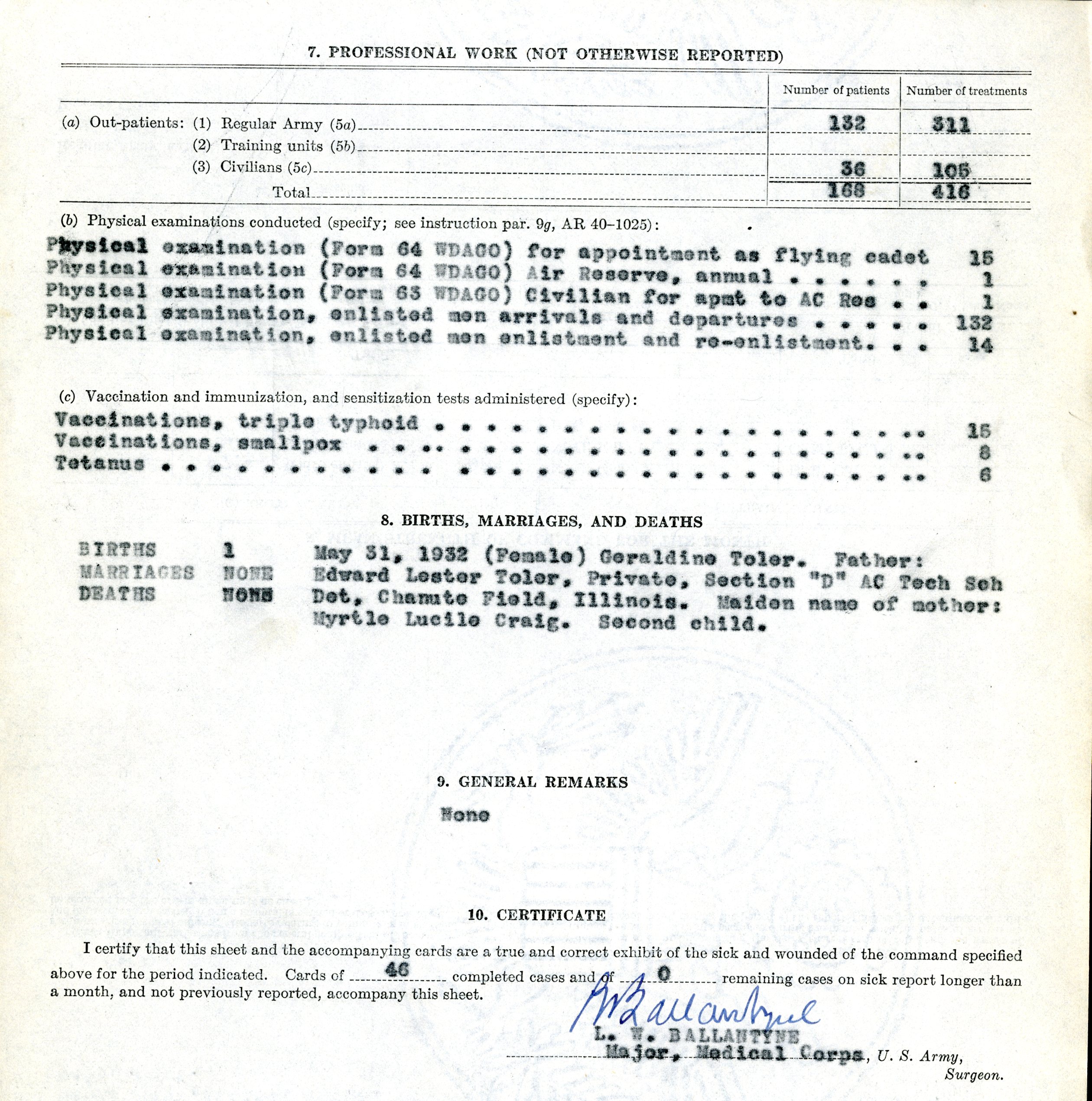 Page 2 of May 1932 Sanitary Report. Welcome aboard, new Private Toler!
Looking to May of 1932, there were 168 patients in the hospital, with 416 treatments. There were 163 physicals and 29 vaccinations. One birth was recorded; a girl born to Private Edward Lester Toler, joining another sibling in the family.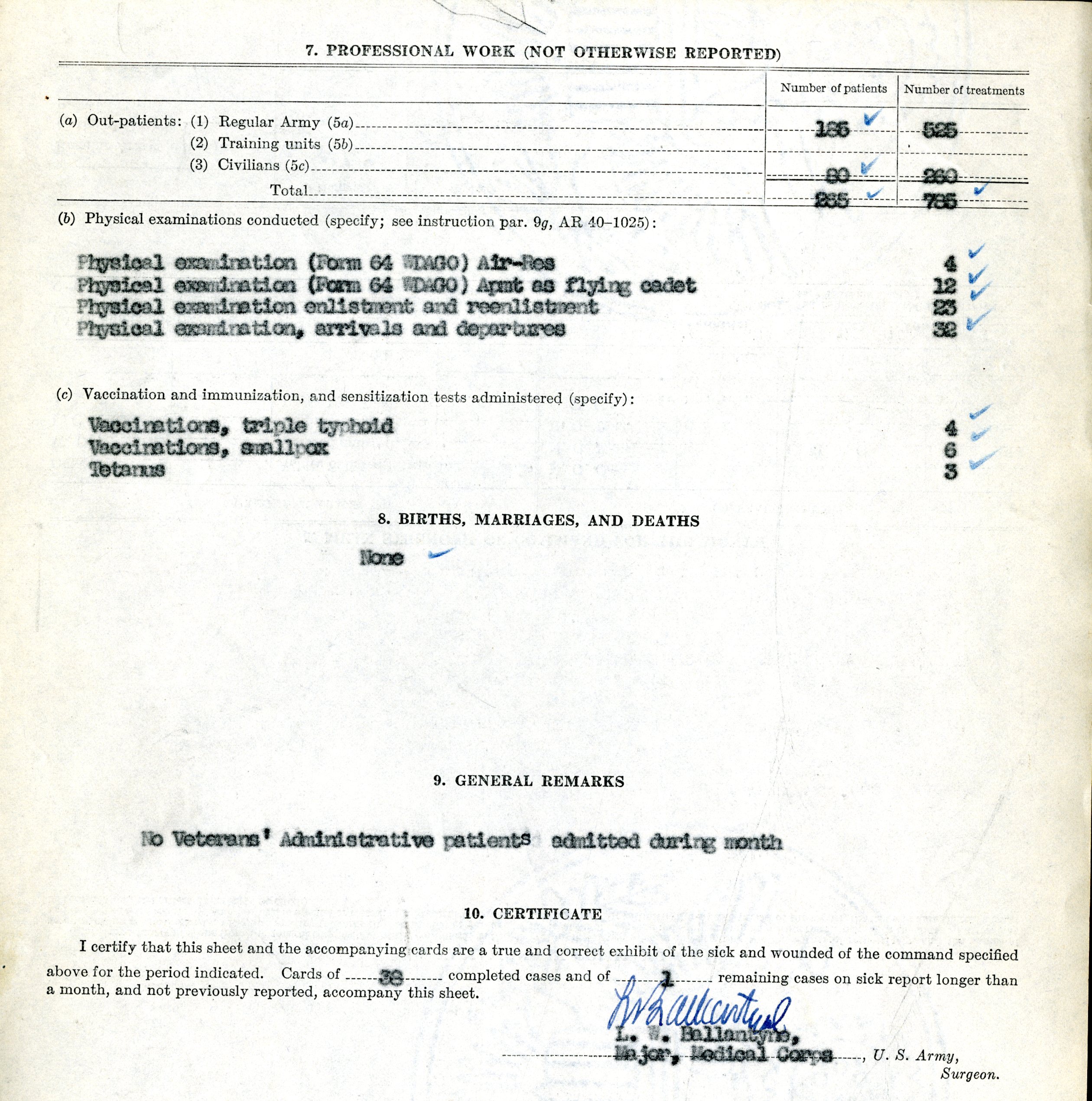 Page 2 of May 1933 Sanitary Report. Note the handwritten checkmarks and signature.
Skipping one year later to May 1933, the base saw 265 patients, totaling 785 treatments. There were 71 physical examinations conducted and 13 vaccinations. There were no births, marriages, or deaths that month. The report also noted that there were no Veterans' Administrative patients admitted during May 1933.
These reports were really fun to look through, mainly to see what the hospital dealt with every month and the range of people that passed through  the hospital for physicals, vaccinations, births, and other ailments. Reports like these tell a different story of Chanute beyond planes, flight, and technical training.
-Ani K.
Archives Intern