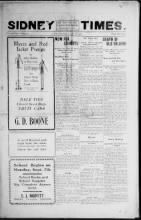 In our last newspaper post, we presented you with some exciting and off-beat campus area newspapers from the 1970s and 1980s. There are more of those to examine, and we'll get to those in upcoming blog posts but for now, let's look at some of the early small-town papers, starting with the August 28, 1908, Sidney Times. This edition of the Sidney Times is ten pages long and has a LOT of information packed into those ten pages. The front page starts right off with advertising, perhaps not much different than newspapers of today. The remainder of the front page provides commentary on weddings, social club events, funerals, stories about the Sidney Horse Show and Corn Carnival, and the Illinois State Fair. This publication came out in the morning and cost a reasonable 5 cents. There is a pleasant announcement right on the title banner that you should get one of your own if you are reading a borrowed copy of this paper, no word on whether the good citizens of Sidney heeded this demand.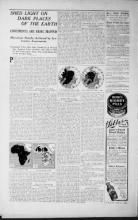 On-page 8 of this edition, we find an interesting story about the mapping of the continents. The article's subtitle is "Marvelous Results Achieved by Systemic Exploration." The article spends time talking about the history of exploration and the experiences of those who undertook that sort of dangerous adventure. It is hard to imagine we would see that kind of in-depth article today in the Sidney Times or any of the smaller town papers. There is no attribution indicating an author or a wire service, but the article is well written and quite long. Perhaps there was a local Sidney writer interested in exploration and adventure?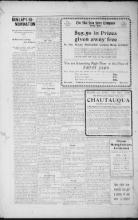 And finally, we have the last page. There are some big advertisements here, one for The Flat Iron Store Company in Urbana, announcing a giveaway in the "Royal Medicated Cutical Soap Contest." Archives staff researched 'cutical soap, and it seems that cutical and cuticle are the same thing. The contest asks you to guess how many cakes of soap are used in the construction of the national capital building in the window of the store. For every bar of soap, you buy you get one guess. So, the "no purchase necessary" policy we are used to now didn't seem to be part of life back then.
There is also an ad for The Thirteenth Annual Twin City Chautauqua." This annual event was a big deal, and it took place in Crystal Lake Park each year. Admission was 25 cents for adults and 15 cents for children. For that price, you would get lectures, songs, entertainers, inspiration, and recreation intermingled! And finally, we get a fair amount of "doings" and other announcements. "Joe Robertson spent Monday in the twin cities," "Rev. Cliffe was entertained at the home of Sam Boyd for dinner Wednesday," "Frank Lehman is treating his house with a new coat of paint." Newsy items like that were often the life-blood of the small-town papers, but the Sidney Times often provided much more than that for its readers.
If you'd like us to feature a  newspaper in our blog posts, get in touch. If we have it, we'll write about it!
- Ann P.
  Archives Assistant