Here at the Champaign County Historical Archives, we have recently processed a collection on a woman named Mary Ellen Long (Hill). She was born on June 14, 1916 in Maroa, Illinois and then later lived in Decatur, Illinois. Once she married her husband Melvin Long in 1932, she moved to Champaign, Illinois. One of the most interesting pieces in Mary Ellen's collection is a grouping of diary entries about a Pullman trip Mary Ellen made to a Delta Theta Tau San Francisco Convention in 1939 when she was in her early twenties. In her entries she describes the beautiful sights, delicious meals, and interesting people she encountered along the way. Let's hop on a train and take a ride through Mary Ellen's exciting, two-week trip around the United States, shall we?
Friday, June 9, 1939 – Chicago, Illinois
 "We then boarded our train for a first look at our home for the next two weeks and wondered how we could ever sleep in such a small berth."
Mary Ellen met her fellow sorority sisters at Chicago's Union Station to board the Pullman that would take them to San Francisco. She listed the train as having five sleepers, one chair car, one observation car, one baggage car, and two diners. According to Mary Ellen, all of the women on the trip overpacked, and the porters were very busy trying to find extra room for all the luggage. In addition to the "grandest" porters, there were only 3 men aboard with 144 women.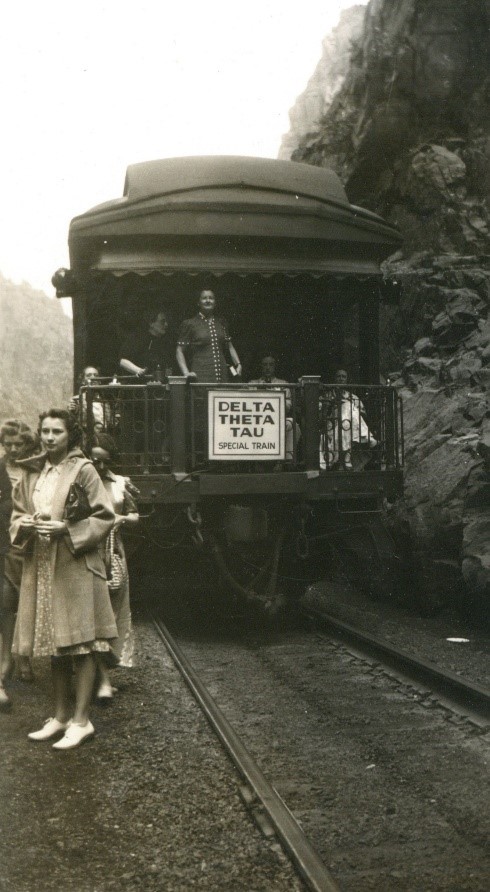 Saturday, June 10, 1939 – Denver, Colorado
"Imogene and I rode on the merry go round, the Pretzel, the Old Mill, and the Teddy Bear coaster and had a lot of fun."
After surprisingly sleeping very well the first night, Mary Ellen and the others felt quite at home. They spent the next day traveling through Iowa and Nebraska, arriving in Denver, Colorado in the evening. The women visited an amusement park where they were presented with gardenias and tickets to most of the rides in the park. Mary Ellen and her friends enjoyed some late-night thrills on the rides before boarding back on the train to travel overnight to the next destination.
Sunday, June 11, 1939 – Colorado Springs, Colorado
"Shortly after noon we stopped in the Royal Gorge and the rest of the day followed the silvery Arkansas River through the mountains."
Once in Colorado Springs, Mary Ellen visited the famous Broadmoor Hotel for breakfast and then headed out to Cheyenne Mountain. It was here Mary Ellen had her "first taste of that cool crisp mountain air we were to have so much of" on her trip. She visited the Will Rogers "Shrine of the Sun" memorial before traveling through North Cheyenne Canyon, Beartooth Canyon, and the Garden of the Gods. She saw the Helen Hunt Falls and spent the rest of the day traveling alongside the Arkansas River, which she also described as a beautiful river that was "not very deep or wide but very swift."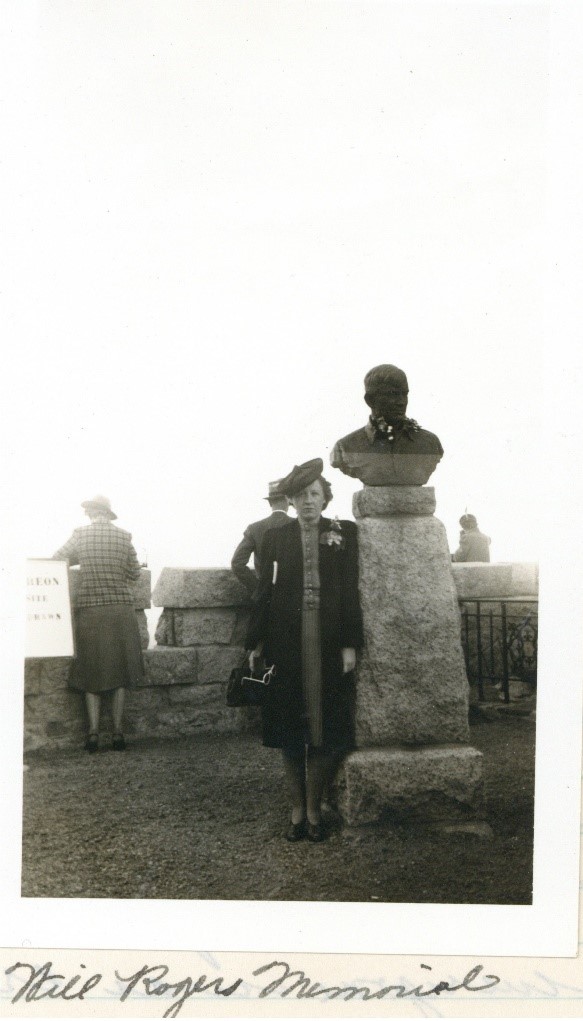 Monday, June 12, 1939 – Salt Lake City, Utah
"On one of the hills surrounding Salt Lake City is a huge 'U' made of stone representing the University of Utah. Each year the freshman class has to carry whitewash up there and whitewash this 'U' which is without a doubt a very hard job."
After beginning her day receiving two birthday telegrams, as it was her birthday, Mary Ellen spent the day exploring and learning about Salt Lake City. Her guide told her all about Brigham Young and his nineteen wives, the annual whitewashing of the University of Utah's "U" in the hills, and the Mormon Cathedral. Mary Ellen mentioned that upon leaving Salt Lake City, they had to travel through desert with nothing to see but sagebrush. To entertain themselves, the women in the Pullman had a bridge party with prizes. Unfortunately, Mary Ellen and her group didn't win anything that night.
Tuesday, June 13, 1939 – Los Angeles, California
"The Coconut Grove is very beautiful, it is full of palms and artificial monkeys floating from one tree to another. The monkeys have lights in their eyes."
Upon their arrival to the Los Angeles, Mary Ellen and the other Deltas visited the Coconut Grove at the Ambassador Hotel for a luncheon. Actors William Lundigan and Francis McDonald were guests at the luncheon, where the controversial film director, D.W. Griffith, also made an appearance. Mary Ellen went on to tour Hollywood, Beverly Hills, Bel Air, and Santa Monica where she enjoyed seeing the homes of movies stars and Grauman's Chinese Theater. She also visited acquaintances who lived nearby in Glendale with whom she wished she could have spent more time with.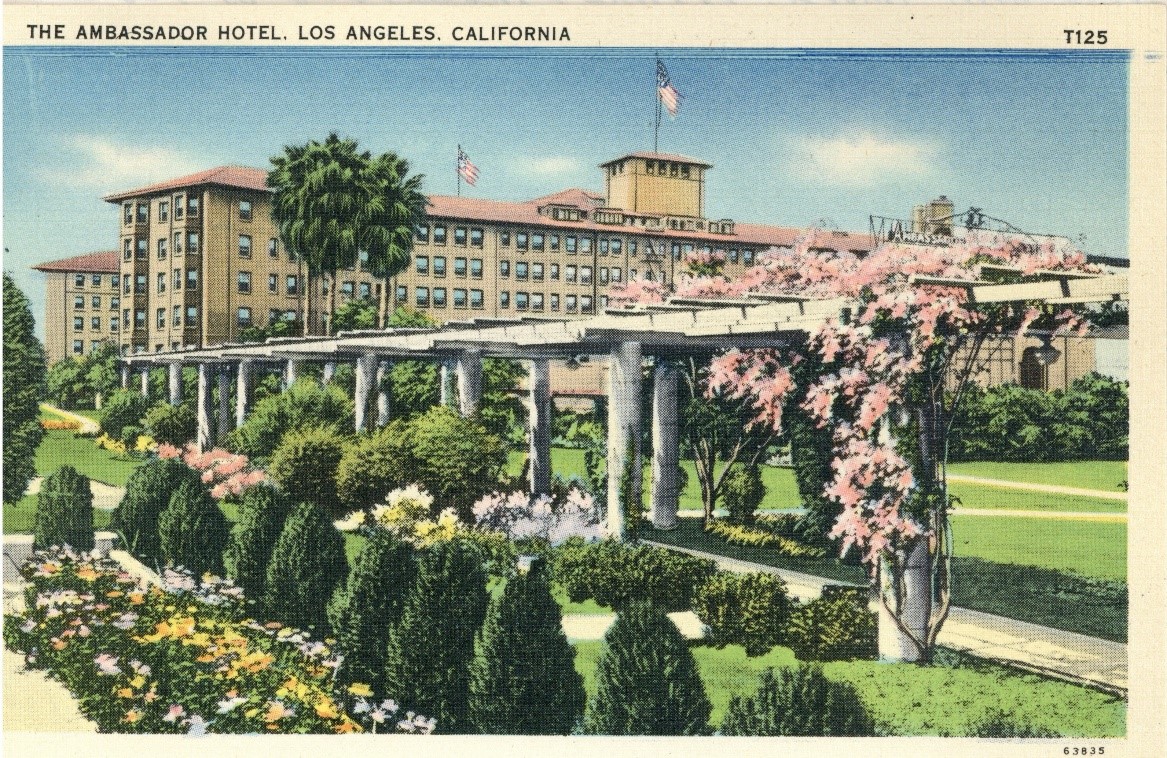 Wednesday, June 14 – Sunday, June 18, 1939– San Francisco, California
"In the afternoon we went to the Emporium for a shampoo and wave costing us $1.50 and wondered how California girls could get theirs fixed very often at those prices."
Almost a week into her trip, Mary Ellen finally arrived in San Francisco for the Delta Theta Tau convention. She stayed at the Palace Hotel in a lovely, ivory-colored room that was decorated with peach bed spreads, drapes, and lampshades. During the convention, Mary Ellen attended many business meetings, formal dinners and banquets, dances, and a style show. She also spent time exploring Chinatown where she had "cute and very smart" university students as tour guides, who led a tour of a Chinese temple and explained the Chinese written language. After a tour of Chinatown, Mary Ellen visited the Fisherman's Wharf and Treasure Island across the bay. Before attending a cabaret-style formal dance on their last night in San Francisco, Mary Ellen and some friends decided to get their hair done, forking out a whopping $1.50 for the service. The dance was in the Palm Court where there was a very good orchestra and floor show. Mary Ellen relates that at the dance there were "terrible dates for Imogene and I. Others not so bad."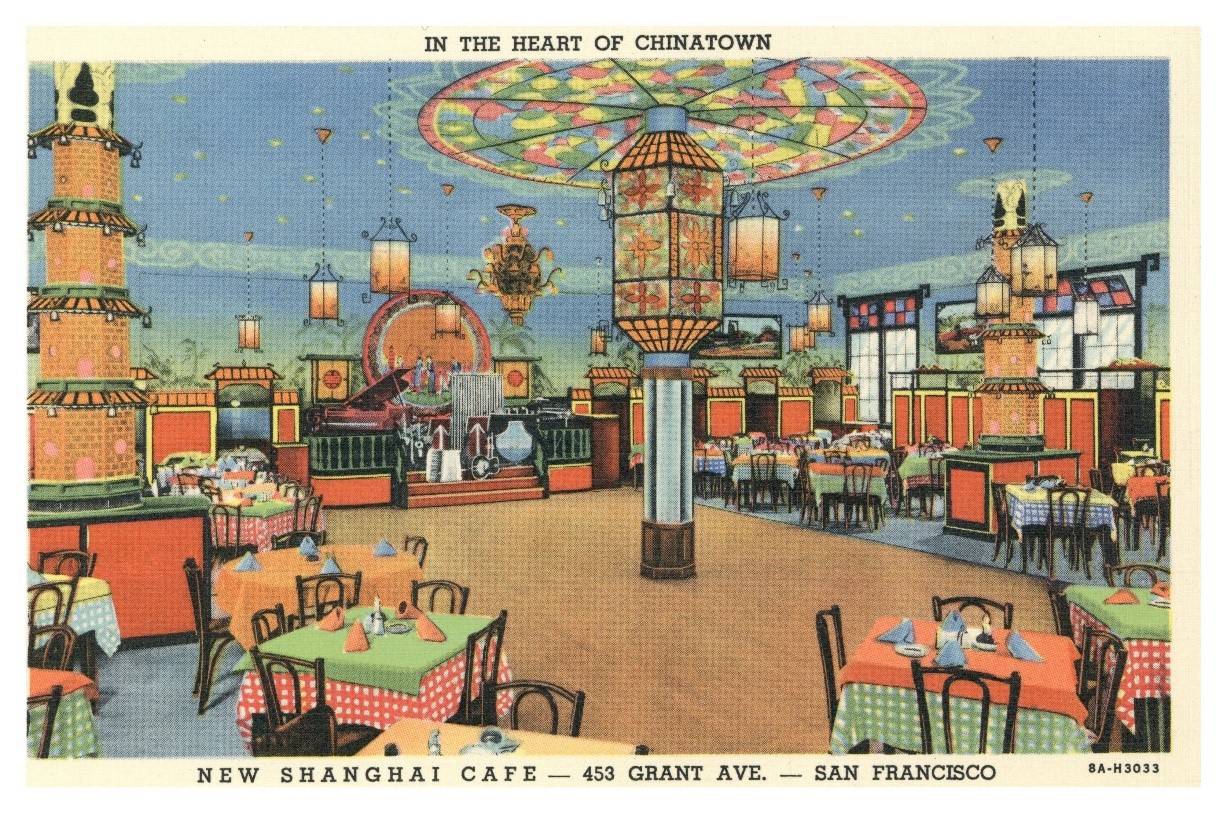 Monday, June 19, 1939 – Portland, Oregon
"We passed several lumber mills and saw the logs floating down the river. It was very interesting and so beautiful."
The Delta Theta Tau Pullman explored the Pacific Northwest before heading back to the flat Midwest. The train passed by lumber mills and the Columbia River, which "looks like glass and the reflections of the mountains and trees makes a very lovely picture." The Pullman stopped at Multnomah Falls near Portland, Oregon where the group had a delicious salmon steak dinner. Mary Ellen mentioned that at this dinner, she had to listen to a "very dry story of King Chinook – the salmon – which was very very boring."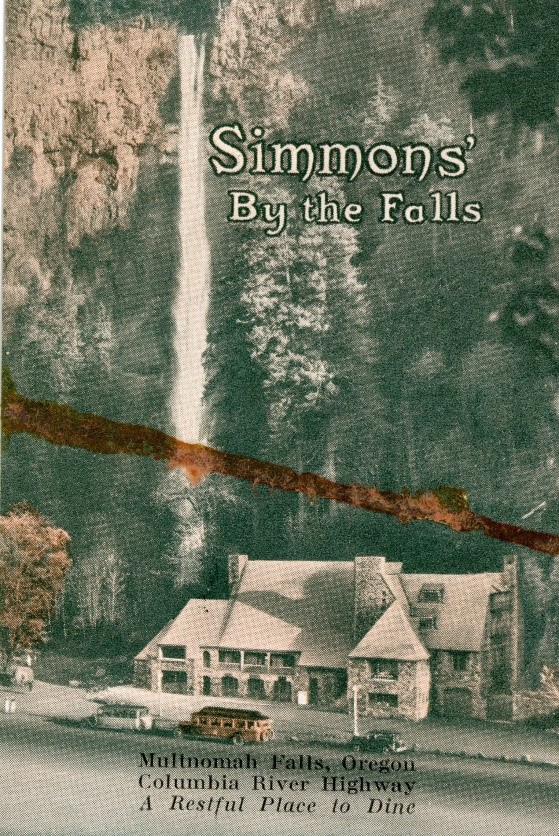 Tuesday, June 20, 1939 – Seattle, Washington and Victoria, B.C.
"The inside of the boat was just like a hotel and they had an orchestra and dancing and our own Arabella from Philadelphia entertained."
In Seattle, Mary Ellen and the other Deltas boarded a steamer named the "Marguerite" for a trip to Victoria, B.C. It was cold and windy on the deck, and Mary Ellen relayed that you had to walk briskly to stay warm or simply stay inside, which is what she and the others did most of the time. Inside there was an orchestra and dancing. She mentioned that there were lots of other people on board besides her party including several other tour groups, but they "were the peppiest bunch." It took about 4.5 hours to arrive to Victoria, and once there, Mary Ellen was bussed to the famous Butchart's gardens where she saw flowers and plants of every kind and quaint ponds with ducks and peacocks. In the evening, she boarded another steamer where she enjoyed "a very lovely turkey dinner" which she "enjoyed very much," and arrived back in Seattle around 9:30PM.
Wednesday, June 21 – Thursday, June 22, 1939– Billings and Red Lodge, Montana
"This road is built right out of the side of the mountains and is really quite an engineering feat. It was about 20 [above] zero and we nearly froze to death – at least we got awfully cold."
After riding through the Montana Rockies all day, Mary Ellen and the other Deltas arrived in Billings, Montana in the evening. The next morning, they traveled up to Red Lodge to take a bus up the Red Lodge Highroad up to Cooke City, one of the entrances to Yellowstone Park. However, the busses were full, so Mary Ellen and her friends had to take a private car. Mary Ellen mentions that a "very cute fellow, 'Red,' with pretty red hair" drove her and her friends in an open car. He was a very entertaining driver, and Mary Ellen confesses that they certainly had more fun with him than they would have had on the bus. At the top of the road, Mary Ellen was 10,420 feet above sea level and complained about how cold it was. There was a snow storm the day before, so many snow plows had been up there to clear the roads; however, she notes that she saw "the prettiest little lakes and mountain streams" and that she believed "it was the most beautiful scenery" of her whole trip.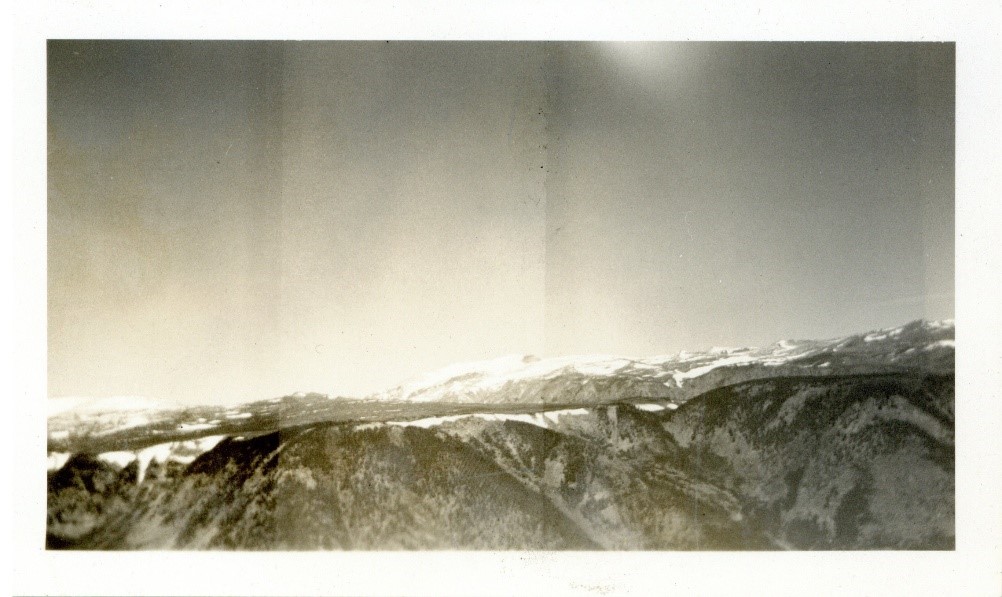 Friday, June 23, 1939 – North Dakota and Minnesota
"… we gathered in the lounge car for a final song fest on our last night out, and we all felt both sad and glad to be getting home. Some of the girls stayed up all night to celebrate but I slept as usual."
The last day on the Pullman was spent traveling through the Bad Lands where Mary Ellen quickly stopped in North Dakota to see a Native American ceremonial dance presentation. The rest of the day was spent traveling through the Midwest. Mary Ellen wrote that "the scenery began to be very ordinary and we knew we were nearing Illinois." That afternoon the women had another bridge party because there wasn't any interesting scenery. Later that night, the Pullman stopped in Minnesota where the women stepped off at the train station in their pajamas for a few minutes before heading out on the final stretch home. In efforts to prolong the festivities of the trip, everyone gathered for a song fest in the lounge car. Some women, unwilling to let the fun come to an end, decided to stay up all night. Mary Ellen, however, didn't want to sacrifice her sleep and went to bed "as usual."
Saturday, June 24, 1939 – Back home to Decatur, Illinois
"And so ended the most wonderful trip I ever expect to have in all my life."
After arriving back in Chicago, Mary Ellen took one last train back home to Decatur, Illinois. The very last sentence of her last diary entry about her trip reminisces that it was "the most wonderful trip I ever expect to have in all my life." This statement, now being read decades and decades later, rings pertinent, as it could have likely been the most wonderful trip Mary Ellen ever took. Only 19 years after her trip of a lifetime, Mary Ellen passed away at the early age of 43 in 1958.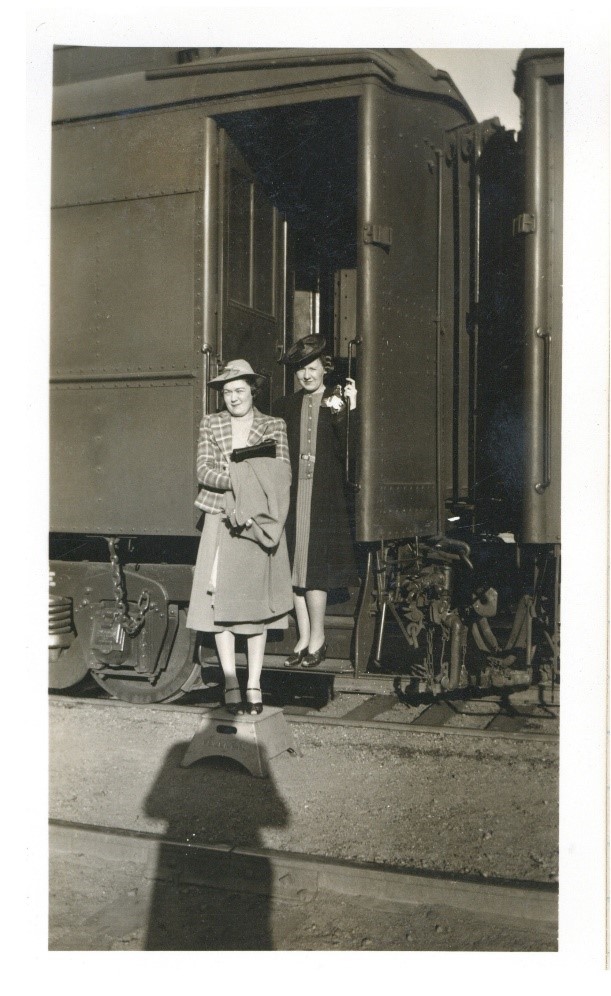 -Maggie Weimer
Archives Assistant