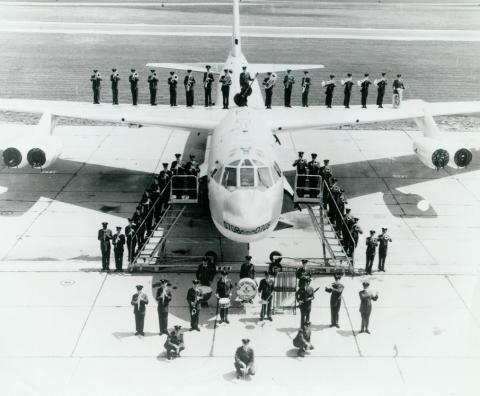 Above is the 505th Air Force Band of the Midwest during their photoshoot with a Boeing B-52D bomber.
The 505th Air Force Band was assembled at Chanute Field in 1941 and remained active until shortly before the base's closure in 1993. The band's many ensembles kept up morale at the base. They held concerts for Chanute personnel, marched in open house parades, and underscored official ceremonies. The band also ventured from Chanute to perform at community events throughout Champaign County.
The Chanute Collection includes more photographs of the band, but the majority of records relating to the 505th Air Force Band are housed at the Sousa Archives at the University of Illinois. Their collection includes the band's scrapbooks, sound recordings, additional photographs, and administrative records. More information is available on the Sousa Archives website.
-Liz, Archives Intern