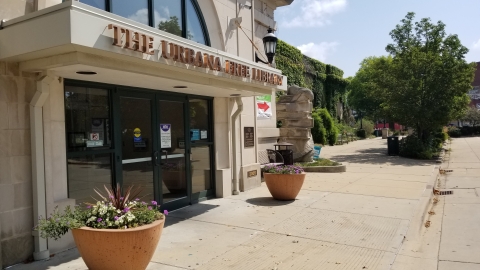 URBANA, Ill. — The Urbana Free Library is seeking interested parties to fill two positions on the nine-member board of trustees. The terms will begin July 1, 2023, and end June 30, 2026. 
Founded in 1874, The Urbana Free Library serves a community of approximately 38,000 residents, has an operating budget of over $4.6 million, and a staff of approximately 65 people. The mission of the Library is to encourage learning and enrich lives by providing access to diverse resources and programs. 
In 2022, the Library circulated over 650,000 items and held over 450 programs. The Library, which is also the home of the Champaign County Historical Archives, houses 6,130 linear feet of historical records and collections. So far in 2023, the Library has welcomed nearly 155,000 patrons through its doors and supported over 17,000 hours of public computer usage. Just this past April, the Library hosted the 15th Annual Fairy Tale Ball which welcomed 900 community members to a night of activities, crafts, and entertainment across all three floors of the Library. The Library is looking forward to 2024 when it will celebrate its 150th anniversary and will begin to implement a new strategic plan. 
The Library's board of trustees is responsible for the overall operations and service of The Urbana Free Library, including budget, policy, and planning. Trustees are appointed by the mayor and are confirmed by the City Council. The board meets on the second Tuesday of every month at 7:00 p.m. 
To learn more about The Urbana Free Library, please contact the Library's executive director, Celeste Choate, at cchoate@urbanafree.org or 217-531-7050. 
To be considered for appointment to the board of trustees, send in an application or contact the mayor's office for more information at 217-384-2456.