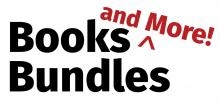 Did you know teachers can request us to pull books on certain topics for specific age levels? The books can just be picked up at the library or delivered to your school if you are in USD116! Spend no time rapidly searching for materials! Let us help.
This year, in the first 100 "Book and More Bundles" teacher requests, a free gift to use in your classroom will be included! Our little way of saying thank you for our teachers do for the children of our community.
Visit https://urbanafreelibrary.org/node/1179 to fill out a short form to request materials!