Join us for the Read Woke Reading Challenge!
September 14, 2020 - November 30, 2020
"Read Woke is a movement. It is a feeling. It is a style. It is a form of education. It is a call to action; it is our right as lifelong learners. It means arming yourself with knowledge in order to better protect your rights. Knowledge is power and no one can take it away. It means learning about others so that you can treat people with the respect and dignity that they deserve no matter their religion, race, creed, or color.
I concluded that a Woke Book must:
• Challenge a social norm • Give voice to the voiceless • Provide information about a group that has been disenfranchised • Seek to challenge the status quo • Have a protagonist from an underrepresented or oppressed group"
– Cicely Lewis, creator of Read Woke and School Library Journal School Librarian of 2020
Beanstack has teamed up with School Librarian Cicely Lewis to create the Read Woke challenge, now available for all ages to participate in! Earn digital badges for reading a book in each category and answer the questions about the book to complete the challenge for each badge. Use this Beanstack challenge to expand the whole family's reading of diverse books and completing exercises as a group to promote positive discussions about different cultures, religions, and race.
Sign up for a free Beanstack account or login to an existing account today to register for this challenge
---
#1000BooksB4K - Growing Readers One Book at a Time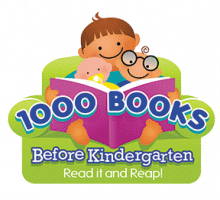 Welcome to 1,000 Books Before Kindergarten - a year-round reading program for children ages birth to five years.  It's the fun, exciting, and free way to start children on the path to success. 
One of the most reliable predictors of school success is being read to during early childhood.  The Library would like to help support you as you prepare your child for kindergarten.  Most importantly, sharing books with children promotes a lifelong love of books and reading. 
Just follow these steps to begin:
Register:  Sign up at the Children's Services question desk or online.  Pick up program materials at the Library or print them from the website.
Track Your Reading:  Mark your reading record for each book you read with your child.
Every Book Counts:  Even if your child wants to hear the same book again and again, you can count it each time. You can also count the books your child hears at a story time, in day care or preschool, or with a friend or family member.   As long as your child listens to the entire book, it counts!
100-Book Milestones:  Each time you read 100 books, bring your reading record to the Library to receive a special sticker.  Take home a new reading record for your next 100 books or print one from the Library's website.
500 and 1,000 Books: You did it!  Come to the Library and receive a free book.  Look for your picture on the Library's Facebook page.
Keep on Reading: Don't stop at 1,000!  Keep on reading together—there's more learning ahead!
Singing songs, saying rhymes, telling stories, and playing with your child are all great ways to build their literacy skills.  The Library has free programs for children that are fun and educational.  It's also a place to find great books to share!  
1,000 books may seem like a lot, but if you read just one book a night, you'll meet your goal in less than three years.  If you read three books a night, you could reach your goal in just one year!  Ask our friendly staff for suggestions—we're here to help you on your journey to 1,000 Books Before Kindergarten!
Book prizes are funded by the Friends of The Urbana Free Library
---
More photos for 500 and 1,000 Books milestones from 2019 and beyond on the Library's Facebook page.
2018 Photo Gallery
100 Books | 200 Books | 300 Books | 400 Books | 500 Books | 700 Books | 800 Books | 1000 Books
2017 Photo Gallery
100 Books | 200 Books | 300 Books | 400 Books | 500 Books | 600 Books | 700 Books | 800 Books | 900 Books | 1000 Books
2016 Photo Gallery
100 Books | 200 Books | 300 Books | 400 Books | 500 Books | 600 Books | 700 Books | 800 Books | 900 Books | 1000 Books
Resources
Reading Logs
1 - 100 Reading Log
101 - 200 Reading Log
201 - 300 Reading Log
301 - 400 Reading Log
401 - 500 Reading Log
501 - 600 Reading Log
601 - 700 Reading Log
701 - 800 Reading Log
801 - 900 Reading Log
901 - 1,000 Reading Log
Booklist
Books for Babies and Young Toddlers  (PDF)
Books for Two and Three Year Olds  (PDF)
Books for Four and Five Year Olds  (PDF)