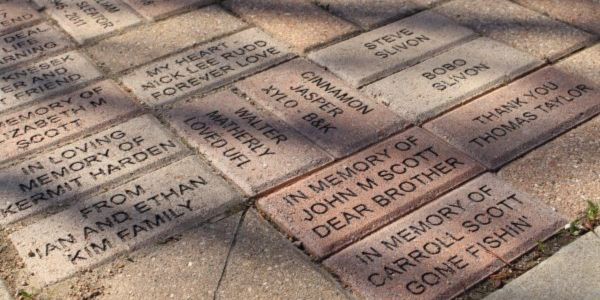 Personalize a Paver
The garden walkway from Race Street to the Library's Green Street entrance is on the site of the historic Cherry Alley.  Designated by a decorative arch at its east end, the plaza features an attractive walkway paved with personalized bricks and artworks commissioned by The Urbana Free Library Foundation.
A gift of only $150 entitles you to personalize one of the Cherry Alley pavers and have your name join those of your friends, neighbors, and other Urbana Free Library supporters.  They make unique gifts for special occasions.
Cherry Alley pavers are a perfect way to make your family, friends, and loved ones—even pets—a permanent part of the Library.
Purchase a Paver
Or print and mail an order form.
Stop by the Library to find your Cherry Alley paver today. Ask Library staff or email foundation@urbanafree.org for more information.