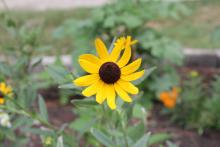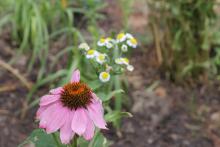 This summer Library staff, volunteers, library partners, and teen patrons are building garden beds at the library to address--and draw attention to the alarming drop in honey bee and monarch butterfly populations. The idea is to maintain at least the minimum criteria for the monarch watch waystation program and in a small way to help address the loss of habitat that is a contributing factor to the decline of both bees and butterflies.
The garden is starting as one 18- by 8-foot plot on Library-owned land at 203 West Green Street (across Green Street from the Library). The garden currently has Joe Pye Weed, Peonies, Lily of the Valley, Tropical Milkweed, Mexican Sunflower, Purple Salvia, and Purple Coneflower. Future beds might include Aster, Fennel, Borage, Salvia, Swamp Milkweed and other non-invasive pollinator/food plants.
Are you a Teen who would like to get involved? Come to the Teen Open Lab on most Tuesdays, Wednesdays, and Thursdays for more information and to help water and weed. Wear something that is okay to get a little dirty!
To learn more about Bee and Butterfly gardening, check out these great resources in the library collection.
The Library thanks Anna Merritt, the City of Urbana Environmental Sustainability Manager Scott Tess, the Urbana Park District, the Landscape Recycling Center, the Friends of The Urbana Free Library, City of Urbana Operations Manager William John Collins, and Tom and Jen Tepper for their support with the Bee & Butterfly Garden and the Little Free Library.
See you in the garden!